We, the people of Bangalore, do solemnly affirm...
The National Institute of Political Excellence, a one-of-its-kind school in Karnataka where they train you to be a model politician is not the only novel approach. A group has taken it upon itself to ensure that information on each of the 28 sitting MLAs from Bangalore is available for voters.
Every morning, before he sets out for campaigning in Siddlaghatta constituency in Chikkaballapur district of Karnataka, Sivakumar Gowda of the Karnataka Janatha Paksha (KJP) does something no politician does. He spends time at his study table, taking a look at his notes.
That's because Gowda belongs to a rare breed of politicians who have undergone a diploma course in politics. This builder-cum-developer entered politics three years ago and when he decided to contest the assembly election, he decided to learn the ABC of politics. He joined the National Institute of Political Excellence, a one-of-its-kind school in Karnataka where they train you to be a model politician. The Institute is run by Prof G B Raju, a management guru and criminal lawyer who practises at the Karnataka High court in Rajajinagar area of Bangalore. It started in October 2008 and some 700 students have undergone the three-month course so far.
Gowda says he makes it a point to practise what Professor Raju always told him. "Be patient, control your tongue, remain dignified is what I remember all the time," he says. In fact, Gowda also sent many of his party workers to the Institute for a crash course in delivering speeches effectively, before they were deployed in the election battlefield in his constituency.
"Like many citizens, I was observing that politics was getting to be an unsavoury profession. Problems of people were not getting solved. One option was to enter politics myself but then one person cannot solve too many problems. This way I am able to get more people to understand politics and practice it the right way,'' says Professor Raju.
The course focuses on familiarising political aspirants with the Constitution of India, law, Indian history, RTI Act, management practices apart from practical tips like how to deliver a speech, body language in a crowd, how to mingle with people, how to file nominations, the art of dressing and how to overcome fatigue despite long hours of campaigning. Field visits to Vidhana Soudha and panchayat and zilla parishad offices give the students a feel of the real world, while guest faculty that includes politicians help them connect with realpolitik.
Another student Zameer Ahmed Khan, former Wakf minister, is contesting from Chamarajpet on a Janata Dal (Secular) ticket. Like Gowda, he credits the time he spent inside the classroom for his ability to connect better with his voters. Several of those who have passed out from this Institute are now panchayat and Zilla Parishad members in different districts of Karnataka.
But it is not just active politicians who are signing up. Many management and software professionals too have undergone the course, with a view to plunge into politics once they retire. After all, 60 is young in Indian politics. And not to miss out on campus placement, representatives of political parties are also invited to recruit the best students in their parties.
This professional approach to politics is not the only novel aspect of this Karnataka elections. A group has taken it upon itself to ensure that information on each of the 28 sitting MLAs from Bangalore is available for voters to assess for themselves how each one of them fared. An initiative of 'Citizen Matters', a portal that focusses on civic issues in Bangalore, Daksh (a concerned citizens group) and the citisense project of the National Institute of Advance Studies, it lists out in detail the hits and misses during the tenure of the MLA. (Read more here)
And for the first time, a civil society group — Bangalore Political Action Committee (B.PAC) has been formed with the aim to enhance the quality of life of every Bangalorean. Headed by prominent citizens of Bangalore such as Kiran Mazumdar Shaw and Mohandas Pai, it has vetted the candidates and endorsed 14 of them in 12 seats in Bangalore city. This was done after due diligence of available records and B.PAC's own internal assessment of the candidates. The idea is to tell the voters that these candidates have promised to pursue, if elected, the immediate and long-term needs of Bangalore.
Civil society coming forward to take charge is a natural corollary to the positive response the Anna Hazare movement generated in Bangalore. This coupled with the magnitude of civic problems the city grappled with in the last couple of years has made many a Bangalorean realise that just 47 per cent voting - like in 2008 assembly polls - would be self-defeatist. This time, the target is to ensure more than 70 per cent of voters turn out at the polling stations in Bangalore on Sunday, the 5th of May.
The problem, however, could be that much of the floating population has not bothered to enrol themselves as voters in the city. Estimates are that one in every four residents of Bangalore is a floating voter.
But with the awareness quotient at an all-high this time round and with the educated middle class forming 40 per cent of the voters, there is hope of a good turnout. But experience of other metros gives enough reason for caution. Because there would still be many who would be tempted to leave Bangalore on a weekend holiday. Resident welfare associations should work closely with B.PAC to ensure this does not happen. If they do, Bangaloreans can forget about cribbing about bad roads, traffic or the garbage for the next five years.
Politics
Since the Election Commission of India (ECI) announced the dates for Karnataka assembly elections, BJP president Amit Shah, perhaps, was first among the saffron party top guns to feel the heat of homegrown identity politics played out in the state by Congress chief minister Siddaramaiah.
Politics
Emotional connect and electoral arithmetic are the two major factors that made Congress zero in on Bijapur in Karnataka.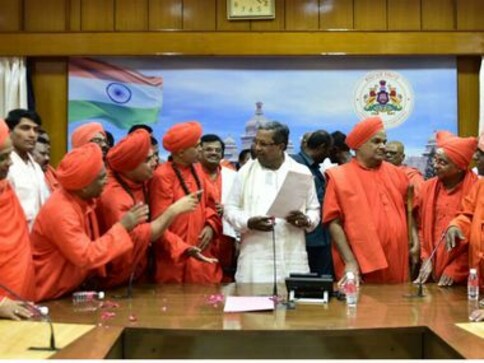 Politics
As BJP emerged as the single largest party in the 2018 Karnataka Assembly election, one thing became clear — Congress' Lingayat move had failed to clinch votes for the grand old party contributing to BJP's win in 104 constituencies across the state.