Robert Vadra matters to Congress, but why is BJP gentle with him?
Indicative of his clout, Robert Vadra continues to roam free in 2016, undaunted by the "powerful", Narendra Modi-led NDA regime, which has forced even corporate bigwigs like Vijay Mallya and Lalit Modi to flee the country in order to avoid investigation and possible incarceration.
Indicative of his clout, Robert Vadra, who first came into the public eye after my exposé on 8 October, 2012 and whose financial and legal transgressions are fairly strongly documented, continues to roam free in 2016, undaunted by the "powerful", Narendra Modi-led NDA regime, which has forced even corporate bigwigs like Vijay Mallya and Lalit Modi to flee/stay out of the country in order to avoid investigation and possible incarceration.
A log of the developments leading to, and following, this key October 2012 expose indicate how all stops are pulled in order to allow this "private individual" safe passage.
The newsroom struggle
It was an unending struggle to get the Robert Vadra story published, although the documents involving his companies were handed to me as soon as I joined The Hindu in February 2012.
After detailed investigation, fact-checking, study of the balance sheets of the companies in question, and emailing detailed questions to both Vadra and his "partner" the DLF Group, regarding suspicious entries involving real estate transactions (particularly involving the purchase of a plot in Manesar, Gurgaon), the story was eventually submitted in April.
These emails ensured that everyone in politics, bureaucracy, government investigative agencies CBI, IB and RAW, the legal community and other politically connected individuals, including senior journalists working in other media outfits, came to know that a politically explosive story, involving the son-in-law of Congress President Sonia Gandhi, was ready to serve.
Needless to say, for unspecified/unknown reasons, the story could not be published for several months. When I finally lost hope, and since a lot of work had gone into this expose, I sought permission to gift both the story and documents to advocate and civil society activist Prashant Bhushan.
After a press conference was held by India Against Corruption, making the relevant allegations, my story was eventually published on 8 October, 2012.
This article questioned how Vadra's Skylight Hospitality Ltd and another five companies, with zero business activity or employees and meagre promotor funds of just Rs 50 lakh in 2007-08, succeeded in acquiring, by 2010, as many as 29 high-value properties, with the help of interest-free loans and advances from DLF and other builders and why these firms needed to invest in Vadra in the first place.
Smacking of financial chicanery, assets were found ballooning in each subsequent balance sheet, while curiously, the business activity did not; incomes were masked as "current liabilities"; "loss making" firms continued to make investments; accumulated losses of Rs 3 crore wiped out Vadra's capital and reserves, raising questions about his ability to buy so many expensive properties with zero capital; the penury forced his firms to seek loans and advances, but strangely, no one pressed for the return of this money.
The contents of the story, which detailed several other financial gaps as well, remain unchallenged by Vadra till date, though DLF later sent some irrelevant clarifications. I say irrelevant, since the entire story was based on Vadra's own balance sheets, leaving no scope for rebuttal.
Manesar mutation cancelled, officer transferred
Soon after the publication of this expose, IAS officer Ashok Khemka, who was then Director General, Land Holdings and Land Records and Inspector General of Registration, Haryana, set aside the mutation — the process of giving effect to the sale deed in favor of DLF — of Vadra's property. Like clockwork, a Haryana government committee indicted him for acting "wrongly" in the Vadra case and summarily transferred him out of the crucial post.
The Vadra expose opened up questions about the Haryana "land boom" under its then Chief Minister BS Hooda, leading to another story being published later the same month about unwarranted and illegal favors meted out to a bevy of builders, including, like Vadra, those who had no experience in the realty business.
Following this, the Haryana government issued a token rejoinder, but didn't appear unduly perturbed.
New expose details Vadra-Hooda land illegalities
Two months later, in February 2013, I detailed the policies violated and illegalities committed by Hooda in the licensing of the Manesar plot to Vadra.
This time, all hell broke loose. An army of top Haryana government officials descended upon The Hindu office. As many as five of Hooda's key officials: SS Dhillon the then PS to CM; K K Khandelwal, the then APS to CM; TC Gupta, the then PS, Town and Country Planning (TCP); Anurag Rastogi, Director, TCP and Shiv Bhatia, media advisor to CM all came calling.
However, they had absolutely no defence or counter to the article and so this time, even the clarification these officials brandished in the course of the meeting, was not worth publishing.
Khemka submits detailed list of illegalities
In August, 2013, Khemka, countering charges of having acted "wrongly" in the Vadra-DLF matter, submitted a detailed counter listing as many as eight illegalities and irregularities involved in the allotment of the Manesar land.
CAG corroborates charges of illegality
The CAG independently corroborated my charges of illegality in the Vadra scandal in its Report of Social, General and Economic Sectors (Non-PSUs) for the year ended 31 March, 2014.
This report further highlighted that in the case of Vadra's firm Skylight Hospitality Pvt Ltd, the fraudulently obtained land was sold to its collaborator DLF Universal Ltd at 7.73 times the original cost after the in-principle approval for transfer of licence was granted in April 2012.
Although net profit beyond 15 per cent of the total cost accrues to the public exchequer, TCP, Haryana did not ensure that this money was deposited, neither at the time of granting in-principle approval nor at the time of formal approval for transfer of licences. This deprived the state exchequer of sizeable revenue.
NDA still playing tag in Parliament/media
Hooda is now under probe by the Justice SN Dhingra Commission for his role in the illegal grants of licences to hundreds of private companies, including the Robert Vadra case involving his company Skylight Hospitality and DLF.
But we are yet to learn of any independent enquiry by the Enforcement Directorate, DRI or CBI, into Vadra's corporate affairs, undisclosed incomes and assets save for an ED enquiry in some land matters in Rajasthan. One can also get to Vadra through DLF. DLF is a listed company, which means its financial dealings have to withstand public scrutiny, but strangely, SEBI appears loathe to act against it.
When the UPA was in power, then Finance Minister, P Chidamabaram, within hours of my story breaking, made a public statement saying that Vadra was a "private individual" so needn't be investigated. That was a public message to all investigating agencies and regulators to keep an arms length distance from Vadra's affairs.
Now that his mother-in-law no longer rules the country, Vadra technically, is not just a private individual but also an "ordinary" one. But the "automatic scrutiny" that kicks in almost too fast for "ordinary", "private" individuals, for some reason, didn't in Vadra's particular case.
It is amusing that BJP leader Kirit Somaiya thought it fit to raise the Vadra issue in Parliament, considering Vadra's established status as a "private individual" or to demand an ED probe so late in the day. I repeat: for ordinary folks, like Vadra is said to be, tax and CBI officials just show up at their door — no Parliamentary preamble needed.
Vadra too, on his part, seems to enjoy adding to the overall angst by releasing periodic sound bytes to the media about his "political ambitions". I suspect both Vadra and the NDA are, in effect, actually direct messaging the Gandhi's while pretending to play to the gallery.
There are no two ways about it. Vadra is an absolute inconvenience, placing both the Gandhi's and the BJP under an undesirable political spotlight.
Except that right now, it is the NDA which has more to lose. With two years in the saddle, and despite all the existing evidence at hand, BJP spokespersons keep constantly claiming to be in the process of "gathering" information. This is extremely worrisome.
The NDA's ludicrous Parliamentary and media "episodes", not being able to get off its feet to initiate any inquiries of consequence, and consistently losing the game of tag, will ensure that it is the Gandhis and Vadra who will have the last laugh.
Explainers
What is in store for the INC in the upcoming party president polls? Tune in to find out
Explainers
Faced with an increasingly belligerent China, the Indian Army has increased its firepower by deploying a variety of rockets and artillery, and plans to further acquire diverse weapon systems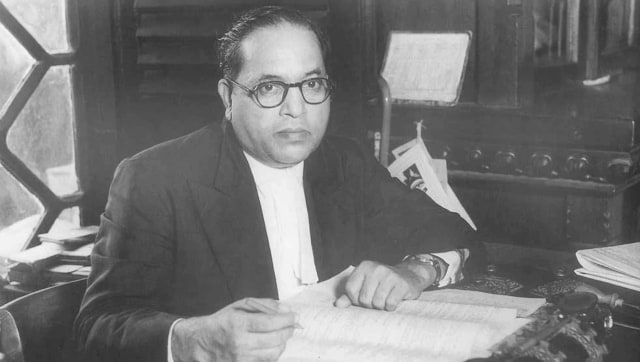 Explainers
The train will visit key sites associated with Dr BR Ambedkar including his birthplace of Mhow, London, the place he lived and studied, Nagpur, where he also studied, Delhi, where he passed away, and finally Mumbai, where he was cremated