Watch: 'Will break limbs of anyone killing cows,' says Uttar Pradesh BJP MLA Vikram Saini
Uttar Pradesh BJP MLA Vikram Saini seems to have taken inspiration from some of Yogi Adityanath's vitriolic speeches in the past.
Days after newly-appointed chief minister of Uttar Pradesh took charge, a BJP MLA's vitriolic speech against meat-eaters has made it to headlines. Vikram Saini, a legislator from Uttar Pradesh who also happens to be accused in the 2013 Muzaffarnagar riots, on Sunday said he will "break the hands and legs of anyone who disrespects or kills cows."
Will break limbs of anyone disrespecting, killing cows: UP BJP MLA Vikram Saini

Read @ANI_news story https://t.co/iIYReJnW6d pic.twitter.com/GHab4sEOI5

— ANI Digital (@ani_digital) March 26, 2017
Saini's extreme reaction comes just a day after Chief Minister Adityanath, on his first visit to his Lok Sabha constituency Gorakhpur, sounded a word of caution to the excited party workers and told them not to take law into their own hands. The Times of India reported that Saini, apart from being arrested under the National Security Act for his role in the Muzaffarnagar riots, has rioting and criminal intimidation cases filed against him.
"Any person who is unwilling to say 'Vande Mataram', or isn't proud to voice nationalistic slogans, or doesn't consider the cow to be a mother, or kills cows, I promise I will break their hands and legs," Saini said. Saini is a BJP MLA from Khatauli in Uttar Pradesh.
"The BJPs electoral win in Uttar Pradesh has undoubtedly been an unprecedented one. But, care should be taken to ensure that no party worker takes law in his own hand. Josh mein hosh naa khoye (dont lose sense in excitement)," PTI had quoted Adityanath as saying.
"Your over-excitement may give an opportunity to the anti-social elements to take advantage and they may again vitiate the atmosphere," he also said.
Adityanath had also assured that abbattoirs operating legally will not be touched but action will be taken against the illegal ones.
"The illegal abattoirs would be closed down," he had said while addressing a civic reception in Gorakhpur in his hometown. Regarding the closure of illegal abbattoirs, Adityanath had said the National Green Tribunal (NGT) had in the past couple of years had insisted on their closure.
You can watch Vikram Saini's speech here:
With inputs from PTI
India
Prime Minister Narendra Modi tweeted that Giri had played a huge role in bringing together "many streams of the Sant Samaj"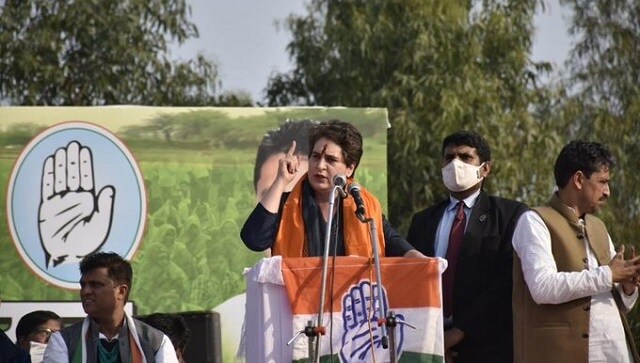 Politics
Her attack on Adityanath came as on this day, last year, the horrific Hathras incident took place in which a young Dalit woman was raped by four men.
Politics
Governor Anandiben Patel administered oath to the new ministers at the Gandhi Auditorium in the Raj Bhawan in the presence of the chief minister