Beneath the cuteness overload and sarcasm of Rahul Gandhi's tweet on Sunday where he posted a video clip of his pet dog to ostensibly troll those who mock his Twitter wit, lay a fascinating subtext of condescension, deep entitlement and naked arrogance.
In the short 14-second clip, Rahul Gandhi is heard shouting instructions to Pidi who obeys the master in standing up on its haunches and doing a pawsome "namaste". The pet dog shows admirable obedience, training and skill in balancing a crumb on its nose. At the snap of a finger, the crumb disappears at a deft twitch of Pidi's head and a pleased Rahul exclaims "good boy"!
The tweet was accompanied by a sarcastic remark through which Rahul seemed to be hitting back at detractors who had been passing uncharitable remarks at his recent displays of witticisms on social media.
Ppl been asking who tweets for this guy..I'm coming clean..it's me..Pidi..I'm way ?? than him. Look what I can do with a tweet..oops..treat! pic.twitter.com/fkQwye94a5

— Office of RG (@OfficeOfRG) October 29, 2017
What was perhaps conceived as an attempt at ridiculing naysayers through humour became instead the unraveling of the Congress mind, where a sense of privilege and loyalty runs through and defines generations of intra-party power equation. To say this tweet was an instance of 'clean humour and nothing else' is to pretend that the post was in medias res without even the hint of a preamble. Nothing in politics is context-free, least of all a commentary from Congress's president-in-waiting in the middle of an election season.
That Rahul Gandhi — who is on the cusp of taking over from his mom the family heirloom of party presidency — would choose to make a political point by displaying the fearful control that he wields over his pet dog (whom he also praises for carrying out orders admirably) speaks of the way he perceives power.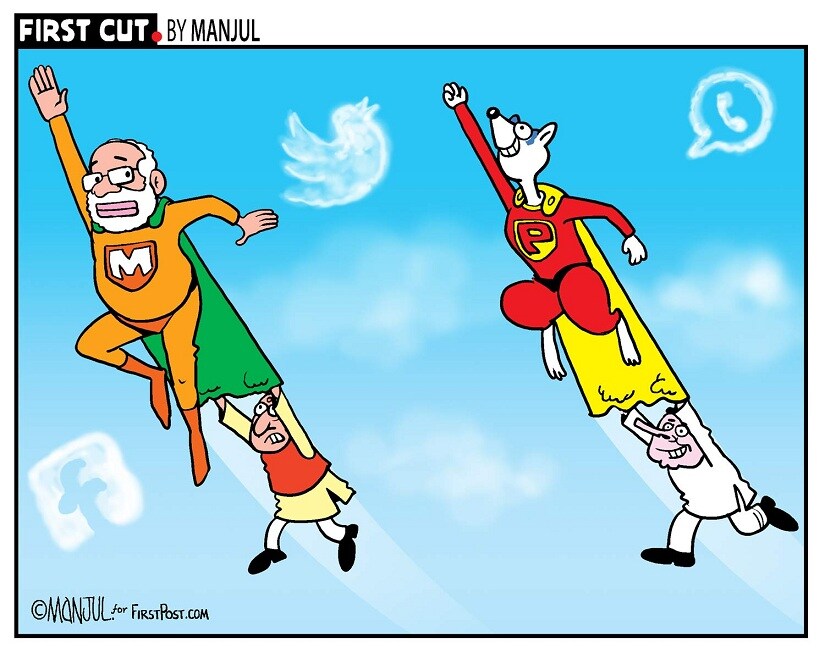 It is not fellowship or camaraderie that rules the relationship between the Congress high command and the rest. It is the relationship that exists between king and subjects where power flows top-down from the hallowed bricks of 10 Janpath to the grassroots via an intricate system of entrenched entitlement. If the subjects are up to the task, they get a pat on the back or a more generous "good boy", usually a sign that they should now wag their metaphorical tails at the master's magnanimity.
Along the way comes a subject or two who refuse to obey the high command. These unpleasant subjects are then subjected to an air of regal nonchalance. Former Congress leader Himanta Biswa Sarma whose disillusionment with Rahul Gandhi's leadership forced him to walk out and join BJP where he has now became a minister, tweeted a response to the Congress's Veep's #Pidi tweet.
Sir @OfficeOfRG,who knows him better than me.Still remember you busy feeding biscuits 2 him while We wanted to discuss urgent Assam's issues https://t.co/Eiu7VsuvL1

— Himanta Biswa Sarma (@himantabiswa) October 29, 2017
The reaction from Congress spokespersons left little space for doubt about the way Nehru-Gandhi family wields power and demands fealty.
Sarmaji, a dog always teaches loyalty despite all odds,am sure every time u see Pidi u are reminded of ur own treachery. That's y the hate? https://t.co/j2iagEENZI

— Priyanka Chaturvedi (@priyankac19) October 29, 2017
The condescension is breathtaking! The Congress spokesperson's sermon on how dog teaches loyalty and an added emphasis that "am sure every time u see Pidi u are reminded of ur own treachery (sic)" to address a former Congress leader, says all that need to be said.
This isn't just about Sarma, of course. It should also give us an insight into the machinations of a party and its leader who hopes to become a prime minister one day. The original tweet from Rahul Gandhi and the subsequent exchanges give us clarity on how the grand old party had been going about its job of ruling the country where fealty and loyalty formed the backbone of a mai-baap sarkar, and a vast majority were kept poor to ensure the longevity of the power structure
At this point, the "humorous tweet" morphs into a prediction of bone-chilling scariness. Robert Browning's My Last Duchess, anyone?
Find latest and upcoming tech gadgets online on Tech2 Gadgets. Get technology news, gadgets reviews & ratings. Popular gadgets including laptop, tablet and mobile specifications, features, prices, comparison.
Updated Date: Nov 01, 2017 15:33:36 IST