Voting in Punjab panchayat elections underway; protests mar polling at few locations
In the Punjab panchayat polls, as many as 13,276 sarpanches and 83,831 panches will be elected for 13,276 villages, an election official said. Around 1.27 crore voters will take part in the polling, he added.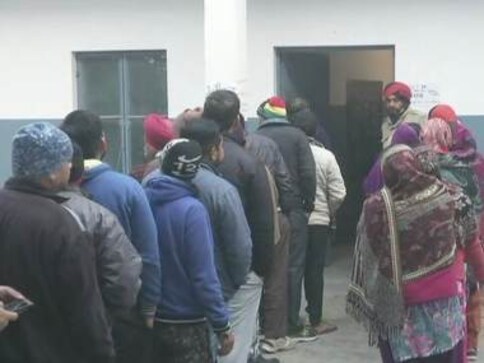 The panchayat polls to elect sarpanches and panches for 13,276 villages in Punjab began at 8 am on Sunday amid tight security arrangements. As many as 13,276 sarpanches and 83,831 panches will be elected, an election official said, adding that around 1.27 crore voters will take part in the polling.
Till noon, a voter turnout of 32 percent was recorded in Gurdaspur, 25 percent in Amritsar, and 26.35 percent in Faridkot. Moga recorded 30 percent vote turnout, while Jalandhar saw 26.34 percent voting.
According to reports, the panchayat polls did not progress smoothly across the state. BJP workers staged a protest outside a polling station at Majitha Road in Amritsar, while villagers protested after a polling booth was captured at Hiragarh village near Patiala.
Around 8,000 candidates are in the fray in the Punjab panchayat polls, with around 4,363 sarpanches and 46,754 panches already elected unopposed. The State Election Commission has set up 17,268 polling booths and deployed 86,340 personnel for duty.
According to The Times of India, the Opposition Shiromani Akali Dal has accused the Congress government of working to ensure that its candidates could not contest the polls. Former minister and leader of SAD's farmers' wing, Sikandar Singh Maluka, said that after the dates for the panchayat elections were announced, the ruling party had either ensured that Akalis were not allowed to file nomination papers, or had made sure that their papers were rejected.
"Now, this high handedness will go against the ruling party," The Times of India quoted Maluka as saying, adding that in many villages there was factionalism within the Congress, with groups of party workers fighting against each other.
With inputs from PTI
Opinion
Banerjee's efforts were so successful that Viceroy Dufferin left India thoroughly upset and disappointed, and wheezed out his hypocritical contempt against an organisation he had himself helped create
World
The provincial assemblies in the two provinces were dissolved prematurely this month by the Pakistan Tehreek-e-Insaf (PTI) party to force the government to call for early general elections.
India
Rajan Bhatti and Cheena were arrested by Delhi Police's Special Cell