Vote out unpatriotic UPA for a strong India, urges Modi
In his first speech after being anointed PM-candidate for the BJP, Modi stops short of giving solutions to complex problems.
The BJP's prime ministerial candidate Narendra Modi played to the gallery during his first speech after his candidature was declared for the country's top job, telling the thousands gathered to attend his rally in Rewari,  Haryana, that serious challenges including the border dispute with China and the cross-border terrorism are not problems limited to the border regions but a sign of weakness in New Delhi.
During a speech that lasted a little over an hour, the chief minister of Gujarat touched upon a complex subject once, that of Pakistan-sponsored terrorism, but stopped short of sharing his thoughts on possible solutions. "Pakistan now has a democratic government and it was hoped that they would walk on the path of peace. But the way our soldiers were killed, it doesn't look like Pakistan wants peace," says Modi. "I want to tell my friends in Pakistan that terrorism has not helped anyone in 60 years... Cross-border terrorism won't help Pakistan, India or Bangladesh," he said, adding that Pakistan and India should poverty, illiteracy, backwardness together.
On the border disputes with China, Modi said the problem is not with the border but with Delhi. "We need to change the government at Delhi. We need a patriotic government at Delhi to ensure the safety of our soldiers. More soldiers have died to terrorists and Maoists in India."
Addressing a rally of ex-servicemen, Modi spoke at length about his respect for the Army and its personnel, describing the efforts of men in uniform during the post-earthquake rehabilitation initiative in 2001, his innovative way of using men in service to stop electricity theft in Gujarat and how as a child he had been heartbroken on being denied the chance to study in a Sainik school.
"The insults meted out to soldiers has meant that youngsters today don't want to join the Army. We need to change that," he said. Then, a warning: "Cyber-war hone wale hain," says Modi. "We will need soldiers and youth who can participate in this new age war. The Delhi government will have to be prepared for this."
Later, he said if people want "a strong India, a strong government at the Centre", they should ensure that everybody above the age of 18 is registered to vote and exercises his franchise.
He also  proposed a "statue of Unity' commemorating Sardar Vallabhbhai Patel, one that would be twice as tall as the Statue of Liberty and built with contributions of iron from the implements  of farmers across the country.
In a speech tailor made for his audience, he also proposed a white paper on the One Rank One Pension idea for soldiers, jobs as firemen for ex-servicemen and more. "The Delhi government has no new thinking," he lamented.
He accused the UPA of indulging in vote-bank politics. "If these s0-called secular leaders want to learn secularism, they should learn from our soldiers, who work together for our nation," he said, to roars of appreciation from the crowd.
World
During several leaders' talks, phone-dialling beeps intruded, while there were several times when stray voices talked over leaders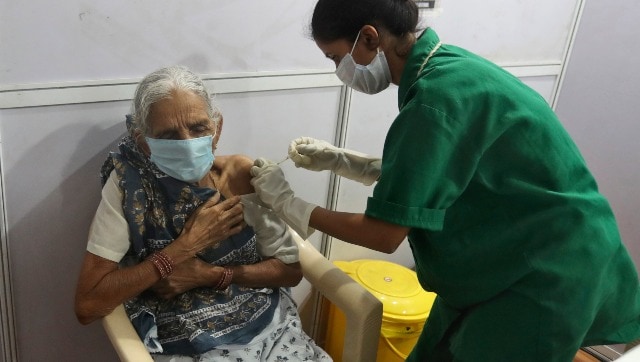 India
Well-planned vaccination drives, opening of vials only after the arrival of 10 beneficiaries, adequate training to healthcare workers to minimise wastage
India
The 80-year-old died at the civil hospital ten days after being admitted following a decline in her condition