Vin Diesel as UP CM? Twitter erupts with memes on Yogi Adityanath, Mark Sinclair
People on Twitter began posting pictures of Diesel and Adityanath, comparing them and sarcastically saying that Diesel was the next UP chief minister.
If American actor Mark Sinclair, more popularly known as Vin Diesel, logged on to Twitter on Saturday evening, he must have been one confused man.
After all, if you're a Hollywood star famous for some ridiculous stunts in action movies, it is not every day that people in India say that you will be the next chief minister of Uttar Pradesh. And if Diesel doesn't actively follow Indian politics, he must also be wondering who Yogi Adityanath is.
Adityanath, a five-time MP from Gorakhpur and Hindutva hardliner, was chosen as chief minister of India's largest state on Saturday. Twitterati spent no time pointing out how he bore more than just a passing resemblance to Diesel, even comparing them and sarcastically saying that Diesel is the next Uttar Pradesh chief minister.
Here are some of the funniest tweets:
Separated at birth: Vin Diesel vs #YogiAdityanath pic.twitter.com/5BPgrqrm71

— Harsh Goenka (@hvgoenka) March 18, 2017
Congratulations to Vin Diesel for becoming the CM of Uttar Pradesh! pic.twitter.com/wCOMGAebIA

— Jinav Satra (@jinavs) March 19, 2017
For those wondering why #VinDiesel is trending in India 😋 Vin Diesel#YogiAdityanath pic.twitter.com/DBF1umoOvu — Manak Gupta (@manakgupta) March 18, 2017
New UP CM!! Now Diesel prices will go down in UP 😂😂#YogiAdityanath pic.twitter.com/3Xk633eDJu — Dr Harshal (@drharshu) March 18, 2017
Meanwhile, Australian cricket team is surprised as to why #VinDiesel has been elected as Chief Minister of UP
😂😂😂😂 pic.twitter.com/FBuZUqlmOy

— Dr.Maheshwar.Dutt (@Dr_M_Dutt) March 19, 2017
@vindiesel And @yogiadityanath will Gonna Trend on Social Media for few days from now. 😂#Congratulation To #YogiAdityanath pic.twitter.com/yKvDdHxn2Y

— Nishant joshi (@nisshantjoshi) March 18, 2017
Presenting new CM of UP: Yogi Adityanath pic.twitter.com/0xl86Lc1HQ — Rohan Kumar (@RohanKmr) March 18, 2017
Yaar kal se #VinDiesel kitna pareshan ho raha hoga😂😂😂 — chachajaan (@shaaheeeeen) March 19, 2017
Politics
The leader has created a buzz with her recent visits to the families of the victims of Lakhimpur Kheri and the decision of granting women 40% party tickets for the upcoming Assembly elections
World
As Meadow's father was not there to ring in her special day by her side, Vin Diesel, her godfather, walked her down the aisle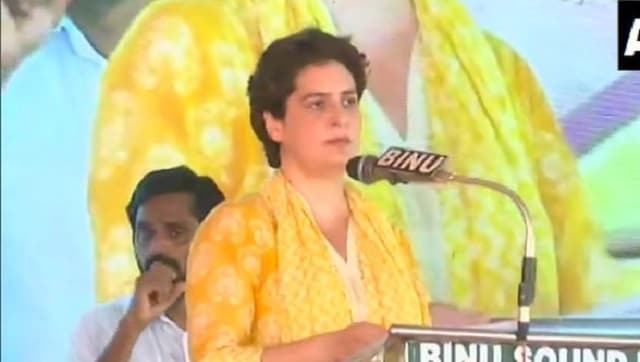 Politics
Had the Congress been serious about women empowerment, it would have made such statements in Punjab, Uttarakhand, Manipur and Goa where it is in serious contest for power in the 2022 elections