Venkaiah Naidu's VP nomination shoulders BJP's southern ambitions, but here's why party's pick is disliked in Telugu circles
Muppavarapu Venkaiah Naidu, who turned 68 on 1 July, could be the last of the breed of troubleshooters who followed the Kamaraj model in South India politics. Many describe his nomination as NDA candidate for vice-president as a birthday gift for a person who has been in the rungs of power for over three decades and participated in successful NDA governments of Atal Bihari Vajpayee and now Prime Minister Narendra Modi.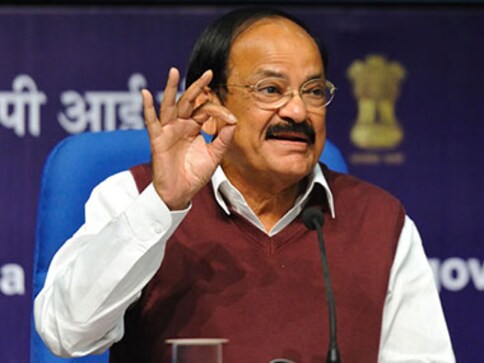 Muppavarapu Venkaiah Naidu, who turned 68 on 1 July, could be the last of the breed of troubleshooters who followed the Kamaraj model in South Indian politics. Many describe his nomination as NDA candidate for vice-president as a birthday gift for a person who has been in the rungs of power for over three decades and participated in successful NDA governments of Atal Bihari Vajpayee and now Prime Minister Narendra Modi.
Journalists in Hyderabad and Delhi look forward to Venkaiah's arrival for a taste of his dinner politics. He hosted meetings over dinner in Delhi and lunch in Hyderabad with spicy delicacies from Nellore such as Ulava Charu and Gongura Pachadi.
"When it comes to spicy vegetarian food, none can beat the flavor of Nellore, my native place," Venkaiah would proudly say.
Venkaiah is known for rhyming political rhetoric, be it at press conferences, public meetings or even while addressing an Assembly or Parliament. When he was filing his nomination papers in Delhi he said: "I started as Usha pati (Usha's husband), now I will be up-Rashtrapati (vice-president), eventually Sabha pati (Rajya Sabha chairman), but not sabka pati (everyone's husband)."
But Venkaiah's candidature has surprised many in the realm of South Indian politics. Venkaiah has been seen as a successful troubleshooter in Tamil Nadu affairs during Jayalalithaa's reign. As a four-time Rajya Sabha MP, he was a prominent member in the corridors of power in the BJP and NDA for nearly three decades. "He could have been a major asset to the party outside rather than in the post of vice-president," said senior political analyst Pasam Jagannadha Naidu Vijayawada.
Many contend that Venkaiah was a successful speed-breaker for Andhra Pradesh chief minister Chandrababu Naidu, who often did not share Venkaiah's optimism on many issues. The decision to remove Venkaiah from the active political space perhaps came after BJP president Amit Shah visited Telangana and Andhra Pradesh a month ago.
Since then, Venkaiah had been sidelined in Andhra Pradesh and Telangana affairs. In Karnataka, where Venkaiah was successful in installing the first BJP government in the south, he has been made a spectator to the fight between BS Yeddyurappa with others. "Venkaiah was the southern face of BJP, while Modi represented the north. If at all there could have been a BJP government in Andhra Pradesh, he would have been the only man to lead it," says Hari Babu, BJP MP from Visakhapatnam and president of BJP's Andhra Pradesh unit.
However, inside the Andhra Pradesh political circles, some BJP leaders contend that Venkaiah was removed as BJP high command saw it fit to give more opportunities to those that had defected from the Congress such as Daggubati Purandeswari, K Lakshmi Narayana and KS Rao. "Though Venkaiah isn't active within the Andhra Pradesh political scene, he will provide guidance and monitor developments from Delhi," says a senior BJP leader and Venkaiah loyalist.
But sources tell Firstpost that the Andhra Pradesh unit of the BJP is happy at the turn of events. Venkaiah always favoured an alliance with the Telugu Desam Party led by Chandrababu Naidu, who had stripped them of power. "Whenever we raised a voice, Chandrababu would call Venkaiah who would tell us to lie low."
The Telangana's BJP unit openly opposed Venkaiah's intervention in 2014 when he inked the electoral alliance with the TDP. Then Andhra Pradesh BJP president G Kishan Reddy often went on record to state that but for the alliance with the TDP, the BJP would have bagged more than five Assembly seats in the 2014 polls. "Even the 7 of the 18 seats the TDP won were due to BJP votes," Kishan Reddy told the BJP high command.
"If we can contest on our own, BJP will undoubtedly win over 20 seats in 2019," says BJP spokesperson Krishna Saagar Rao. But many feel that they are shackled to the TDP, thanks to Venkaiah Naidu who need the alliance at the national level.
Other regional parties in the south, particularly the Left, are heaving a sigh of relief. There is no other BJP leader of the stature of Venkaiah Naidu in either of the Telugu states or in Kerala, Karnataka or Tamil Nadu. He is also the fifth in line among the top BJP national leadership after Modi, Rajnath Singh, Sushma Swaraj and Arun Jaitley. "BJP's growth in the south at the cost of the Left is a clear indication that it is caste-driven," says a senior Telangana Left leader.
The BJP also sees a clear advantage in Venkaiah being the custodian in Rajya Sabha, the House where the NDA government lacks support and where both Left and Congress gang up against Modi. "It appears Venkaiah's agenda as vice-president is crystal clear: To tame the Congress and Left in the elder House," said senior Rajya Sabha MP and TDP leader TG Venkatesh.
The TDP though will miss a troubleshooter who had their ear. Andhra Pradesh chief minister Chandrababu Naidu is said to have lamented at a TDP parliamentary party meet on Sunday that Venkaiah being out of active political life would be a loss.  Many TDP leaders said Venkaiah was a bridge between TDP and the Centre. "Whenever there was a problem, either about grants to Amaravati or special status to Andhra Pradesh we sought his help at Delhi. His elevation to the post of vice-president will not be good for the TDP and Andhra Pradesh," says deputy chief minister KE Krishna Murthy.
Venkaiah will be the second candidate from Nellore to step into the gubernatorial post. Dr S Radhakrishnan, who was president, also hailed from the remote village of Sarvepalli in Nellore district.
Hailing from a modest agricultural family, Venkaiah is an arts graduate and has a degree in law from the Andhra University, Visakhapatnam.
After having a stint as a student leader and participating in the agitation for statehood for coastal Andhra, which rocked the state during 1972-73, Venkaiah served as president of Andhra University Colleges Students Union from 1973-74. Attracted by the "JP" movement, he formed the Loknayak Jai Prakash Chhatra Sangharsha Samithi in Andhra Pradesh in 1974. Venkaiah also was imprisoned under Maintenance of Internal Security Act (MISA) during the Emergency.
He joined the BJP in 1980 and was among the three MLAs of the erstwhile Janata Party who broke away to form BJP and was re-elected to the state Assembly in 1983. He was the floor leader of the three-member BJP group in the state Assembly from 1980-85.
His contemporaries in the Assembly included S Jaipal Reddy (who was then in the Janata Party), Sultan Salahuddin Owaisi (Majlis-e-Ittehadul Muslimeen), Rajeshwar Rao (former CPI floor leader and later TDP), and the late Puchalapalli Sundarayya (late CPM patriarch).
He came into prominence during August-September 1984 as one of the key leaders of the 'Save Democracy' movement launched by TDP founder NT Rama Rao after being toppled as chief minister. He was instrumental in getting NTR to travel in a wheelchair to Rashtrapati Bhavan. Along with Chandrababu Naidu and P Upendra, Venkaiah masterminded the campaign against Congress that finally led to the reinstallation of NTR as chief minister of Andhra Pradesh after a gap of 30 days in 1985.
Though a slick talker with a propensity to dish out tongue lashings, Venkaiah served in Assembly for only two terms: From 1978-1985 from Udayagiri segment in Nellore. That perhaps sealed his electoral fate. He gave up after running for office and being defeated from Bapatla in 1991 and Hyderabad in 1996.
Though he is a BJP leader, Venkaiah had a sound rapport with leadership of all Opposition parties.
He was the longest serving president of the BJP's Andhra Pradesh unit. During the period the TDP was in power, he succeeded in getting a land grant for the BJP office, right opposite Gandhi Bhavan, which quartered the Congress.
"I am what I am today because of the BJP," Venkaiah declared, while contributing 25 percent of the cost of the Syama Prasad Mukherjee building, housing the BJP headquarters at Nampally, Hyderabad.
India
Out of the approximately 24,000 people who will be attending the parade this year, 19,000 would be invited and the rest would be the general public, who can purchase tickets, sources said
India
Prime Minister Narendra Modi's Ferozepur rally in Punjab was cancelled on Wednesday after the Ministry of Home Affairs cited a major 'security lapse'. This has brought attention to the agencies who are in charge of the PM's security and protocols that are set for his travel
India
Punjab Police failed to give safe passage to the prime minister despite assuring SPG that the route was clear. An inquiry is now expected to fix the accountability and heads are likely to roll