Venkaiah Naidu concerned over washout of Parliament proceedings, urges MPs not to erode 'quality of polity'
Naidu's comments came in the backdrop of the second leg of the Budget session, which began on 5 March, having failed to transact any substantial business in both the Houses of Parliament.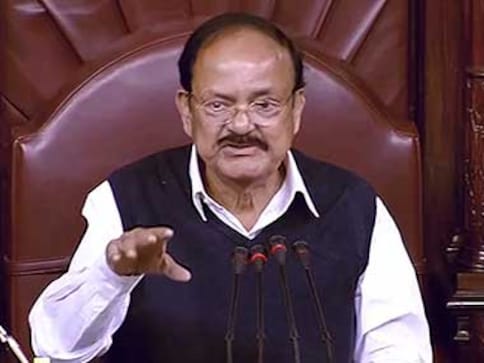 New Delhi: Concerned over the virtual washout of Parliament proceedings, Rajya Sabha Chairman Venkaiah Naidu on Wednesday urged MPs not to further erode "the quality of polity" and make a fresh beginning by conducting themselves in a more dignified manner.
Naidu also pointed out that the representation of women in the Upper House was "very low" despite the passage of the Women Reservation Bill in 2010 and hoped all political parties would accord priority to this.
Naidu's comments came in the backdrop of the second leg of the Budget session, which began on 5 March, having failed to transact any substantial business in both the Houses of Parliament. The Upper House was only able to pass the Payment of Gratuity (Amendment) Bill 2017, while the Lok Sabha has cleared the Finance Bill 2018.
Addressing around 60 retiring members of the Upper House, he said "I have had the Honour of being the Chair for last three sessions. "During this short span of time, I have had mixed emotions. ...In this session, on several occasions, I appealed to parties, their leaders to ensure the smooth functioning of the House. I must confess that I am deeply perturbed the way we have been conducting ourselves."
One one hand, Naidu said he has witnessed very high quality of debate on several occasions, while on the other hand, "I am filled with sadness at the disorder, indiscipline and inappropriate conduct in the House."
He urged the parliamentarians not to "further erode the quality of our polity". "Whatever has happened, has happened. Let us make a new beginning and see to it that we conduct ourselves in a more dignified manner and live up to the expectations of the Constitution's framers and people of the country," he said.
Making an emotional appeal, the Chairman urged members to conduct themselves with dignity as he recounted the sacrifices of soldiers, who were posthumously honoured with the Shaurya Chakra by the President yesterday for sacrificing their lives for the nation.
"The adverse weather conditions and the situation in which they were stationed and the way they fought the enemy to protect the unity and integrity of the country is really ... you cannot measure it by words. And I was reminded of what is happening in the House. I don't want to say anything more than that," he said in an emotional tone. Stating that this reference should not become part of political tactic and the House become theatre of politics, he said, "In democracy, there is agreement and disagreement. I agree to disagree, there is nothing wrong in it. But there is a way. I would like to see a more constructive engagement on public issues in future."
Naidu said the Upper House is supposed to be a model for others and hence, "let us leave a legacy of ideas". "All parties are equal to me as chairman. I appeal to you let's conduct the House in more digified manner and take the country forward and take the House forward," he added. Expressing concern over very low representation of women in the Rajya Sabha, the Chairman said: "It is a matter of concern that despite the stellar contribution made by many women members, they still constitute only 11.7 percent of total membership of this House."
Six women members are retiring this year. Two of them are returning to the House and three new women members would be added. As against this, in the 2016 elections, 10 women members had retired while three women members got elected, he said.
"It is ironical that even though the Rajya Sabha is proud that it has passed the Women's Reservation Bill way back in 2010 seeking better representation of women, still there is very low representation of women in this House," Naidu said.
While appreciating the valuable contribution and services rendered by women members, the Chairman said all political parties need to accord priority to provide adequate representation to women in Parliament and state assemblies.
Wishing good health to the retiring members, Naidu took the names of many stalwarts including Deputy Chairman PJ Kurien and nominated members Rekha, Anu Agha, Sachin Tendulkar and K Parasaran while appreciating their contribution.
"Those members who are leaving us, I would like to mention that the farewell from Rajya Sabha should be viewed as an opportunity to promote welfare of people and not as retirement from public life. You are getting retired, not tired. Once we are in public life, in my view, there is no retirement at all,' he said.
He also mentioned that some retiring members would be remembered for raising points of order, some for their interventions and making good and valid points, while some for giving some lighter moments. "All these are part of democracy. I don't have any ill will against anybody."
Around 60 members from 17 states, including 4 nominated members, are retiring over the next few weeks.
India
Union Minister of State for Home Nityanand Rai also said that as per the information available with the Ministry of External Affairs, a total number of 1,33,83,718 Indian nationals are living in foreign countries
India
Day two of the Winter Session of Parliament could be a washout after 12 Rajya Sabha MPs were suspended for their 'misconduct and unruly behaviour' during the last day of the previous Monsoon session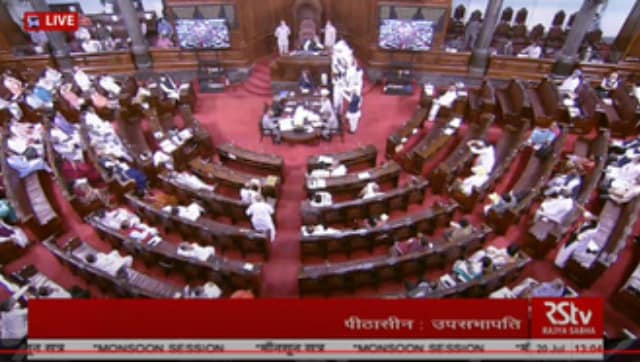 Politics
Previously in 2020, eight MPs were suspended which was the second-highest number.