Vegetarianism is anti-nationalism: Kancha Ilaiah on Ambedkar's food democracy
Kancha Ilaiah speaks to Firstpost about the status of oppressed classes post Independence, identity/caste politics, rise of Dalit student activism, 'Ambedkarism' and the relevance of BR Ambedkar in the current political scenario.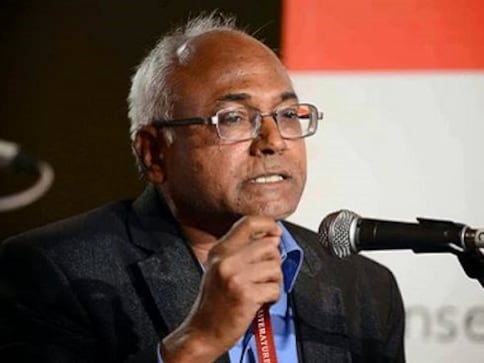 Known for his seminal but immensely controversial book, Why I am not a Hindu (1996), Kancha Ilaiah, does not mollify his audience — an experience I have lived firsthand, having attended Ilaiah's lecture series at the Asian College of Journalism. Currently, the Director of the Centre for Social Exclusion and Inclusive Policy at Maulana Azad National Urdu University and former associate professor at the Department of Political Science in Osmania University, Ilaiah's works have often been described by his critics as "cheap rhetoric", provocative, while some others point to the inconsistencies in methodology, lack of academic rigour. He acknowledges that he has been told be "mild" and that he "should not be writing what he does" by many in his lifetime.
Perhaps that is true for most writers who write on Hinduism, Hindu Culture and Brahminism: Wendy Doniger's Hinduism: An Alternate History drew ire from the religious right wing outfits, Perumal Murugan's book about ritual, One Part Woman was not accepted by right wing groups and the author decided to withdraw books from sale.  Late MM Kalburgi, noted scholar on Vachana literature was shot dead; he found that the worship of Ganesha was not prescribed in texts, but a myth. Last year, a case was filed against Ilaiah by the VHP for hurting religious sentiments over his article published in a Telugu daily titled — Devudu Prajasamya Vada Kada (Is God a democrat?); around the time IIT Madras clamped down hard upon Ambedkar Periyar Circle, a student group that engages in socio-political discussions. More recently, Rohith Vemula's suicide exposed the seedy cracks in the walls of higher education, where caste discrimination is bona fide.
Ilaiah circles around a miscellany of topics when he speaks — he has examples, stories and tales, ready for your eager consumption. Ilaiah also keeps his ears to the ground and reacts whenever there is a need. Soon after Rohith Vemula's suicide, Ilaiah wrote in an op-ed that dalit students like Vemula were creating a "new cultural idiom" and by that he meant engaging in a quest for transformation. Ilaiah is quick to correct me when I drop the word, identity: The struggles at JNU, University of Hyderabad, Jadavpur University, IIT-Madras's issue with Ambedkar Periyar Circle, beef festivals in Osmania or EFLU are "not a struggle for identity" according to Ilaiah — these are about "transformative, political, ideological issues."
The eating of beef, exercising the right to freedom of speech and being a human without the politics of caste, is the "transformation" he means. "I am more bothered about transformation of society where equality is the goal. These are not identity issues, but equality issues, these are issues of Indian democracy becoming mature. Identity is just a low grade of that, transformation is the next level," he asserts.
A conversation with Ilaiah is never linear, but one that meanders. Elaborating upon Ambedkarism, Ilaiah decides to make a point about democratic food culture being a pertinent aspect of the doctrine. To illustrate this point, however, Ilaiah resorts to grand rhetoric that unabashedly trespasses into the absurd — "vegetarianism is anti-nationalism...if a whole (sic) nation becomes vegetarian, its protein levels will go down. You know why West Indies won all the games? It is because they eat protein rich food."
Despite such digressions, Ilaiah tells me, "everyone should be free to consume what they want, pork or beef," — an appropriate critique of the State that is currently obsessed with regulating its citizens' lunches and dinners.
As far as Ambedkarism is concerned, it is hard to miss that political parties across all leanings have embraced Ambedkar in the recent past, including the RSS. Most posters have his image and speeches are not made without invoking his name. How does Ilaiah understand this? "Ethicality of equality is missing in Hinduism" and the RSS cannot pick and choose ideas.
The Congress, Ilaiah feels is on the heels of repositioning itself into importance by deploying Ambedkar's thoughts into their political strategy. "Rahul Gandhi has taken a radical position, he likely to become a reformist politician."
Ilaiah's beef with most parties is with their dilly-dallying on aspects of Indian history and not taking a solid stand on any of those aspects, especially Buddha and Ambedkar's relationship with Buddhism. Again, always one to poke the grizzly, he makes statements about how the RSS must embrace Buddhism.
Ilaiah is also not particularly enthused by Communism's tepid treatment of ancient Indian history — "they want to take everything combined from (sic) Hinduism is good, Vedas are also good...Socialism is good and Vivekananda is also good or that Shankaracharya is also good...no! This doesn't work. This puts them in a confused status."
Caste politics are updating across the country, protests have sparked in various regions over gaining the 'Backward Caste' tag — Jats, Harayana's farming community members sought to be included in the OBC list in 2008, Kapus from Andhra Pradesh, Gujjars from Rajasthan, Patels from Gujarat, Marathas from Maharashtra also demanded the reservation tags. This renewed interest in claiming the backward caste tag, according to Ilaiah is "dalitisation" — a term he coined in his 1996 book, he had ideated that a time would emerge when people would look for spiritual equality — "Dalitised mode of thinking, God has made all humans equal," he explains. "Today the caste which did not want want reservations, Jat, Gujjars, Patels and Kapus are asking for reservations," and the solution he says is to give them their position in society, in the community. "What is an open quota? In essence it is a Brahmin quota," he slickly pronounces. The Dalitisation process "will happen more and more, labour will be respected" he says.
When I ask him about how things have changed since Independence, he says that while there has been gradual progress, the oppressed are still oppressed. "There is a quantitative change, but there is no qualitative change," says Ilaiah, his disenchantment is manifest. He attributes positives to the Constitutional provisions, such as the right to vote, employment and education but strongly espouses the idea that the caste system is "rigid" and benefits those in the upper echelons: Brahmins.  
The Shudras, according to Ilaiah have been kept away from the spiritual and intellectual domain — Brahmins still have a tight grip on areas of "policy formulation and transformation."  He says in an exasperated tone, "change is very little," and explains that if men and women are burnt alive for marrying into other castes, there is no change; "Shankaracharya saying women entering temples will increase rape is not Ambedkar's India," he adds. Often understood as a staunch anti-Brahmin or one that is looking to annihilate an entire race through his "venomous" writings, Ilaiah addresses these with ease, "We are not saying that there Brahmins should have no place in this country or that we should be violent. In our religion, as Ambedkar has given, equality in every sphere." The envelope needs to pushed — "where we are free equal human beings."
Entertainment
In conversation with Nandita Das on Zwigato and why she was compelled to tell the story of working people who are a very important part of our life.
Explainers
Democratic lawmaker Aisha Wahab introduced the bill just a month after Seattle voted to outlaw caste discrimination. This issue has come to the fore in California since 2020 when the employment regulator sued Cisco Systems on behalf of a low-caste engineer. But some claim it will further fuel instan