Varun needs to win over BJP top brass to secure UP CM candidature
Varun Gandhi may have fared well in pre-poll surveys, but it is unlikely that the party leadership will oblige him by projecting him as the leader in UP.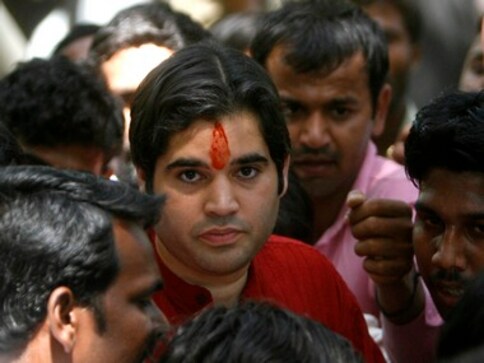 Feroze Varun Gandhi may have scored a point or two in various pre-poll surveys, suggesting that he could be the most popular chief ministerial face in the BJP ahead of the 2017 Uttar Pradesh Assembly elections. But, it is unlikely that the party leadership will oblige him, either by projecting him as the leader or by giving him any major campaign assignment. Going by the current trends, that seems to be the situation – at least for now.
The issue has nothing to do with the perceived popularity of Varun, or his ability to deliver, but has more to do with his individualistic outspoken streak and his relations – or lack of it – with the top party leadership, Prime Minister Narendra Modi and BJP president Amit Shah.
The relations are rather strained, if not uncomfortable, and there is some history behind that. Since the run-up to the 2014 parliamentary elections, his recent tours to parts of UP, to him offering relief from his Lok Sabha salary account, to some of his write ups that were not strictly in conformity with the Modi government's policies, and to the latest news and analysis reports based on some pre-poll surveys projecting him as the most popular BJP leader in UP. All these have not gone down well with the party leadership.
"A chief ministerial candidate can never be somebody who shares adversarial relations or who does not enjoy the confidence of the top party leadership," a party leader said.
Varun will be there in Allahabad on Sunday, attending the two-day national executive meet of the BJP. He will be face-to-face with Modi and Shah after a long time, and it remains to be seen if there will be a straight dialogue of any kind between them.
Meanwhile, an unusual exchange on twitter occurred between Varun and Rahul Kanwal, Managing Editor of India Today:
BJP UP state president moves to clip Varun Gandhi's wings. Varun told to inform party before leaving Sultanpur https://t.co/li385MDoFH

— Rahul Kanwal (@rahulkanwal) June 9, 2016
https://twitter.com/varungandhi80/status/740776029858455553
The matter ended there.
Varun has also halted his personal relief distribution program for distressed farmers. On all such occasions of the program, a public rally was also organised. These rallies were well attended, but were not in accordance with the party program per se.
It was his personal initiative, and some of these programs were held outside of his parliamentary constituency – Sultanpur, and ostensibly aimed at projecting him as a mass leader, who was rooted to the ground. Some banners and hoardings were also put up, which were not perceived well by the local and central party leadership. One such hoarding took a dig at Smriti Irani.
There were certain complaints that even when he organised his programs outside of his constituency of Sultanpur – which is adjoining Amethi and Raebareli – he does not take the local and central leadership, and the RSS field offices into confidence.
Sources said that an anguished Varun had taken up this issue with the party leadership – that did he need to take prior permission to go to other parts of the state, which in a way was his home state.
He was told that the issue was not about his movement but relating to his official public engagements, where the party needed to be kept in the loop – be duly informed beforehand. The young MP's contention was that he had always kept the party informed about his programs.
Varun had been the youngest BJP national general secretary and held the post till just a year ago. He had also been one of the youngest MP when he was first elected from Pilibhit in 2009.
The party does not want him to lose his cool. It wants to avoid any uncomfortable situation – the likes of which it saw in Bihar, where leaders like Shatrughan Sinha had openly turned against the leadership. Unlike Shatrughan, Varun does not seem to be on any confrontational path with the leadership. But an interesting intra-party situation is certainly developing in the poll bound UP, and is evoking a great deal of curiosity.
Officially, the BJP national executive meet in Allahabad is not really aimed at the upcoming UP Assembly elections. But the situation on the ground clearly states otherwise. It's true that the two-day meet of the highest policy making body – comprising of around 200 members including special invitees – would discuss an array of issues of national importance and what the party should do in other states, as well as a thanksgiving for performing exceedingly well in Assam and garnering a good percentage of votes in West Bengal, but the issue of leadership in UP is likely to be at the forefront.
On Tuesday, when Narendra Modi will hold a public rally in Allahabad, following the conclusion of the national executive meeting, there could be clear indications to suggest that Rajnath Singh could be the face of BJP in the UP polls. Last month Firstpost had published as to how Singh was already being projected as the man to lead the campaign.
Politics
Addressing a poll rally in Palanpur town of Banaskantha district, PM Modi said though many developmental works have been carried out so far by the ruling BJP in Gujarat and the Centre, time has come to take a 'giant leap'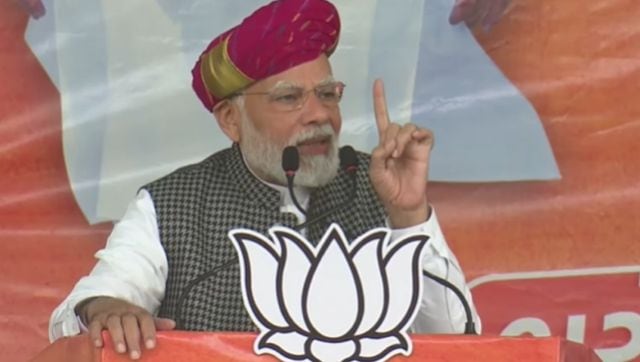 Politics
Prime Minister Narendra Modi, who is campaigning in his home state Gujarat since 19 November, said Adivasis cannot expect Congress will improve their condition because leaders of the party mock tribal outfits and insult tribals at regular intervals
India
On 25 November, Ravindra Jadeja conducted a road show to campaign for his spouse Rivaba.