Vajpayee, Advani, Modi: Every leader has given Hindutva a twist
From Vajpayee to Advani to Modi –the Sangh Parivar has come a long way, presenting before India every few years a Hindutva face rendered presentable through a shrewd makeover
There are three important features underlying the passionate debate that LK Advani triggered through his challenge against Narendra Modi, now further intensified because of the split between the JD (U) and the BJP. One, it testifies to the Sangh Parivar's ability to raise the threshold of acceptability of Hindutva in society. Two, it underscores the perpetual pressure on Hindutva leaders wishing to play a national role to reinvent themselves. Three, it speaks of the limited imagination of secularists, and their lack of confidence in confronting their ideological opponents.
Indeed, there was a barely concealed glee in the secular camp – quite palpable in media reports – as it became certain Advani would keep away from Goa, where Modi was to be anointed as the chief of the BJP's election campaign. This glee soon turned into unabated excitement, even admiration, as Advani resigned from the organisational posts he held. The hope he spawned quickly dissipated at his hurried retraction of that decision.
It requires a spectacular leap of imagination, as also a willingly induced amnesia, to believe Advani pursues a soft-line on Hindutva and adheres to consensus politics, in comparison to Modi, who is described as an incorrigible hardliner and practitioner of divisive politics. This neat, dichotomous slotting of the two leaders has been further reinforced because of Bihar chief minister Nitish Kumar, who hasn't hesitated to justify his preference for Advani over Modi, almost always alluding to their seemingly contradictory style of politics.
Such allusions conveniently gloss over the past. Both Advani and Modi have been the implacable face of Hindutva at different points in the two decades of turbulent politics. It is strange we should have forgotten the political tornado Advani unleashed in 1990, jumping on a Toyota-turned-rath to journey from Somnath to Ayodhya, and dividing India as sharply as it perhaps had been at the time of Partition.
Advani scuppered all attempts at negotiations and his eventual arrest in Bihar triggered the meltdown of the VP Singh government in Delhi. Among Singh's votaries then was Sharad Yadav, yes, the same man who now heads the JD (U).  He was in the thrall of Singh because of his decision to implement OBC reservation. During those months of turmoil, Yadav described Advani's politics as anti-OBC and communal. Is it not a surprise to now discover that Yadav and Nitish prefer Advani over Modi, because of the ostensibly different ideological moorings of the two BJP leaders?
Perhaps not, many would argue, for though both Advani and Modi have drunk from the same ideological fount, there are obvious differences in their articulation of Hindutva, as also in their varying degrees of success in reinventing a new image for themselves.
But first, on the compulsive need of BJP leaders for an image makeover. Those in the BJP who wish to carve a national role must first win the support of Sangh cadres, who have been weaned on a rich diet of Hindutva through years of indoctrination.  The more pronounced and unambiguous the Hindutva line of a leader, the greater the support of cadres for him.  It is precisely why Advani became their mascot two decades ago, as is Modi now.
Yet, the politics of Hindutva suffers from inherent limitations in a society as diverse as India's. It alienates the religious minorities, particularly Muslims, as also sections of backward classes and Dalits. Despite the BJP's attempts at social engineering, it is popularly perceived to represent the interests of upper castes and the urban middle class, who together can't provide the party a majority on its own. No wonder then, every nationally popular leader of the BJP feels compelled to cultivate a persona acceptable to other sections of the population and, in an increasingly fractured polity, regional outfits as well.
Thus, Advani's metamorphosis came about through what is called his 'Jinnah moment'. On his visit to Pakistan in 2005, he hailed Jinnah as a "great man" and described his address to the Constituent Assembly of Pakistan on 11 August, 1947, as "a forceful espousal of a secular state…" As such, he had in the six-year-rule of NDA tempered his Hindutva rhetoric, not least because of the post of Union Home Minister he held. It was now time for him to go in for a complete makeover, for the ailing former prime minister Atal Bihari Vajpayee couldn't possibly return to politics to reclaim the liberal image. This persona Advani needed for keeping the NDA intact and lead the alliance in the 2009 election. (Incidentally, like Jinnah, Advani doesn't believe in religion in his personal life but does so in the public realm.)
By contrast, Modi emerged from relative anonymity through the grisly Gujarat riots of 2002, and polarised the electorate through his communal innuendoes, often speaking of Mian Musharraf, terrorism, and Muslims in the same breath. Advani's  conscious lowering of rhetoric allowed Modi to appropriate the partially vacated Hindutva space, post-2002. It became decidedly his, as Advani became entangled in the Jinnah debate. Then the poor electoral performance of the BJP in 2009 indicated the party required a new leader to spearhead it. Confident of his support base in the Sangh's rank and file, Modi took to cultivating the image of 'Mr Development', to widen his appeal beyond the BJP and ensure he didn't remain a pariah to potential allies.
The need to reinvent is inscribed in the BJP's DNA. Take Vajpayee, who is often extolled for his liberal views. Yet, through the 1970s and 1980s, Vajpayee was as pugnacious a Hindutva leader as any. During the debate on the confidence motion Vajpayee moved on his 13-day government, the irrepressible CPI leader Indrajit Gupta quoted from a speech the former had made during his 1983 election campaign in Assam. Pray, what did Vajpayee say? "Foreigners have come here; and the Government does nothing. What if they had come into Punjab instead, people would have chopped them into pieces and thrown them away."
It is pertinent to ponder why Vajpayee and Modi succeeded in persuading people about their makeover and Advani could not. For one, Advani signalled his metamorphosis through an endorsement of a Pakistani leader who is anathema to the Sangh. He consequently forfeited the support of Sangh cadres. In politics, you can't hope to win from a weak home-base. Second, the Congress stole a march over the BJP through measures such as NREGA, visibly reflected in the 2009 election verdict.
However, Vajpayee's liberal persona found acceptance as the Congress had weakened and the Left-backed coalitions could not provide stability at the Centre. There was also a pressing need for a leader who could provide an acceptable ideological architecture to cobble together an anti-Congress coalition. Somewhat similar is the context in which Modi has attempted a makeover. Scams and indecisive governance have eroded the UPA's credibility. For a section of the electorate, Modi's slogan of development has acquired a pitch loud enough to drown out voices reminding them about his past.
All this should not rule out a second coming for Advani. No doubt, he will have to reconcile himself to superannuation should the Modi-led BJP get anywhere close to 200 seats in the 2014 election. However, in case it fails to achieve this number, the 'liberal' or 'reasonable' Advani would be assigned the task to lure regional outfits for leading a coalition. Such is the dichotomous categorization of Modi (hardliner) and Advani (softliner) that nobody will hark to the latter's past, not even the secular camp, which would feel relieved at having been saved from a spell of Moditva.
From Vajpayee to Advani to Modi –the Sangh Parivar has indeed come a long way, presenting before India every few years a Hindutva face rendered presentable through a shrewd makeover. Its success not only confounds the secular camp, but also underlines its failing ability to wage the ideological battle for defining the very idea of India.
(The author is a Delhi-based journalist and can be reached at ashrafajaz3@gmail.com)
Find latest and upcoming tech gadgets online on Tech2 Gadgets. Get technology news, gadgets reviews & ratings. Popular gadgets including laptop, tablet and mobile specifications, features, prices, comparison.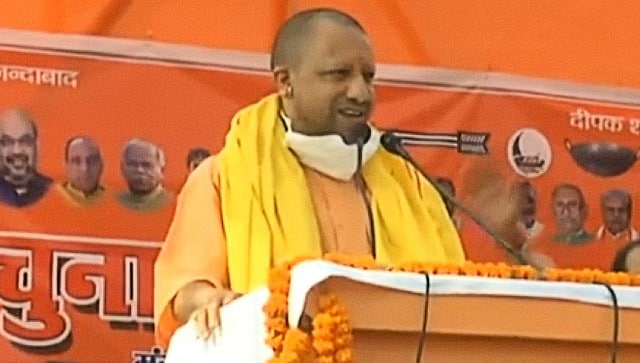 Politics
The BJP's star campaigner blazed through three Assembly segments with back-to-back rallies on the first day of his campaign in Bihar, commencing his speeches with roars of Vande Mataram and signing off with chants of Jai Shri Ram
Politics
Bihar will vote for the 243-member Assembly in three phases — 28 October, 3 November and 7 November. Counting will be held on 10 November
India
AIMPLB member Zafaryab Jilani also said the board will challenge the CBI court's acquittal of LK Advani, MM Joshi and Uma Bharti in the Babri mosque demolition case