Uttarakhand HC verdict a slap to subverters of Constitution, says CPM
Left parties on Thursday lambasted the Narendra Modi government for imposing President's Rule in Uttarakhand, which was quashed by the high court there, saying the verdict was a 'slap to the subverters' of the Constitution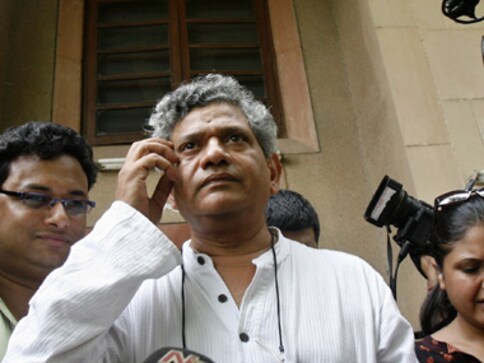 New Delhi: Left parties on Thursday lambasted the Narendra Modi government for imposing President's Rule in Uttarakhand, which was quashed by the high court there, saying the verdict was a "slap to the subverters" of the Constitution.
"The anti-constitutional juggernaut of BJP's central government has been halted in its tracks by the judiciary in Uttarakhand. It is a slap to the subverters of the Constitution," CPM General Secretary Sitaram Yechury told PTI.
Observing that "accountability is the hallmark of democracy," he asked whether "the BJP has it in itself to make heads (of those responsible) roll?"
Dealing a major blow to the Modi government, the Uttarakhand High Court on Thursday quashed the imposition of President' Rule in the state and revived the Congress government headed by Harish Rawat, who has been asked to prove his majority on 29 April.
On a similar vein, CPI National Secretary D Raja said the Uttarakhand High Court verdict was "a huge embarrassment" for the NDA government at the Centre which acted in an "authoritarian manner".
"The verdict exposes BJP's attitude of undermining the Constitution and subverting the parliamentary procedures. The Centre's decision (to impose President's Rule) has also embarrassed the President who has to go by the opinion of the Union Cabinet," he said.
"The BJP celebrated the birth anniversary of BR Ambedkar with great pomp and show, but used the Article 356 of the Constitution drafted by him when there was no extraordinary situation prevailing in Uttarakhand," the CPI leader said.
He said the imposition of central rule also went against the SR Bommai judgement of the Supreme Court by not allowing the floor test to take place. "For this, they had to face such a rejection by the high court," Raja added.
India
The countrywide vaccination drive was rolled out on 16 January with healthcare workers getting inoculated in the first phase
India
As part of the celebrations, Union Health Minister Mansukh Mandaviya requested people to get themselves vaccinated and also help others to receive their jab
India
Modi has been deemed to be one of the biggest supporters and proponents of Yoga.