Uttarakhand Election 2017: Harish Rawat first in state's history to fight from two seats, takes BJP head on
The two constituencies — Kichcha and Hardwar (rural) — fall in Tarai's Udhamsingh Nagar and in the plain part of Haridwar district.
Dehradun: With his decision to contest from two different seats, Chief Minister Harish Rawat has written a new chapter in the political history of Uttarakhand. He has become the first who made his choice in two seats to contest assembly polls in this 16-year-old state.
Perhaps, Rawat is worried about his Congress party's performance in Tarai as well as plain belts. The two constituencies — Kichcha and Hardwar (rural) — fall in Tarai's Udhamsingh Nagar and in the plain part of Haridwar district. While Udhamsingh Nagar sends nine MLAs to the 70-member state assembly, Hardwar district has 11 assembly seats in its jurisdiction. So, a total 20 seats of these two districts politically matters for both the camps — Congress and BJP.
A close look at the 2012 assembly polls clearly showed that the Congress party's performance was below the expectation in these two districts.
In Udhamsinghnagar, the Congress could win only two seats — Bajpur and Jaspur — while rest seven seats had gone in favour of BJP in 2012 assembly polls. Later, the then chief minister and Congress nominee Vijay Bahuguna won Sitarganj vacated by a BJP MLA Kiran Mandal. Rawat's most challenging task is to ensure a good show of his party in Udhamsingh Nagar district. Rawat's rival and BJP leader Bahuguna has got fielded his son Saurabh from the same Sitarganj as the BJP nominee. Rawat's presence in Udhamsingh Nagar may have its impact on neighbouring Bajpur seat where BJP has fielded Yashpal Arya. Arya had joined the BJP just two days before he was selected for his traditional seat Bajpur as the party (BJP) nominee. So, Rawat's game-plan is clear that he wants to face the BJP's challenge in its own stronghold in this election and Kichcha suits him most for this purpose.
His choice to contest from Hardwar (rural) seat has no different story to tell. Out of the 11 seats which Hardwar district accommodates, Congress could win only win three seats - Piran Kaliyar, Roorakee and Khanpur. Apart from the BJP, Congress is facing a tough challenge from the Bahujan Samaj Party which has expanded its base in this plain part of the state. In 2012 assembly polls, BSP had won three seats- Bhagwanpur, Jhabrera and Manglore. However, Congress won Bhagwanpur in by-election which was necessitated after the death of its MLA Surendra Rakesh. Surendra's wife Mamta Rakesh, sitting MLA, is again contesting the polls as Congress nominee from the same Bhagwanpur.
Rawat's presence as a candidate from Hardwar (rural) is considered to be helpful for Congress party's nominees in other 10 seats of Hardwar district. One important seat is Khanpur from where BJP has fielded Kunwar Pranav Champion as its nominee. He is one among nine rebel MLAs who had left the Congress at the time of recent floor test.
By keeping him away from the seats of hill parts either in Kumaon or Garhwal, Rawat has tried stop his political opponents who either describe him as "pro-Kumaon" or "anti-Garhwal". Congress party's decision to build a new assembly building in Gairsain, which is at the centre of state's two division — Kumaon and Garhwal — has already created trouble for the BJP camp.
India
The BJP leaders have termed the MVA government in the state as brutal for booking Lok Sabha MP Navneet Rana and her MLA husband Ravi Rana in a sedition case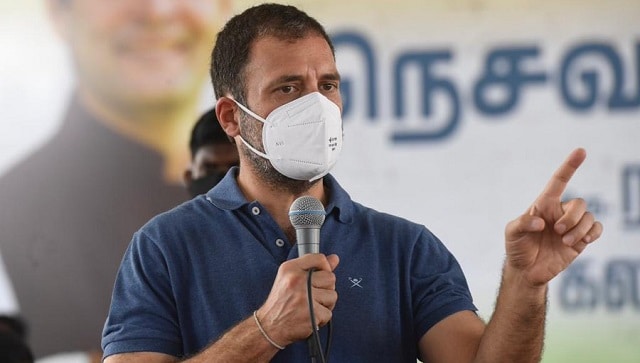 India
Congress leader Rahul Gandhi said there is a fight between two ideologies in the country
India
The Prime Minister said that the BJP-led government, after taking over in 2014, revived the spirit of innovation in India's youth