In the run-up to the election in Uttarakhand in February this year, the Congress party indicated that it might continue its alliance with the Progressive Democratic Front, which includes Uttarakhand Kranti Dal, BSP as well as the three independents.
"We cannot leave PDF as it has been a long time supporter of Congress," Uttarakhand in-charge Ambika Soni told a press conference on 19 December, while avoiding clear response on queries about Congress going solo on all 70 Assembly seats.
Reports also suggested that the ruling party will follow the rule of awarding only ticket for one family. State party chief Kishore upadhyay on 21 December added, "There are too many contenders for party tickets. We want that only person in a family should get ticket otherwise it will be an injustice to other Congressmen."
The ruling Congress has 26 seats in the outgoing Assembly.
Meanwhile, BJP is all geared up for the election. The party ruled the state between its inception in 2000 till 2002, before making a comeback in 2007, only to lose the 2012 polls. The party has been targetting incumbent chief minister Harish Rawat for his alleged involvement in corruption cases. Rawat failed to appear before the CBI on 26 December, in connection with a probe into the purported sting operation involving him and sought a fresh date for it, which was granted by the agency.
The sting operation under the scanner purportedly shows Rawat negotiating a deal to buy support from Congress MLAs to save his government in 2016.
Uttarakhand was in the news last year, after the BJP failed to dislodge the Congress government, after rebel MLAs belonging to the Vijay Bahuguna camp revolted against Rawat. However, the party was able to prove its majority on the floor of the House. Later, nine rebel MLAs led by former chief minister Bahuguna joined the BJP.
With inputs from PTI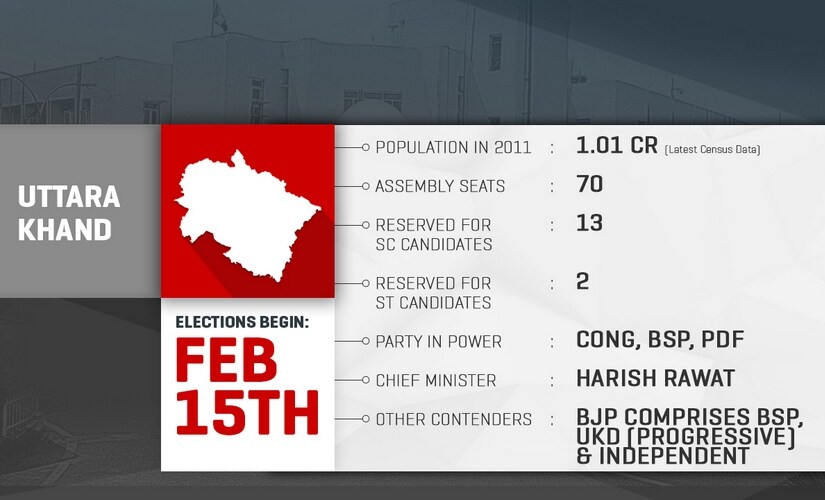 Updated Date: Jan 04, 2017 21:03 PM