Uttar Pradesh polls: Shivpal meets Mulayam as Yadav family feud on likely compromise course
Shivpal on the other hand was seen dodging controversy by putting the ball in Mulayam's court.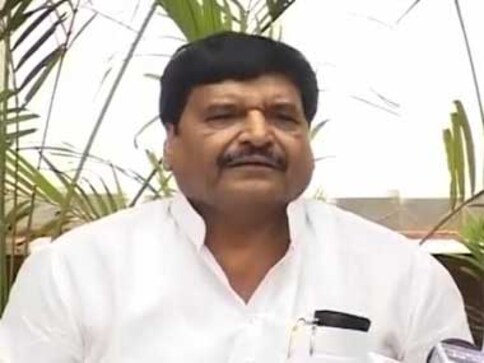 In the face of the recent rift in the Yadav family in UP, a high-level meeting was held between Samajwadi Party supremo Mulayam Singh Yadav and his brother Shivpal Singh Yadav at the former's Delhi residence. Subhash Chandra, an independent MP who is supported by the BJP, was also spotted outside Mulayam's house. Chandra is considered to be a close friend of Shivpal Yadav and Amar Singh, according to CNN-News18.
The meeting was underway for close to two hours in the capital and reports surfacing from the capital indicate that a likely compromise may have been chalked out. As rumours of Shivpal's resignation from UP cabinet were doing rounds, leader has said that he is very much a minister in the Akhilesh Yadav led government. Seeking to soothe all qualms, he said, "I am still a minister in UP government and everyone is happy in the party. There is no rift," CNN-News18 reported.
Although, no formal press meet has taken place after the meeting, CNN-News18 reported that a compromise formula may have been chalked out between the two leaders. According to their report, the SP supremo has tried to stifle the rift by giving Shivpal the post of UP Samajwadi Party chief. Shivpal too had reportedly shown interest in taking up the reins of the party, which will help him call the shots at the time of the upcoming assembly elections. The news channel further reported that Mulayam has also given his nod to Shivpal to put his people in election ticket nominations.
Meanwhile, the SP supremo also tried to pacify his son and UP CM Akhilesh by ruling that Shivpal will have to bear the sacking of his men. As CNN-News18 reported, Shivpal had told Mulayam that the recent dismissal of UP chief secretary by Akhilesh has hurt his image within the party and in the state.
A consensus may have also been reached on the controversial poll alliance with Mukhtar Ansari's Qaumi Ekta Dal, which is said to be at the root of the present rift between the uncle and nephew. Akhilesh was against the merger with QED as the party leader Ansari, who is currently lodged in a Lucknow jail, is facing several criminal cases and has a tainted image, while SP is touting to run a clean government. CNN-News18 reported that Mulayam has given a go-ahead to the merger but Ansari would be left out.
According to The Indian Express, a merger between the two parties was announced on 21 June in Shivpal's presence, but was later rolled back after Akhilesh objected to it.
The reports further states that Samajwadi Party's parliamentary board may meet later in the week. Trying to strike a balance in the ongoing power feud, the party may create the post of National Working President to accommodate Akhilesh, who was the erstwhile state unit chief.
Shivpal flew to Delhi from Saifai to meet Mulayam even as thousands of his supporters gathered outside his residence there and the PWD guest house to express solidarity with him as speculation was rife that he might resign.
The Yadav family's internal feud became a public spectacle on Tuesday when Uttar Pradesh chief minister and Mulayam's son Akhilesh Yadav, stripped uncle Shivpal of three major portfolios in the UP government. In fact, in the past too, the Mulayam family has been dogged by serious differences, but matters reached a flash point after chief minister shunted out Chief Secretary Deepak Singhal, considered his uncle Shivpal Yadav's favourite.
In a tit-for-tat action, Mulayam took away the post of UP Samajwadi Party chief from his son Akhilesh, perhaps to smooth the ruffled feathers of Shivpal. But, within hours, a peeved chief minister hit back by clipping his uncle's wings by divesting him of his key PWD, Irrigation and Cooperative portfolios.
The Samajwadi Party top brass, meanwhile, swung into damage control mode to keep the flock together ahead of Assembly elections, with Mulayam Singh Yadav calling Shivpal and Ram Gopal Yadav for a meeting in New Delhi.
Meanwhile, the chief minister stayed put in his 5, Kalidas Marg official residence since morning to take stock of the situation and did not attend two official engagements perhaps to avoid the media, as the state plunged into crisis. Akhilesh is yet to respond to Mulayam's call to meet and iron out differences. But the UP CM said, "There may be problems in the government, but not in the family... As far as family is concerned, everyone abides by what 'netaji' says and will accept his words."
However, sending out clear indications on who holds the rein in the state, Akhilesh also pointed out that despite Mulayam's guidance, 'sometimes one has to apply their own mind.' "If I have taken any decision, it was in consultation with 'netaji', but at times one has to apply his own mind and I too took some decisions on my own," Akhilesh said.
Shivpal, on the other hand, was seen dodging controversy by putting the ball in Mulayam's court. Amid speculation that he will resign from the UP cabinet, he said that giving and taking portfolios is the "discretion of the CM" and he will abide by the decision of Mulayam Singh Yadav. When asked what does he has to say about the recent snub handed out by his nephew, Shivpal, tried to play it down and replied, "ye sab rajneeti me hote rehta hai, koi nayi baat thodi hai (This is not a new thing in politics)."
According to CNN-News18, Shivpal also said that he is not angry with his nephew Akhilesh, reiterating that the final call lies with 'netaji', a moniker given to Mulayam out of respect by his party. "I believe in netaji, will do whatever he says," Shivpal said.
Recently, Mulayam gave a stern warning to Akhilesh that the party would split into factions if Shivpal chose to walk away after the senior Cabinet minister threatened to resign claiming that his repeated pleas to root out corruption was going unheeded.
Analysts say fragmentation of the vote bank will be of no help to the Yadav clan. As of now, all eyes are on Mulayam, who huddled in a meeting with senior party leaders in Delhi for a patch-up between "chacha-bhatija (uncle-nephew)". The internal tussles within the SP has also given fuel to opposition BSP to target it. BSP chief Mayawati recently urged the Election Commission to declare the state elections early -- by January-February next year, arguing that the family feud within the ruling SP and "jungleraj" in UP would lead to chaos in governance in coming months and cause difficulty in holding "independent, impartial and peaceful" elections in view of "infighting within the first family".
When the SP supremo had anointed his son Akhilesh as the chief minister in 2012 overlooking the claims of Shivpal, it was anyone's guess that the ruling party will face pulls and pressures very often. It is no secret that Shivpal has harboured chief ministerial ambitions and did not take too kindly to his claims being overlooked in 2012.
With inputs from PTI
World
Joe Biden lashed out at oil companies, saying they are making excessive profits when people are feeling the crunch of skyrocketing costs at the pump and inflation
World
Black ex-Americans reflect on Juneteenth becoming a national holiday while expressing reasons for leaving America
World
Apple workers in Baltimore suburb are trying to get membership into into the International Association of Machinists and Aerospace Workers to seek rights they do not currently have