Uttar Pradesh civic polls: EVMs in Meerut registering votes only for BJP, say voters; protests erupt
Protests broke out at a polling booth in Meerut, Uttar Pradesh after voters alleged that EVMs were registering votes only for BJP, irrespective of which button was pressed.
Protests broke out at a polling booth in ward number 89 in Meerut after voters alleged that Electronic Voting Machines (EVMs) were registering votes only for BJP, irrespective of which button was pressed. The three-phased local body election in Uttar Pradesh kicked off on Wednesday, with voters casting votes in 24 districts of the state in the first leg of elections. The exercise, seen as a litmus test for the ruling Bharatiya Janata Party (BJP), comes merely eight months after the saffron party won the Assembly polls.
However, additional State Election Commissioner Ved Prakash Verma told Firstpost the allegations were false. According to The Times of India, the "malfunctioning" EVM was replaced immediately, said Meerut additional district magistrate Mukesh Kumar.
As per the Times of India report, a video of a voter trying to vote for a Bahujan Samaj Party (BSP) candidate surfaced online, showing that no matter what, the vote registered for BJP. "I voted for the BSP candidate. I am still holding the pressed button. The machine has recorded my vote as having gone to BJP. I have been waiting here for an hour, but no solution has been provided so far," Tasleem Ahmad says in the video, as per the report. Once a vote is cast, the EVM locks itself automatically, which is then unlocked for the next voter alone.
Following this, BSP alleged that the EVMs were tampered with to favour the BJP.
According to Hindustan Times, voters protested in Meerut's Dhawai Nagar area after a voter said that LED lights against the BJP and NOTA symbol flashed on the EVM when he cast his vote for BSP. Such incidents were also reported in Kanpur's ward number 58 Tiwaripur and ward number 104 where votes were registered for BJP irrespective of which button was pressed on the EVMs.
Similar reports of technical glitches, 'rigged' EVMs and claims of bogus voting overshadowed the elections. According to ANI, there were glitches in the EVMs of three booths in Kanpur's Mani Ram Bagia ward number 104. However, the voting there resumed after some time.
101Reporters also said that there was a delay in polling in booth number 606 in Agra due to malfunction in the EVM, angering many voters.
Over 52 percent voting was recorded in the first phase of the Uttar Pradesh civic polls on Wednesday, with the Congress bastion Amethi logging a high turnout of 68.44 percent and Chief Minister Yogi Adityanath's hometurf Gorakhpur registering the lowest at 39.23 percent, reported PTI.
The districts which went to polls in the first phase are Shamli, Meerut, Hapur, Bijnore, Badaun, Hathras, Kasganj, Agra, Kanpur, Jalaun, Hamirpur, Chitrakoot, Kaushambi, Pratapgarh, Unnao, Hardoi, Amethi, Faizabad, Gonda, Basti, Gorakhpur, Azamgarh, Ghazipur and Sonebhadra.
With inputs from PTI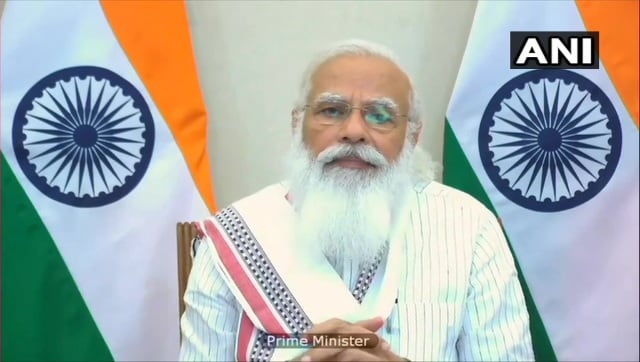 India
During an interaction with CMs of Tamil Nadu, Andhra Pradesh, Karnataka, Odisha, Maharashtra and Kerala, Modi said that 80% of the new COVID cases last week were from these states
India
The top court had taken suo motu cognisance and said it cannot allow the UP government "to hold 100 percent physical Kanwar Yatra in view of COVID"
India
A Bench headed by Justice Rohinton F Nariman had given an ultimatum to the Uttar Pradesh government on Friday to either "reconsider" its decision or the court will pass orders.