Believe it or not, other than this particular sentence where the name Narendra Modi crops up, it won't resurface again in the rest of this article. A tough ask while attempting to put together more than ten words on Gujarat – but eminently doable, as I realised.
The structure.
Let us focus a bit on the fault lines in the structure and construct of the electoral systems that stand exposed once again. This time around, in Gujarat.
Something that lies at the heart of the rot in the political system we see around us in India. A theme covered on a few occasions, and then some, by me in the past. And I am sanguine the political class will give me the opportunity to throw the washbasin and the bathtub at them – metaphorically speaking - on the issue of electoral reforms on countless more occasions in the future.
Talk of confidence in one's elected representatives!
Read on.
Name: Vasava Chhotubhai Amarsinh
Credentials: Frighteningly breathtaking.
Take a closer look….
• 9 charges related to dacoity (IPC Section-395)
• 7 charges related to theft (IPC Section-379)
• 3 charges related to murder (IPC Section-302)
• 2 charges related to kidnapping or abducting with intent to secretly and wrongfully confine a person (IPC Section-365)
• 1 charge related to voluntarily causing hurt by dangerous weapons or means (IPC Section-324)
• 1 charge related to voluntarily causing grievous hurt (IPC Section-325)
• 1 charge related to dacoity with murder (IPC Section-396)
• 1 charge related to attempt to murder (IPC Section-307)
• 1 charge related to voluntarily causing grievous hurt by dangerous weapons or means (IPC Section-326)
• 10 charges related to criminal conspiracy (IPC Section-120B)
• 7 charges related to rioting, armed with deadly weapon (IPC Section-148)
• 7 charges related to unlawful assembly (IPC Section-149)
• 6 charges related to rioting (IPC Section-147)
• About 40 other assorted charges (IPC Sections 337/504/137/342/397 etc)
Total tally: 96 IPC charges. Whoa!
JD(U) could not find a more worthy candidate to contest the upcoming Gujarat assembly elections from Jhagadia constituency [Bharuch]. So they are fielding this gentleman. Tish tosh.
Eat that!
And no, JD(U) is not alone in this impeccably scatological candidate selection process.
In a recently released report by Gujarat Election Watch (GEW), which has analyzed the affidavits of 482 out of the 846 candidates who are contesting in the first phase of Gujarat 2012 Assembly Elections, the facts that jump out from the pages and drill helplessness-sized holes in the heart and the mind of the reader are irrefutably monstrous.
One is almost tempted to bait the political class with a challenge: "Why don't you all just drop all pretence and do away altogether with the sham called the Election Commission? Even elections?"
But given the current environment of liberty raped and freedom sodomized [sans the final wrath of Yahweh, a la Sodom & Gomorrah] from Kolkata to Mumbai and Chennai to Thane, whereby one can get thrown into the slammer [124(a), 66(a), Anythingatall(a) and Allthatjazz(a) ] for showing the mirror or the metaphorical middle finger to the powers that be, I would refrain from uttering any such foolish challenge.
Meek, I tell ya! Forever meek. Earth. Inherit. Or so some say.
CBI, CVC, CIC etc are proof enough of the destiny of the CEC.
Very soon the CAG might be buried 6 feet under "mother earth" as well.
On another front, RTI is already being suffocated using whatever means that are at hand.
All in all, "zero loss" to the polity. A staggering one to the citizenry.
First replace the teeth with dentures. Then kill the watch-dogs while we are sleeping. And then rule with impunity like some feudal overlords. Forget all that elected-to-serve hogwash!
A suzerainty that thrives on the sole and unquestioned till-kingdom-come fealty of its vassals can never be the safe-keeper of justice nor can it safeguard the average citizen's liberty, his rights and his hopes of a brighter future wherein ethics and integrity flow from the top and irrigate the plains down below.
I digressed. As is my wont.
Back to the full Monty on the candidates aspiring to rest their derrieres on the furniture inside the Gujarat Assembly: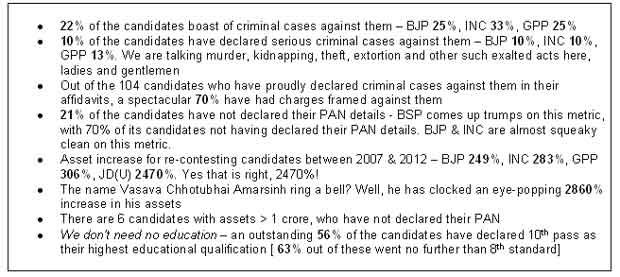 The probability of a tainted candidate losing an election is inversely related to the number of tainted candidates being fielded in that particular constituency. Take a look at the data I had culled out from the Maharashtra assembly a few months ago:
How does this rampant proliferation of pristine ones being poured into the funnel, affect the success rates of ordinary mortals?
It is time to move on, perhaps, from generalizations and the yeah-the-rot-is-everywhere-fatalism, into the domain dominated by near perfect exactitude, for there is no other way of making the political establishment listen to our faint cries of protest. The malaise appears to be dreadfully incurable as things stand, leading to arrested development of the nation as a whole. But then, information is power, and if power has to shift back into the hands of the citizens, obscurantism needs to be pummeled on the nose with free-spirited abandon, till misinformation and misrepresentation of facts lie bloodied on the road to 2014.
For a more detailed analysis of the candidates contesting in the first phase of the Gujarat elections, click here, here and here.
For those of you who are citizens of Gujarat and are wondering what you can do with these facts, click here to find out how you can call for specific information on the contestants from your constituency, and in the eventuality that you do not wish to waste your precious vote on any of them, how to reject all of them under Rule 49(O). Carpe diem.
With apologies to Alphonse Karr, "The more things don't change, the more they stay the same."
[shining.path.notperu@gmail.com]
Updated Date: Dec 04, 2012 18:42 PM