UP elections 2017: Akhilesh Yadav's efforts to emulate Vajpayee will be in vain
If the running feud between various factions of the Yadav clan is any indication, Akhilesh is keen to step out of the shadow of his father
Agra is closely connected to Etawah. The treacherous ravines of the rivers Yamuna and Chambal define the social life of this geographical region that is known for spawning a culture of "guns and retribution", somewhat akin to the Sicilian Mafiosi that had abiding faith in the maxim that "revenge is a dish best served cold".
The BJP's tallest leader Atal Bihari Vajpayee belonged to Agra, while the Samajwadi Party supremo was born in the Saifai village of Etawah. Both pursued a distinctly different brand of politics, with good reason. Vajpayee's family migrated to the Gwalior district of neighbouring Madhya Pradesh and was less exposed to the oppressive social order of the Etawah-Agra region. On the other hand, Mulayam Singh Yadav fought his way to the top by engaging his adversaries in no-hold-barred battle.
Unfortunately Mulayam's son and Uttar Pradesh chief minister Akhilesh Yadav seems to be oblivious to this brief history of his hometown. And there are all indications that he has been emulating Vajpayee at the expense of his father. Vajpayee was often praised by his opponents as a "decent and right man" in the "wrong party (BJP)". In fact, this imagery helped the BJP come out of its political isolation at an early stage.
Does this hold true for Akhilesh as well?
If the running feud between various factions of the Yadav clan is any indication, Akhilesh is keen to step out of the shadow of his father. Insiders in the Uttar Pradesh government say that the chief minister is convinced of having an upper hand in the forthcoming elections on the basis of his image as the "suave, well-behaved" scion of the family being hemmed in by crooks. For the past two months, Mulayam has been insistent that the party he had so assiduously built with his blood, sweat and tears would run as per his diktat. This was clearly indicated by the Samajwadi Party supremo when the party's list of candidates for the election included those who Akhilesh steadfastly opposed. Meanwhile, a few names known to be favourites of Akhilesh were left out.
It would be naïve in this context to assume that Akhilesh is averse to the criminalisation of politics and opposed to his father. In reality, his near-five term in Uttar Pradesh was marked by hooliganism at its worst. All over the state, criminal gangs owing allegiance to his regime were let loose and then only recently contained. A series of communal riots took place across the state in the past five years. The embers of the Muzaffarnagar riots are still smoldering while the Hindutva forces are banking on communal polarisation in western Uttar Pradesh to reap a political harvest.
There is a marked difference in Mulayam and Akhilesh's respective styles of governance. While Mulayam — despite his patronage to criminals and mafias — was known to be a hands-on guy for the bureaucracy and quite effective in checking criminals when he desired, Akhilesh appeared as a helpless chief minister who had a tendency to ignore inconvenient truths about his governance by talking about development. But beneath his suave and soft-spoken exterior lay a highly superstitious chief minister who shunned visiting Noida through his tenure in the belief that such a visit would bring an end to his regime. Remember how he avoided visiting Noida when the beef controversy claimed the life of Mohammed Akhlaq in Noida's Dadri town.
In one of his public interactions, he blamed officials for not letting him visit Noida, as their own misdeeds would apparently be exposed.
Perhaps nobody knows the vulnerability of Akhilesh more than Mulayam. It is with good reason that he has been rebuking his son publicly for ignoring the contributions of leaders like Shivpal Yadav and Amar Singh. Mulayam knows all too well that in the grassroots-level politics of Uttar Pradesh, it would be puerile to bank solely on image without the backing of money and muscle. Apparently Mulayam's fondness for criminals could only be explained in the context of the ravines of Chambal, where power still flows through the barrel of gun. This is the reason that Mulayam appears averse to shun his friends who stood by him in troubled times.
Quite clearly, Akhilesh's attempt to imitate Vajpayee within the Samajwadi Party's fold is deeply flawed. Unlike the former Indian prime minister who dominated like colossus in a party that has a unique organisation network on religious lines, Akhilesh inherits the legacy of his father, who built his political capital in a different cultural milieu. And in the past five years, Akhilesh has done nothing to outgrow his father. It would be wrong to assume that Mulayam's love for his son has diminished.
By all indications, his snubbing of Akhilesh is intended to make him get in line and keep the Uttar Pradesh chief minister from committing political harakiri.
Politics
The BJP's and TMC's promises for West Bengal towards education are at odds, one harped on the making Bengali compulsory the other chose a more secular approach.
Politics
One of the highlights of BJP's poll promises in Kerala is to bring in a special law to contain Love Jihad. We spoke to a few BJP supporters from the state to understand how love jihad stands out as an election issue for them.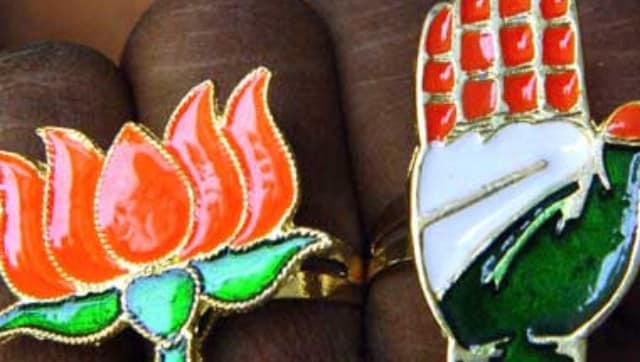 Politics
A look at the manifestos of the BJP and Congress gives a glimpse of how they are trying to convey their agendas to voters