UP Election Results: SP wins Ram's Ayodhya
Lallu Singh of BJP who was leading in Ayodhya has lost to SP's Pawan Pandey by 2500 votes.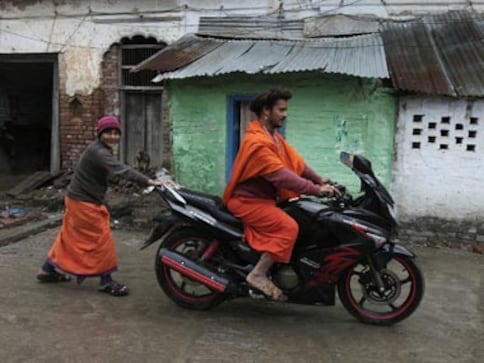 The Samajwadi Party has wrested the Saffron bastion by defeating BJP's candidate who was up for a record fifth term.
Winning by 2,567 votes, SP's candidate Pawan Pandey overtook the BJP candidate who was leading in Ayodhya after counting began.
Given the waning interest in the Ram Janmabhoomi issue, there was much speculation that the BJP candidate Lallu Singh's poor record on the development front could cost him his seat.
The SP candidate Pawan Pandey, a student leader, who is said to have had the support of the Muslim and Yadav community has pulled off a coup by breaking the saffron hold on Ayodhya,
Ayodhya is one of the five assembly constituencies in Faizabad.
The BSP candidate was no light-weight either. Ved Prakash Gupta — a traders' leader who belongs to the influential Baniya community was expected make a dent in the BJP's traditional vote base.
Vote share of the top three parties in Ayodhya is as follows. Pawan Pandey of SP – 49,562, Lallu Singh of BJP – 46,986 and Ved Prakash Gupta of BSP – 29381.
In 2007, the BJP had cornered 37 percent of the vote in Ayodhya, followed by SP (33 percent of the vote) and BSP, coming a distant third (18 percent of the vote).
Find latest and upcoming tech gadgets online on Tech2 Gadgets. Get technology news, gadgets reviews & ratings. Popular gadgets including laptop, tablet and mobile specifications, features, prices, comparison.
India
Presently Muslims don't feel represented, which makes their insecurities graver. They feel that they have been struggling for 'respect' and 'acceptance' all the while, but now their struggle is reduced to mere survival.
Politics
Roy, addressing a press conference, scotched speculation about him returning to the Trinamool Congress.
India
Narendra Modi at Ayodhya Ram Mandir LIVE Updates: Prime Minister Narendra Modi in his address to seers and other guests on the occasion of 'Bhoomi Poojan' said that many efforts were made over the centuries, buildings were destroyed in an attempt to try and eradicate Rama's name but he still lives in our hearts.