UP Election Results 2017: Who will become the state's next chief minister?
After seven phases of voting, Uttar Pradesh's two-month exercise in democracy is nearing its very end with results to be declared on Saturday. Here's a brief list of possible chief ministerial candidates for the state:
On Saturday, the results of the Uttar Pradesh Assembly election overwhelmed most predictions with the BJP romping home to a massive win in the state:
Rajnath Singh: A large number of people in Uttar Pradesh would like to bet on Union home minister and Lucknow MP Rajnath Singh as the possible Chief Minister of Uttar Pradesh. The tallest BJP leader from the state, Singh relinquished the chief minister's post in March 2002. Thereafter, he moved to national politics to be a Union minister and the national president of the BJP for two terms. As a star campaigner for the BJP, he camped in the state for 26 days and addressed 120 public rallies while covering 20,000 kilometres. Singh is a highly-disciplined organisational man and has been known to follow party decisions. The holder of a Masters degree in Physics, he has been associated with the RSS since 1964, which makes him a politician with a strong grassroots connection.
Manoj Sinha: After Rajnath, the other minister from the Centre close to the race is Union Telecom Minister Manoj Sinha. A BTech and MTech in Civil Engineering from IIT-BHU, Sinha has gained the confidence of Prime Minister Narendra Modi and BJP president Amit Shah through his work and as an organisational strategist. It is known fact that Sinha has information on each and every seat in Uttar Pradesh at his fingertips. He has also been overseeing the high-profile constituency of the prime minister — Varanasi. A strong party worker who prefers to maintain a low profile, he's immensely popular with the party cadre in eastern Uttar Pradesh. Sinha's only disadvantage is his caste — Bhumihar, whose numerical strength is limited to some districts in eastern Uttar Pradesh, but then that could turn out to be an advantage because he could be taken as a caste-neutral candidate
Keshav Prasad Maurya: Another leader, comparatively younger in the race for the chief ministerial role is first-time Phulpur MP and state party chief Keshav Prasad Maurya. He addressed fewer rallies than Rajnath Singh and Manoj Sinha, as he was in charge of back-end operations and organisational responsibilities. Also the argument that goes in his favour is the fact that the non-Yadav OBC consolidation is in favour of the BJP, something that was seen during the heydays of Kalyan Singh. If the mandate for the BJP is massively pushed by OBCs then someone from the community should be given a chance to lead the state. Maurya's handicap is that he does not have any administrative experience. Managing a state as big as Uttar Pradesh may prove to be a tough task.
Santosh Gangwar: Another Union minister (MoS Finance) is Santosh Gangwar whose candidature for the post of chief minister is less talked about. He was elected as MP in the 16th Lok Sabha by registering victory by a margin of over 2.4 lakh votes over his rival candidate in the 2014 General Election. As far as administrative experience is concerned, Gangwar has ample. Prior to becoming MoS Finance, he was MoS for Petroleum and Natural Gas with additional charge of Parliament Affairs. He had also served as MoS, Science and Technology in 1999. Since 1989 onwards, Gangwar has been a member of the state working committee of the BJP.
India
Taking note of the heavy rainfall, District Magistrate, Lucknow, Abhishek Prakash has advised people to remain indoors and avoid going out.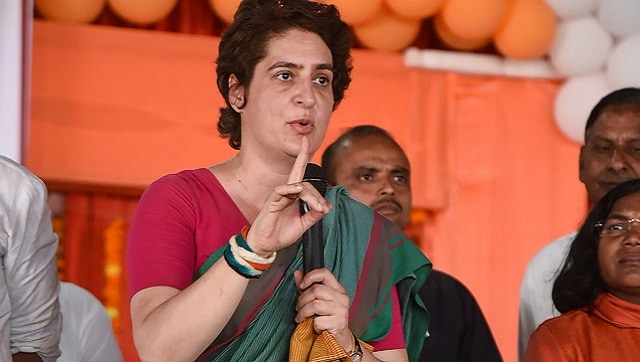 India
During the yatra, Congress leaders will assure people that they would fulfil promises made by the party in the run up to the polls.
India
Ajay Kumar Lallu also said that governments led by BJP, BSP and SP that ruled Uttar Pradesh for the past 32 years failed to live up to the expectations of people