UP Election Results 2017: Poor Congress performance should bust Priyanka Gandhi myth once and for all
The fable of Priyanka Gandhi — as Congress slumps to a miserable low, it is time to bust the biggest urban myth created and carefully nurtured by its entrenched media machinery.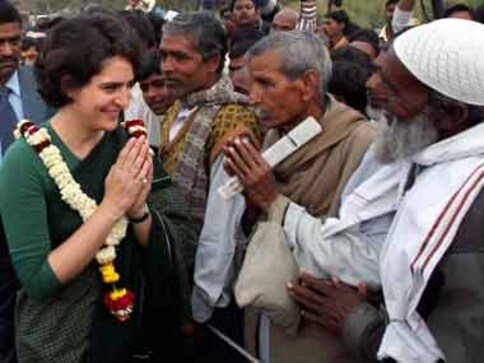 As Congress slumps to a miserable low in the heartland of Indian politics, it is time to bust the biggest urban myth created and carefully nurtured by its entrenched media machinery — the fable of Priyanka Gandhi.
Sinking lower and lower with familiar electoral defeats and grappling with the ineffectiveness of a failed brand in Rahul Gandhi, Congress kept reminding us that it had a 'brahmastra' up its sleeves. It wasn't clear why this brahmastra had not been deployed into service despite the party tottering on the brink of getting wiped out of India. Still, ahead of every election, we were fed a steady stream of articles and subjected to large dollops of studio discussions on how at that promised hour, Priyanka will arrive on a golden chariot and apparently flatten all demons around her.
It matters little that Rahul Gandhi's sibling has no electoral experience beyond campaigning in the family turfs of Amethi and Raebareli. Yet, against every grain of logic and each lesson of history the myth gradually took shape that merely waving hands and draping the sari like her grandmother would be enough for Priyanka to turn around Congress' sinking ship.
Such a narrative requires a giant leap of faith. When it comes to the Congress, the media has it in abundance. It not only failed to question the lunacy of the plan but worse, bought into it and tried to make Priyanka an urban legend. As Uttar Pradesh elections drew closer, articles about the 'clamour from grassroots' for Priyanka started surfacing even though it is unclear who these mythical grassroot workers were.
Even so, the 'clamour' apparently grew strong enough for Priyanka to 'give in' to pressure from party workers to gracefully become the backroom whiz kid. Even as Congress khatias were up for grabs during Rahul Gandhi's 'khaat sabhas' in Uttar Pradesh, we were told that Priyanka and poll strategist Prashant Kishor would stitch an unbeatable plan to end Congress's 27-year UP hiatus.
It seemed as if the promised moment was upon us when Priyanka finally steps into the ring and saves her embattled brother and endangered party. To be fair to Kishor, he understood the depth of Congress' systemic rot that starts with its vice-president and suggested a Priyanka-centric campaign.
Had she really been the 'brahmastra' that the party apparatchiks and a few journalists insisted she was, Priyanka would have picked up the gauntlet and led Congress from the front. This could have been a chance to put that illusion to rest, whether in 2017 a mere physical resemblance with Indira Gandhi is enough political capital for the Gandhi scion to exploit. Not surprisingly, Priyanka balked. Party sycophants may have bought into it, but Priyanka would have known the reality of that myth.
She chose a backroom role and engaged the bickering Samajwadi Party into a seat-sharing agreement. After initial hiccups due to the change in SP's internal power dynamic, the alliance finally took off and Priyanka was given credit for 'stitching' an unbeatable alliance and ensuring over a 100 seats for the Congress. The move had an air of inevitability about it despite tantrums from both sides. Congress was fighting a grim battle of survival and Akhilesh-led SP wanted to consolidate Muslim votes. SP-Congress's marriage of convenience was spun as the strategic masterpiece and Priyanka was expectedly given the credit for it.
Leaving the tactics aside, we got a glimpse of Priyanka the orator when she tried to paint Modi as the "outsider", mimicking Nitish Kumar's 'Bihari vs Bahari' campaign. Bihar isn't UP and Priyanka is not Nitish Kumar. It became evident quite soon that there is little to choose between Rahul and Priyanka when it comes to oratory skills or communicating with masses. Village tours wearing elegant khaki saris and sharing token meals with Dalit women inside their hutments cannot replace the hard grind of BJP's relentless fieldwork and sustained mass connect of its machinery.
Interestingly, after giving out an impression that she will deliver multiple rallies and cover the length and breadth of UP, we were suddenly told that the Gandhi dynast won't step beyond her family turf. It was perhaps an attempt at plausible deniability and a move to shield the First Family's last brand from permanent damage in the event of another humiliating defeat.
The final tally shows the most embarrassing defeat for Congress in the history of UP elections. It not only got 7 seats among the 114 it contested, the party also lost all four seats in Amethi, places where Priyanka had done extensive campaigning. This should end the urban myth once and for all.
Politics
With all possibilities of a major structural and characteristic renovation that Rahul Gandhi's July 2019 resignation suggested now ruled out, the Grand Old Party represents the order of feudal decadence in the political terrain
India
Stripped to the bone, the CAATSA sanctions are a way of forcing India to negate its multi-alignment strategy
India
The 'annadata' narrative is slowly peeling off. Indians can now clearly see that beneath the costume of farmers exist many hardened criminals and anti-national elements