UP Election Results 2017: PM Modi is talking in a new language; Oppn is still trapped in the past
As prime minister, Narendra Modi is speaking in a new political language for a new India. Unfortunately, the Opposition is still stuck in the trappings of past.
To understand the import of Narendra Modi's speech at BJP headquarters on Sunday evening, where he laid out the roadmap for a "new India" by 2022, we need to first step back to the previous day. On Saturday, when a shell-shocked Mayawati held an impromptu news conference. Reports had just come in that BSP's tally in Uttar Pradesh had nosedived to 19 seats, the party's worst performance since 1991.
Disbelief getting the better of her usual poker face, Mayawati was a leader in denial even as the embers of her political career were still alight. This can't be, she seemed to be saying, trying to blot out the nightmare through the intensity of denial. How can, demanded Mayawati of the journalists present in the room, the BJP win, even in Muslim-dominated areas?
How indeed. The BJP, which won 312 out of 403 seats, increased its vote share this year to 39.7 percent from 14.7 percent in 2012 — a leap of 25 percentage points. Even as poll pundits predicted 'no wave' and a tight contest, BJP managed to almost repeat its 2014 Lok Sabha tally, when it had bagged 73 out of 80 seats with a 42.7 percent vote share.
Mere numbers won't catch the larger picture. The BJP won handsomely even in areas dominated by Muslims. The party won six Muslim-dominated constituencies — Muzaffarnagar, Deoband, Saharanpur, Bareilly, Bijnor and Moradabad — defeating the so-called secular outfits like SP, Congress and BSP. Shaking her head, Mayawati told reporters, "Muslim votes have gone to the saffron party which is unacceptable."
Her entire campaign was built around an attempt to consolidate her Dalit votebank and add Muslims to it. She was admitting defeat, but remained stoutly self-delusional even in admission. "Muslims constitute 20 percent votes in the state and BJP did not give a single ticket to Muslims…but in Muslim-dominated seats too, the results went in the BJP's favour. This is unpalatable," she said, accusing BJP of manipulating EVMs.
Truth is unpalatable. But this is not just a leader suffering from delusion. Make no mistake, this is one of the most profound moments in India's electoral history and its rise as a young nation. It is the moment when, responding to the prime minister's call, the electorate is rejecting axiomatic notions about caste and community, and is trying to join a larger narrative of hope. We saw this in 2014 but this 2017 iteration is infinitely more important because it confirms the indomitable urge for a change within and without.
In his column for The Indian Express, Pratap Bhanu Mehta captures it thus. "It (BJP) has negated ossified logics of caste arithmetic to win over substantial numbers of OBCs and Dalits in addition to upper castes. The unacknowledged social story in the BJP's rise is its transformation of the rules of caste politics and aligning them to a larger narrative. Almost no other party is able to tap into this transformative urge."
It is this urge for transformative change that Modi understood and tapped in, but his rivals failed to identify. Now let us look carefully at Modi's words from Sunday evening. The Prime Minister said he does not believe in electoral timelines and set 2022 as the date by which he wants to build a new India.
"I don't live by election calculations. My target is 2022, not 2019. 2022 will mark 75 years of India's independence. We have five years to contribute to change India," Modi said during his speech before party workers and BJP parliamentary board members.
It sounds audacious when a politician says he doesn't live by elections. It would be easy, too tempting, to dismiss this statement as rhetoric. But the Opposition and his critics have been making the same mistake so far.
The simple truth that eludes those still in denial about BJP and Modi's ascendancy is this: Agendas and narratives can bring electoral dividends only up to a point in such a huge, heterogeneous, multi-ethnic, multi-faith democracy such as ours. Decisive mandates of the kind Modi-led BJP is regularly notching up would have been impossible if the electorate at large not believed him as a "change agent".
Modi is perceived not just as the leader of a political party, but a catalyst for change who is willing to take hard, seemingly unpopular decisions. He is the first leader to take banks to the unbanked, make modern fuel accessible for impoverished rural women, build toilets in their homes, bring them within the insurance perimeter, and give loans to rural youths.
In a column for The Times of India, MJ Akbar writes, "In 2015-16, UP alone took 33,45,382 loans worth Rs 12,275 crores. In the next year, 28,60,243 collateral-free loans worth Rs 10,755 crores were sanctioned for the state. This money, moreover, did not go into unstable or punctured pockets; it went into bank accounts, and began to prove to the poor the efficacy of a parallel programme, Jan Dhan."
As Modi goes about building the blocks of a nation and takes "garibi hatao" in its most literal sense, Hindus and Muslims alike are believing in him. For far too long, the language of India's electoral politics has been dominated by faux secularism. The scale and sweep of BJP's victory in UP shows that Muslims too now realise that Modi is at least doing something. They are willing to give him a chance. Muslim youth are especially not willing to be trapped into their identities, or be subjected to the fear of majoritarianism that characterises our secular politics.
To quote Akbar again, "Muslims can see for themselves that Mudra loans or insurance or LPG are as available to them as anyone else, on the basis of poverty, and not faith. They can see now that the myths circulated about the PM in 2014 were lies designed for election."
Therefore, when Modi says, "The poor of the nation has left the mentality of liking somebody only because he has been given something. The poor wants to progress by the dint of their hard labour. He says you create an opportunity for me, I will work hard and grow," critics and Opposition should listen to his words carefully.
His speech on Sunday was also marked by an inclusive approach and a call for humility. Fears have already been raised about how BJP's UP mandate may be "dangerous" for Muslims. Modi reminded karyakartas and leaders present on the occasion that "governments are formed by majority, but run with consensus" and that it is "also for those who voted for it and also those who did not. For those who walked along with us, and those who faced us."
Using the banyan tree as a metaphor, the prime minister said when a tree is endowed with fruits of victory, it must bend more with humility. Modi is speaking in a new political language for a new India. Unfortunately, the Opposition is still stuck in the trappings of past.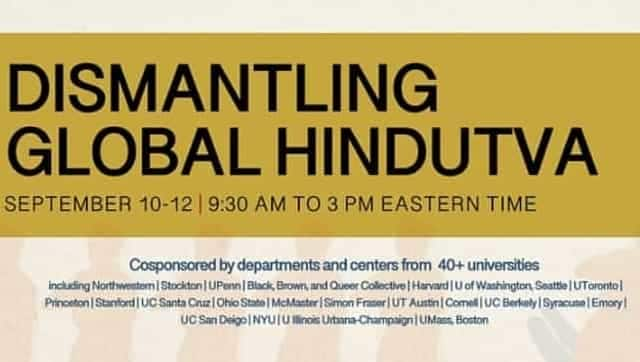 India
The ground was being laid for a while, as Hindus in the US have campaigned against representation of their faith in school textbooks in California a little more than a decade ago, and against various scurrilous academic references
India
As part of the celebrations, Union Health Minister Mansukh Mandaviya requested people to get themselves vaccinated and also help others to receive their jab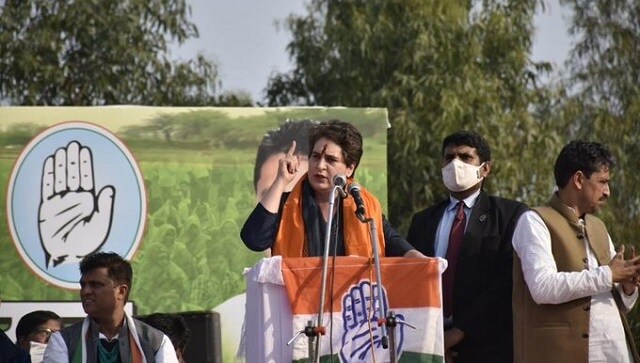 Politics
Her attack on Adityanath came as on this day, last year, the horrific Hathras incident took place in which a young Dalit woman was raped by four men.