UP Election 2017: Will demonetisation hit BJP's chances? From farm to factory, the jury is still out
It seems that the verdict on the ground on demonetisation is clearly divided along political lines ahead of the Uttar Pradesh Assembly election.
During election time, almost every question you ask the man on the street gets a guarded response. If he opens up rather quickly to loaded questions, offering lucid and detailed answers, it is time for you to be on guard. If he seems prepared; he could be feeding you his political bias.
Pose queries on demonetisation, particularly on its impact on the Uttar Pradesh Assembly election, to people from places like Bijnor, Kairana and Muzaffarnagar in western UP to Firozabad and Kanpur in central parts of the most populous state, you end up getting no clear answer.
On being asked if demonetisation had caused pain and suffering to the common man, Rajkumar, a tea stall owner near Ramlila ground in Bijnor and a self-confessed BJP supporter, vehemently replies in the negative: "Kahan kuch badal gaya hai? Mera to sahi chal raha hai. Notebandi ke baad mere customer kam nahi huye hain (What has changed? My business is doing fine. The number of customers has not gone down after demonetisation)."
Ask the same question to Shamshad Ahmad, a Samajwadi Party supporter, you get a different answer: "Kisano ko bahut pareshani ho raha hai. Har cheez main note chahiye, jo hai hi nahin (Yes, farmers are suffering. They need cash for everything, and they don't have it)."
He elaborates: "When sugarcane farmers take their stock of canes to mill owners, their due is deposited in bank accounts. For more than a month, they were not able to withdraw the money in full. For those carrying their stock to manufacturers of jaggery, the payment is mostly in cash. It got delayed. Farmers need quick money to get ready for the next season."
Speaking to Salim Mohammad, a jaggery manufacturer, on the road between Muzaffarnagar and Khatauli, you get a sense of perspective. "Demonetisation has created some disturbance, but not much to affect farmers," he says, adding, "There's a credit system in place. A good deal of farming activity in the region is reliant on credit. So a delay of payment by a couple of months does not hurt."
That perhaps explains why parties would evade making demonetisation a big election issue at the ground level in the sugarcane belt of the state. The Jat leaders you speak to are dismissive of it as a poll issue. Ashok Baliyan, leader of Peasant Welfare Organisation, says he does not see demonetisation as an emotive poll issue. Rakesh Tikayat, leader of Bharatiya Kisan Union, agrees.
Move to Kanpur in central UP, you get a feeling that demonetisation has had an effect on cash-dependent local industries, the leather industry in particular. Tanneries, which process hide and supply them to the industry, are witnessing a flight of workers. The Dalits who collect hide at the local level and supply it to tanneries are out of work. The shoe industry which supports Agra's economy has taken a hit too because of the disruption of the raw material supply chain down the line. Kanpur's famous horse gear units – the city is one of the world's biggest suppliers of such gear – are in a state of confusion.
Taj Alam, a senior office-bearer of the state's Leather Industries Association, paints a sad scenario of the leather industry post demonetisation. "The Union Commerce Ministry has set an export target of Rs 27 billion for the industry by 2020. At present, we are clocking Rs seven billion. Our growth was already showing a negative trend in the previous years, now demonetisation is likely to aggravate the situation further," he said.
Asked to elaborate, he explains: "Demonetisation has hit hide procurement at the lower levels of the chain. Farmers won't sell their old cattle to skinners or slaughter houses because it involves payment of cash. The tanneries need to pay procurers in cash which they are not in a position to do. The leather industry cannot rely on tanneries because there's no guarantee of steady supply. We cannot accept orders from our international clients knowing that we may not be able to fulfill our commitment to them. Now, they have started looking for other countries they had not explored earlier. Export orders are going to countries like Pakistan, Bangladesh and Indonesia. Our business is shrinking. This could be a permanent loss to our industry."
He won't commit to an answer on whether this would impact voting, because it is a political question. But he would say that the beef ban has also affected the industry. Both farmers and procurers are in a state of fear. It is a loss for both.
"Our foreign clients have been keeping a tab on such developments in the media. It is not doing any good to their confidence on our capacity to deliver on demand," Alam said.
Others in the industry won't comment on whether demonetisation would have a bearing on the voting behaviour. They, however, would let out that the industry employs about a lakh of youth. Given that each of them support about five family members, the number of those actually affected could be significant. The youth, whom the industry has taken care to train for their job, are unemployed now and driven to penury.
One hears a similar story in Moradabad, which is known for its brass industry. Small industries which depend on cash transactions on a daily basis offer no better picture. But will that result in votes against the BJP? Guarded views from a cross-section of people do not help. Let's wait for the results.
India
The 'annadata' narrative is slowly peeling off. Indians can now clearly see that beneath the costume of farmers exist many hardened criminals and anti-national elements
India
The two parties has joined hands to fight the battle of the deprived, oppressed, backward, Dalits, women, farmers, youth and the weaker section, as per Samajwadi Party's Twitter handle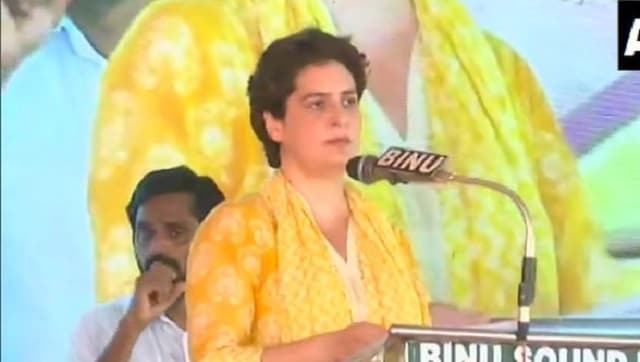 Politics
Had the Congress been serious about women empowerment, it would have made such statements in Punjab, Uttarakhand, Manipur and Goa where it is in serious contest for power in the 2022 elections