UP Election 2017: Priyanka overshadows Rahul after SP deal; she is likely to assume a bigger role in Congress
The Congress wangled 105 seats after long-drawn haggling with the Samajwadi Party; a good performance considering the party's shrinking footprint in the state.
Seat-sharing talks are a test of negotiation skills. With each party looking at extracting the best bargain irrespective of whether its expectation is matched by its strength on the ground, these are usually tricky affairs, requiring a great degree of maturity and patience. The Congress wangled 105 seats after long-drawn haggling with the Samajwadi Party; a good performance considering the party's shrinking footprint in the state. Given the length of involvement of Congress vice president Rahul Gandhi in Uttar Pradesh all credit should have gone to him.
But that was not the case. After the alliance proposal came to the point of collapse repeatedly, it was Priyanka Vadra's intervention that provided the breakthrough. A no-deal with the Samajwadi Party would have been a huge embarrassment for the Congress as it had no Plan B after unilaterally announcing an alliance with the former immediately after Akhilesh Yadav won the party election symbol. Rahul's and his bunch of negotiators apparently failed to persuade Akhilesh to cede more seats. It was then Priyanka stepped in on behalf of party president Sonia Gandhi and managed the impossible.
We are yet to know what kind of seats the party gets from the alliance — it's likely it would be handed over many seats where the Samajwadi Party candidates would have little chance of winning or the Congress won't even have a candidate to offer — but the fact remains that 105 seats gives the Congress to claw back to a position of some reckoning in the state. Its vote share hovers around 11 percent, a lowly fourth among the important players.
Whatever the case, Priyanka has emerged as a bigger force than brother Rahul in this election, if not by default then by design. There has been talk about her playing a more important role in the party earlier too, but this time it is louder. The party expects her to play a bigger role in the campaign — she has confined herself to Amethi and Rae Bareli, parliamentary constituencies of Rahul and Sonia respectively and steadfastly refused to play a more active role so far. Sonia has not been keeping well these days and Rahul has too much on his hands. It's only natural that she should fit in, say party leaders.
As they remain gung ho about the prospect of Priyanka getting into full-time politics, beginning with UP assembly elections, does it mean an unstated vote of no confidence in Rahul's leadership from them? Nobody in the party would say it in the open but as a leader Rahul has been less than inspiring. Over the last many years he has put in a lot of hard work, moving from state to state and one trouble spot to another, creating isolated bubbles of goodwill for himself. The effort has not resulted in groundswell of support for the party.
There's a huge vacuum in the national opposition space. It was expected that under his leadership the Congress would dust off its massive electoral loss in 2014 and move in quickly to fill that space. This has not happened. Rahul has failed to galvanise the party cadre and given them a sense of direction. The long-awaited organisational revamp in the party, supposed to be driven by his plan for the future, is still hanging fire. This is perhaps one reason why he has still not been elevated as party president.
Priyanka on the other hand is seen as someone with more charisma. Her grasp of politics is believed to be better, though she is an untested quantity yet. What works best in her favour is the easy connect she manages with people. This makes her a competent deal-maker — the alliance with Samajwadi Party is an example of it. Also she is more spontaneous as a politician than her brother.
Now, will Congress replace her with Rahul in the central role? Not likely. It will show the latter in bad light. Having invested so much in him for so long the party cannot leave him out in the cold. Moreover, the family holds together come what may. It won't allow political ambition to drive a wedge between the siblings. Priyanka will play a role, maybe a significant role, but more from the sidelines than centre stage. Uttar Pradesh assembly election could be the beginning.
India
The Congress leader's remarks come after reports that China has refused to pull back its troops from Hot Springs, Gogra and Depsang in eastern Ladakh
Politics
The BJP's announcement comes on the heels of criticism from Opposition parties like the TMC and Congress, who pointed to the rising COVID-19 cases in the state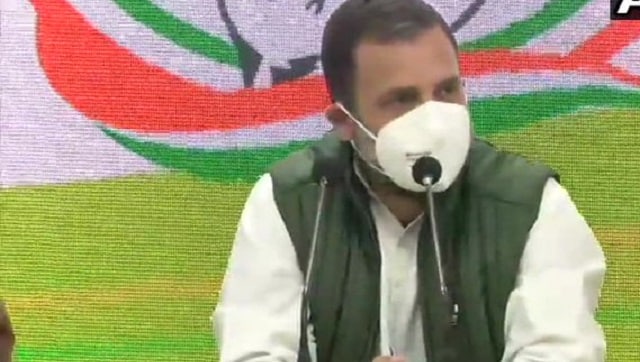 Politics
The Congress leader also exhorted all political leaders 'to think deeply about the consequences of holding large public rallies under the current circumstances'