UP Election 2017: Owaisi dares Amit Shah to contest against him from Hyderabad
AIMIM chief Asaduddin Owaisi has dared BJP president Amit Shah to contest from Hyderabad Lok Sabha seat, saying it is not as easy as 'eating cake'.
Hyderabad: AIMIM chief Asaduddin Owaisi has dared BJP president Amit Shah to contest from Hyderabad Lok Sabha seat, saying it is not as easy as "eating cake".
Owaisi, the sitting MP from Hyderabad, said his party would ensure that the BJP lost from Secunderabad Lok Sabha constituency, held by Union Minister Bandaru Dattatreya, and five assembly seats the saffron party has in the city.
"You (BJP) want to contest Hyderabad....you are welcome. But why are you planning to field somebody else? You (Shah) come and contest," Owaisi said.
"Hyderabad ki seat jeetenge....is it like eating a cake? We have worked a lot here for several years," the three-term
Hyderabad MP told a gathering on Wednesday night, referring to Shah's reported statement that BJP will win the seat.
Ridiculing Shah's claim that BJP would form its government in Telangana after the 2019 assembly elections, Owaisi said, "You are dreaming".
"God willing, we will ensure BJP loses Secunderabad and also the five assembly seats held by them," he said.
"I am telling you Mr (Narendra) Modi and Mr (Amit) Shah, mark my words, we will ensure that BJP is defeated from Secunderabad Lok Sabha seat. The people of Hyderabad will tell you. You will lose deposit from Goshamahal.. you (BJP) will lose Amberpet, Musheerabad, Khairtabad and also Uppal Assembly seats (in Hyderabad). You will face big loss in Telangana...Insha Allah," Owaisi added.
On Shah's three-day visit to Telangana, Owaisi said, "The BJP President is on Telangana tour...there's sudden love (that he has developed) for Telangana."
The AIMIM leader said Shah went to Nalgonda and had lunch at a Dalit home about which Chief Minister K Chandrasekhar Rao said was prepared by a member of a forward community.
"What kind of love you (Shah) have? You have food at the residences of Dalits which has been prepared somewhere else. What kind of love you have for (B R) Ambedkar?" he said. He rejected Shah's claim that the Centre had allocated Rs 1 lakh crore to Telangana, and insisted it got only Rs 24,000 crore.
"Ok, even if you gave (Rs 1 lakh crore) did you give it from your pocket. We are not beggars...It is our (Telangana's)
constitutional right to get (central funds). It is the right of the Telangana government to get not just Rs 1 lakh crore but Rs 10 lakh crore," he said.
Meanwhile, reacting to Shah's challenge, BJP floor leader in the Telangana assembly G Kishan Reddy dared the Hyderabad MP to contest from his constituency Amberpet.
"Amit Shah is based in northern India. There are thousands of BJP workers here who can defeat Owaisi. I dare him to contest from my constituency Amberpet," Reddy said.
Amberpet was among the five assembly seats Owaisi had said his party would ensure BJP's defeat.
Find latest and upcoming tech gadgets online on Tech2 Gadgets. Get technology news, gadgets reviews & ratings. Popular gadgets including laptop, tablet and mobile specifications, features, prices, comparison.
India
Shastri was born in Varanasi in Uttar Pradesh on 2 October, 1904 and passed away on 11 January, 1966 after suffering a massive heart attack in Russia's Tashkent, where he signed a peace agreement between India and Pakistan post the 1965 war.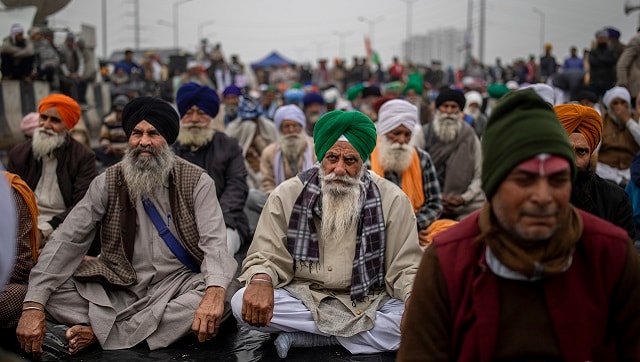 India
BKU leader Rakesh Tikait said that farmers are prepared to protest against the farm laws 'till May 2024', and termed the ongoing agitation as an 'ideological revolution'
India
Rahul said the Centre is is under the impression that they can 'destroy the cultures of this country', but he came to Madurai to send a message that nobody can suppress Tamil spirit