UP Election 2017: In Lakhimpur, Narendra Modi attacks SP-Congress alliance, accuses corrupt of joining hands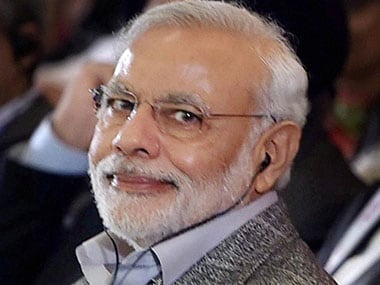 17:14 (IST)

Watch: Firstpost's roundup on the seventh and final phase of UP Election with SanjaySingh and Badrinarayan

17:35 (IST)

Voting for the seventh and final phase in Uttar Pradesh ends

16:49 (IST)

56 percent voting till 4 pm in UP phase 7 polls

Around 56 per cent of the 1.41 crore voters exercised their franchise till 4 PM today in the seventh and last phase of Uttar Pradesh elections covering 40 Assembly seats spread over seven districts. Assembly constituencies in Varanasi saw 45 percent polling while the Naxal-hit Mirzapur had 47.50 percent polling till 4 pm, it said. PTI

14:29 (IST)

Over 41 percent voting till 2 pm in UP phase seven polls

Over 41 per cent votes were polled till 2 pm on Wednesday in the seventh and last phase of Uttar Pradesh elections covering 40 Assembly seats spread over seven districts.

13:16 (IST)

Meanwhile... PM Modi and BJP chief Amit Shah offered prayers at Somnath temple

As the massive polling exercise across five states draws towards its end, PM Modi and Amit Shah were seen offering prayers at the Somnath temple in Gujarat.

After concluding the high-decibel canvassing in all states, especially UP, looks like the BJP top-brass is now pleasing gods for their efforts to pay off.

PM Shri @narendramodi and BJP National President Shri @AmitShah offer prayers at Somnath Temple in Gujarat. pic.twitter.com/lDgOviGtWy

— BJP (@BJP4India) March 8, 2017

13:10 (IST)

Modi's blatant Hindutva pitch after the third phase

In the past couple of weeks, the prime minister's attitude and his speech strategy at rallies has changed unmistakably. Starting his speeches with the archetypal mitron, which Modi says with a smile, the prime minister's rally speeches suddenly found more of communal undertones and less of the various benefits of demonetisation.

When Modi kick started his campaign in the state on 2 January with his Parivartan rally in Lucknow, the BJP was focussing on appeasing farmers, planning to announce some pro-poor schemes and focus on the many benefits of the 8 November, 2016 decision to demonetise Rs 500 and Rs 1,000 currency notes. The party planned to dedicate the campaigning on making sure that the demonetisation drive was used to its fullest. The second poll issue that Modi wanted to hammer home was development. Modi stayed clear of any communal references in his speech. Until that infamous 'kabristan' speech.

The prime minister was criticised for playing the Hindutva card. Interestingly, the time when Modi made the graveyard comment, three phases of polling were already done. Ground reports did not give any political party a clear lead and analysts said that the shift from development plank to communal plank was party's strategy to engineer counter-polarisation sentiments by whipping up apprehensions about the Samajwadi Party's pro-minority image.

13:05 (IST)

Women vote in large numbers

Aware that it was International Women's Day on the day of polling, most women told the waiting media outside the polling booths that they were voting to ensure safety and security for women and girls. Professors and members from the teaching fraternity turned up in large numbers to cast their votes in the early hours in the Benaras Hindu University (BHU).

Ajay Rai, the Congress candidate from Pindra, also cast his vote along with his wife. He first performed puja at a temple before heading for the polling station. Rai had unsuccessfully challenged Narendra Modi in the 2014 Lok Sabha elections.

13:05 (IST)

Farmers in Mirzapur's Chunar region boycott elections over lack of irrigation facilities

Farmers boycotted voting in Mirzapur's Chunar assembly segment alleging lack of irrigation facilities & development.

Mirzapur: Farmers boycott voting at polling booth number 283 of Chunar assembly segment alleging lack of irrigation facilities & development pic.twitter.com/jQvik9PX5t

— ANI UP (@ANINewsUP) March 8, 2017

12:57 (IST)

From 'bahu ji' to SP star campaigner: The metamorphosis of Dimple Yadav

The reticent and soft-spoken bahu (daughter-in-law) of the first family of the ruling Samajwadi Party in UP, Dimple Yadav, has finally found her groove, emerging as a major crowd puller in election rallies all over the state.

From the fumbling leader who repeatedly corrected herself while going through her written speeches, the new Dimple - the star campaigner - has learnt how to
keep the audience especially the youth involved and impress them.

PTI

12:43 (IST)

Over 26 percent voting till 12 noon in last phase of UP polls

Over 26 per cent votes were polled till noon for the seventh and last phase of Uttar Pradesh elections. Polling started amidst tight security arrangements this
morning with all eyes on Prime Minister Narendra Modi's Lok Sabha constituency Varanasi.

Varanasi saw 23.76 percent polling, while the Naxal infested Mirzapur had 26.63 per cent polling till 11 am.

PTI

Narendra Modi made UP Assembly polls a referendum on himself, but at what cost?

A glance at news headlines will give to the uninitiated viewer an impression that this isn't a race for Assembly seats at all, but presidential polls with Modi pitted against a battery of rivals. Therefore, it is pertinent to explore how and why UP Assembly election has become a de facto referendum on Modi, a prime minister who obviously can't be a chief ministerial candidate.

However, his unprecedented involvement in the campaign for state polls not only ensured that Modi remains the central figure in any narrative, but it pitted Mayawati and Akhilesh against him, instead of weaker BJP candidates.

12:25 (IST)

PM Modi urges people to turn out and cast their votes

Urging all those voting today, in the 2nd phase of the Manipur Assembly Elections to turnout in large numbers & vote.

— Narendra Modi (@narendramodi) March 8, 2017

उत्तर प्रदेश में आज आखिरी चरण का मतदान है। मेरा निवेदन है कि आप अपना कीमती वोट अवश्य दें। पहले मतदान, फिर जलपान!

— Narendra Modi (@narendramodi) March 8, 2017

12:13 (IST)

Uttar Pradesh has had hung Assembly for 14 years, but trends changed in 2007

Voters threw hung houses in the state for 14 years and that trend changed from 2007 when people decided to deliver a clear mandate. This time, with no clear wave in favour of any party and each of the key players claiming to get over 300 of the 403 seats at stake, party insiders say the outcome is unlikely to go in one direction.

Increasingly seen as the 'bellwether' for the 2019 Lok Sabha elections, the results will not only decide as to who will rule UP but show which way the wind is blowing ahead of the Lok Sabha elections two years hence.

12:12 (IST)

Uttar Pradesh has had hung Assembly for 14 years, and trend changed in 2007

Voters threw hung Houses in the state for 14 years and that trend changed from 2007 when people decided to deliver a clear mandate. This time, with no clear wave in favour of any party and each of the key players claiming to get over 300 of the 403 seats at stake, party insiders say the outcome is unlikely to go in one direction.

Increasingly seen as the 'bellwether' for the 2019 Lok Sabha elections, the results will not only decide as to who will rule UP but show which way the wind is blowing ahead of the Lok Sabha elections two years hence.

12:07 (IST)

Spectre of hung Assembly looms over UP

The iconic dialogue — picture abhi baaki hai mere dost — could well describe the current poll scenario in Uttar Pradesh where a hung Assembly is a possibility. Even before the election results are declared on March 11, party insiders do not discount chances of a fractured verdict after the seven phases of polling that will come to an end today in the absence of any wave.


After all the key players talked about notching up 300 plus of the 403 seats, talks of a hung house suddenly gained momentum in the last phases of polling with Prime Minister Narendra Modi himself flagging the possibility of a hung assembly in the state. To win 202 or 50 percent seats this year, a party will need to get 35 percent of the vote share. Five years ago, the Samajwadi Party had needed just 29 percent of the vote share to win 226 seats.

Mayawati's BSP had won only 80 seats with 26 percent votes. The two regional heavyweights saw a steep fall two years later, with the BJP and its ally Apna Dal sweeping the 2014 general election, winning 73 of UP's 80 seats with 42 per cent of the vote share.

The BJP can afford to lose 7 percent of its vote share from 2014 to still win this year, while SP-Congress must gain 6 percent to reach 35 percent, and BSP will have to stretch about 15 percent to win.

11:21 (IST)

Over 13 percent voting till 10 AM in last phase of UP polls

Over 13 per cent votes were polled in the first three hours of the seventh and last phase of UP elections. Three Naxal-affected districts of Sonbhadra, Mirzapur and Chandauli, along with the five Assembly segments under Varanasi Lok Sabha constituency, will be in prime focus.

PTI

11:19 (IST)

Veteran BJP leader Murli Manohar Joshi casts his vote from Varanasi North constituency

BJP leader Murli Manohar Joshi casts his vote at booth number 76 of Varanasi North. pic.twitter.com/KSQtloFFfn

— ANI UP (@ANINewsUP) March 8, 2017

10:59 (IST)

BSP banking on Muktar Ansari's appeal

The BSP is banking heavily on the appeal of Mukhtar Ansari and his family. The region is home to hundreds of thousands of weavers, many of whom are Muslims. BSP chief Mayawati speaks of a groundswell in her party's favour.


"People have tried and tested both Narendra Modi and Akhilesh Yadav and there is nothing but disappointment. Purvanchal, like other parts of the state, is looking to the BSP for good governance," the Dalit leader told IANS.

10:57 (IST)

Most of SP's powerful leaders were expelled in Purvanchal region

The Samajwadi Party expelled most of its powerful Purvanchal leaders after an internal party feud involving Chief Minister Akhilesh Yadav and his estranged uncle Shivpal Singh. Senior cabinet minister and Akhilesh Yadav aide Rajendra Chowdhary said the region has always stood by the Samajwadi Party.

10:49 (IST)

Litmus test for BJP stalwarts in Purvanchal

In Purvanchal, poverty is a dominant theme. In his speeches, Modi spoke a lot on joblessness and poverty. The BJP did not win even a single seat in five of the districts in 2012. The last phase of election is a litmus test for BJP stalwarts.


Former chief minister and current Union Home Minister Rajnath Singh comes from Chandauli. Mahendranath Pandey, an MP, is a member in the Modi government. Ghazipur MP Manoj Sinha is Minister of State for Railways. Apna Dal leader Anupriya Patel, a BJP ally, has a lot at stake too. Her parliamentary constituency Mirzapur goes to polls on Wednesday. BJP leader Vijay Bahadur Pathak says the party was confident of doing "exceedingly well" in Purvanchal. "We have performed beyond our expectations in the last six phases. We are sure of getting maximum seats in the final phase," Pathak told IANS.

10:43 (IST)

Akhilesh addressed the most number of rallies

With 211 rallies in just 36 days, Akhilesh became the leader who addressd the most number of rallies in Uttar Pradesh. A highly-charged final phase of campaigning for the Uttar Pradesh polls culminated on Monday with shows of strength by the BJP, the Samajwadi Party-Congress combine and the Bahujan Samaj Party in Prime Minister Narendra Modi's Varanasi constituency, where he camped for three days.

Around 40 seats spread over seven eastern districts, including five in Varanasi, go to the polls on Wednesday, bringing the curtains down on the two month-long exercise staggered over seven phases. Predictions aside and in the run-up to 11 March, analysis of the high-octane campaigning in Uttar Pradesh throws up some interesting trends. Number game aside, the tone and texture of the speeches delivered by the major players in Uttar Pradesh gives us an insight of what the political parties might be expecting as the verdict day closes in.

10:33 (IST)

Onus on Samajwadi Party, but lot at stake for BJP and BSP

Around 1.41 crore voters are eligible to take part in the balloting in the sprawling region that includes Varanasi, Prime Minister Narendra Modi's Lok Sabha constituency. While the onus is on the ruling Samajwadi Party to retain the 24 of the 40 seats it won in 2012, a lot is also at stake for the Bharatiya Janata Party (BJP) and Modi himself as the party swept the Poorvanchal in the 2014 Lok Sabha battle.

The Bahujan Samaj Party (BSP), trying hard to regain power in the country's most populous state, has put in all its might to add to its 2012 tally of five seats. The Congress, now a Samajwadi ally, won three seats in 2012, the Quami Ekta Dal one and three independents too made it to the outgoing assembly.

08:58 (IST)

Prominent candidates of final phase

Prominent candidates who are in fray include former Cabinet minister Om Prakash, Parasnath Yadav, Ajay Rai, former MP Dhananjay Singh, Sigbatullah Ansari brother of Mukhtar Ansari and Seema Singh wife of jailed mafia Munna Bajrangi.

A total of 1.41 crore voters, including 64.76 lakh women, are eligible to exercise their franchise in 14,458 polling booths and 8,682 polling centres to decide fate of 585 candidates, including 51 women.

Three Naxal-affected districts of Sonbhadra, Mirzapur and Chandauli, along with the five Assembly segments under Varanasi Lok Sabha constituency, will be in prime focus. — PTI

08:26 (IST)

EC prohibits exit polls in UP till 9 March

The Election Commission (EC) has prohibited exit polls for the Uttar Pradesh Assembly elections till 5.30 pm on 9 March following the death of the Samajwadi Party candidate for the Alapur seat, in the wake of which polling, originally scheduled for 27 February, has been pushed back to Thursday, an official said.

State Chief Electoral Officer T Venkatesh said on Monday that if any media organisation published or broadcast exit polls before the stipulated deadline it would be treated as violation of the Model Code of Conduct and strictly dealt with.

The earlier deadline of the exit polls was 30 minutes after the conclusion of the staggered seven-phase polls on 8 March.

Exit poll 5.31 pm from tomorrow.. https://t.co/eOyiTejAdF

— Rajdeep Sardesai (@sardesairajdeep) March 8, 2017

08:21 (IST)

Islamic State suspect gunned down in Lucknow after 11-hour operation

A suspected Islamic State operative was killed here in the wee hours of Wednesday after a 11-hour-long anti-terror operation conducted by the Uttar Pradesh Police's Anti-Terror Squad (ATS) commandos. Many efforts to persuade the suspect, who was holed up in a house in Haji colony of Thakurganj area, to surrender went in vain, an official said.


After the initial exchange for fire, the ATS commandos lobbed chilly bombs inside the house to incapacitate him, but to no avail. Police teams bore a hole in the roof and blew up the back wall of the building to enter the house. Senior police officials were camping at the site to oversee the operation, which was also being monitored by the Union Home Ministry.

08:20 (IST)

People cast their vote at polling booth 127 in Mohammadabad, Mukhtar Ansari's brother Sibakatullah contesting from the seat as BSP candidate pic.twitter.com/nZsQIXeGhf

— ANI UP (@ANINewsUP) March 8, 2017

People queue up at polling booth no. 68 in Varanasi North; BJP's Ravindra Jaiswal, BSP's Sujit Kumar Maurya contesting from the seat pic.twitter.com/RYZQtr4NNV

— ANI UP (@ANINewsUP) March 8, 2017

08:10 (IST)

40 seats in seven eastern districts

A highly-charged final phase of campaigning for the Uttar Pradesh polls culminated on Monday with the show of strength by the BJP, the SP-Congress combine and the BSP in PM Narendra Modi's Varanasi constituency taking centre stage where he camped for three days.

Around 40 seats spread over seven eastern districts, including five in Varanasi, will go to polls on 8 March, bringing curtains down on the two month-long exercise staggered in seven phases.

08:08 (IST)

As many as 8,682 polling stations with 14,458 polling booths have been set up.

Polling will continue till 5 pm in 37 constituencies, whereas in Robertsganj, Duddhi in Sonebhadra district and Chakia segment in Chandauli will end by 4 pm, an Election Commission official said.

08:07 (IST)

In last phase, 1.41 crore are casting their votes

Over 1.41 crore voters are eligible to exercise their franchise in the seventh and last phase of the assembly elections, including 76.87 lakh men and 64.99 lakh women. A total of 706 voters are of the third gender.

08:07 (IST)

8th and final phase: 535 candidates, including 51 women, in fray

Polling began in 40 Uttar Pradesh assembly segments at 7 am on Wednesday, officials said.

A total of 535 candidates, including 51 women, are in fray for these assembly seats spread across seven districts of eastern Uttar Pradesh, known as Poorvanchal.

16:33 (IST)

Dimple Yadav takes a jibe at Modi's 'karnama' statement

Piyush Goyalji gaye press conference karne aur hotel ki bijli khud hi gol kardi, isko kaarnaama kehte hain: Dimple Yadav in Bhadohi pic.twitter.com/kwL2vX72Jo

— ANI UP (@ANINewsUP) March 6, 2017

16:32 (IST)

BSP supremo Mayawati slams BJP

Inka sapna tha ki UP mein BJP purna bahumat ki sarkar banayegi aur phir isi ko 2019 Loksabha mudda bana ke desh bhar mein jaayegi: Mayawati pic.twitter.com/RctNq5ImKF

— ANI UP (@ANINewsUP) March 6, 2017

14:44 (IST)

Do din pehle roadshow hua usse baat nahi bani, phir kal roadshow hua usse bhi baat nahi bani,aaj sun rahe hain Modiji pedal ja rahe hain:RG pic.twitter.com/OF4LAGQwTm

— ANI UP (@ANINewsUP) March 6, 2017

14:38 (IST)

Rahul Gandhi takes a jibe at Modi's Varanasi road shows

Banaras mein Modiji ki picture ka bar bar retake ho raha hai,4 din mein Modiji ne 4 baar retake liya magar baat nahi ban rahi: Rahul Gandhi pic.twitter.com/SfahYDXzed

— ANI UP (@ANINewsUP) March 6, 2017

14:33 (IST)

Modi slams SP govt for mafia raj

Targeting the SP government of poor law and order, Narendra Modi slammed Akhilesh Yadav of turning the police force into its personal fiefdom. Modi promised to bring back law and order and end mafia-raj in the state if voted to power.

14:16 (IST)

UP govt only concerned about vote bank and not farmers

Prime Minister Modi said that while other states had implemented the PM Fasal Beema Yojna, the Uttar Pradesh government did not implement the scheme as it is only interested in building vote bank and not in any development activities.

14:14 (IST)

Modi talks about his various policies for farmers

Addressing a rally in Rohaniya, Modi spoke of helping farmers procure water and urea for their farming activities. Talking about the Pradhan Mantri Fasal Bima Yojna, he added that his policy has helped farmer hedge their losses due to untoward incidents.

14:10 (IST)

Modi plays farmer card in Rohaniya

Talking about doubling farmer incomes by 2022 and his government's initiative of soil health testing, Modi is appearing to be invoking the farming class ahead of polls.

14:06 (IST)

Modi addresses rally in Rohaniya

"I feel proud to be serving the people of Varanasi. In 2022, I intend to fulfill people's dream to own a house. I have another dream of doubling the farmer earnings by 2022."

13:56 (IST)

Rahul targets Modi over sidelining Sushma Swaraj

America jake Obama se gale milte hain Sushma SwarajJi se kehte hain tumhari zarurat nhi hai tum baitho yahan main ja rha hu America-RG on PM pic.twitter.com/QZTwnfOylw

— ANI UP (@ANINewsUP) March 6, 2017

13:49 (IST)

Rahul targets Modi over excessive centralisation of power

Invoking the recent Isro's achievement of sending 104 satellites at one go, Rahul alleged that Modi does not give credit of his achievements to anyone else and likes to appropriates others achievements.

Modi ji sab kuch swayam karte hain, ISRO ne rocket bheja Modi Ji kehte hain maine kiya: Rahul Gandhi in Jaunpur #uppolls2017 pic.twitter.com/xXMAxHtbfQ

— ANI UP (@ANINewsUP) March 6, 2017

13:41 (IST)

Congress vice president Rahul Gandhi targets Modi on lack of growth


Rahul reiterated that the people of UP have made up their mind to vote the SP-Congress alliance to power.

Invoking Vijay Mallya, Rahul Gandhi added that the SP-Congress alliance will make UP a world-level factory hub. He said that while the NDA government has given loans to the 50 richest people, his government will support factories in small towns.

Rahul taunted Modi, says he has failed to being 'acche din' and has also not helped build Make in India.

Modiji ki achhe din wali picture flop ho gayi; ab dekhne ko nahi milegi: Rahul Gandhi at an election rally in Jaunpur, Uttar Pradesh. pic.twitter.com/d8VIuNZKgq

— ANI UP (@ANINewsUP) March 6, 2017

Aap kaam karte ho aur Narendra Modi uska fayda unn 50 parivaaron ko de dete hain; hum uska fayda aapko denge: Rahul Gandhi in Jaunpur pic.twitter.com/EIc5FJmOum

— ANI UP (@ANINewsUP) March 6, 2017

Hum yuvaaon ki sarkar laaenge Modi Ji ki aayu hogai hai, vo buzurg hogaye hain, unki age hogai hai: Rahul Gandhi in Jaunpur pic.twitter.com/OOmrzeYtFw

— ANI UP (@ANINewsUP) March 6, 2017

12:39 (IST)

Watch: Modi inside Lal Bahadur Shastri memorial
Ahead of the second phase of the Uttar Pradesh Assembly election (15 February), Prime Minister Narendra Modi will be addressing a rally at Lakhimpur Kheri on Monday afternoon:
पीएम मोदी आज लखीमपुर खीरी, यूपी में विजय शंखनाद रैली को संबोधित करेंगे। लाइव देखें https://t.co/jtwD1z6SKE पर। लाइव सुनें 02245014501 पर pic.twitter.com/6pRO0Cq5eb

— BJP (@BJP4India) February 13, 2017
With two phases of voting coming up in five days, Modi will be expected to ramp up the attack on the combine between the Samajwadi Party and the Congress. On Sunday, during a rally in Pithorgarh (Uttarakhand), Modi hit out at the Congress for questioning the bravery of the soldiers with regard to the surgical strikes last year.
It will be interesting to see if he carries on with that theme on Monday, and whether he refers to demonetisation at all.
Firstpost is now on WhatsApp. For the latest analysis, commentary and news updates, sign up for our WhatsApp services. Just go to Firstpost.com/Whatsapp and hit the Subscribe button.
Updated Date: Mar 08, 2017 17:14:20 IST