UP Election 2017: In VIP constituency of Raebareli, millenial voters vexed with Congress, inclined to vote for Akhilesh
Several millennial voters in Uttar Pradesh's high-profile Raebareli district cited safe drinking water, along with employment and better standard of living, as major election issues as the district goes to polls on 23 February.
Editor's Note: One of the most fascinating segments of voters who will be going to the polls over the seven phases of the Uttar Pradesh Assembly election is the millenial voter. Parth MN, who is travelling through Uttar Pradesh, will file a series of ground reports on millennial voters in the state, with a special focus on the concerns of young voters. This, the third in the series, will focus on young voters from Raebareli.
Ajay Singh Rathod's mother is undergoing a treatment. A few months ago, she had difficulties with her teeth. When 22-year-old Ajay took her to the dentist, he said the teeth have become brittle because of drinking water with high levels of fluoride. "Quite a few people in my colony have had similar issues," said the political science student at Firoze Gandhi College in Raebareli.
Several millennial voters in Uttar Pradesh's high-profile Raebareli district cited safe drinking water, along with employment and better standard of living, as major election issues as the district goes to polls on 23 February. Even in a few pockets of Raebareli city, the water provided to the citizens is not healthy. Move into the interiors, and the water situation worsens. More importantly, not more than 15 percent of Raebareli's population is urban.
A bastion of the Gandhi family, Raebareli remains one of the least developed VIP constituencies. Of course, the subsequent state governments that rule Uttar Pradesh are not less culpable either, but the youngsters here aspiring for better standard of living have limited options with majority of the electorate being farmers or labourers. "I would prefer to migrate for further studies," said Ajay, son of a teacher at a private school, living with a family of seven. "There are no industries either. The infrastructural development has not been great. If we migrate, we would lead a better life."
Ajay said he sees the kind of lifestyle students from other towns of the country lead (via social media and television) and it makes him notice how under-developed and backward Raebareli is. In the interiors of the district, however, the problems are a little more fundamental. In Unchahar, 22-year-old Sachin Sharma said that the villages in his constituency do not even have a toilet and open defecation is the only option for everyone. He has done Bachelors of Science in agriculture, and is now teaching at a private college, earning rupees 6,000 a month. "I am saving up for my further studies," he said. "I want to go to Chandigarh."
The disaffection with the Congress and Congress chief Sonia Gandhi, who is an MP from Raebareli, is palpable. The electorate had made it clear in 2012 Assembly elections, when the Congress did not manage to win even a single seat out of the six constituencies in Raebareli.
Akhilesh Yadav's popularity, on the other hand, remains more or less intact among the youth. Twenty-two-year-old Kaushal Kumar Yadav drives an auto in Raebareli and told Firstpost that his family of five is rooting for Akhilesh. Son of a farmer, Kaushal said Akhilesh is young and he understands the aspirations of the young. "He has done enough development to deserve another chance," he said. Upon highlighting a certain a drawbacks of the state, he said Uttar Pradeshg is so vast it is beyond anyone to transform it in five years. "How is it possible to iron out every flaw in over 70 districts in merely five years?" asked Kaushal. "Moreover, his (Akhilesh) father and uncle hardly let him work for the first two years. If he has been able to do as much in merely two and a half years, then now that he is the clear leader in the party, I am sure he would do much more in the next five years."
Narendra Modi also remains popular enough to indicate he would more or less sweep the 2019 elections. However, quite a few youngsters in Raebareli feared if Yogi Adityanath would become the chief minister if BJP came to power. Twenty-year-old Rajat Singh, a commerce student said, "Modi is good. But many of his men in Uttar Pradesh are dangerous. People say the governments at the state and Centre should be one to ensure coordination. But I believe it should be the opposite to keep the checks and balances intact. I would vote for Modi in 2019 but in the state, I would prefer Akhilesh."
However, in spite of the Akhilesh factor, the alliance could be in for a bitter pill in Raebareli, because it has failed to strike a deal in two of the five seats (Salon also falls in Raebareli district but is considered under Amethi constituency).
In Unchahar and Sareni, Congress and Samajwadi Party both have fielded candidates and are campaigning against each other. "Uttar Pradesh ko yeh sath pasand hai, lekin Unchahar ko hath pasand hai," is one of the slogans of Congress in Unchahar, confusing the electorate and handing out advantage to BJP and BSP in a platter.
Observers said that the BJP is increasingly pandering to the OBCs, not just in Raebareli, but in the whole state to eat into Samajwadi Party's Yadav vote bank. BJP's state president is Keshav Prasad Maurya and the district president is Dilip Yadav in Raebareli, where two of the four candidates of the BJP are OBC with one being a reserved seat.
In Harchandpur, it is a three-way contest. The sitting MLA is of the Samajwadi Party, but Rakesh Singh of the Congress has got the ticket. Bachhrawan should go with the alliance, where the sitting MLA is Ram Lal Akela, who defected to RLD, but had won on an Samajwadi Party ticket in 2012.
The Raebareli Sadar seat seems clearly tilted towards the alliance, where 29-year-old Aditi Singh daughter of Akhilesh Singh is fighting on a Congress ticket. Akhilesh Singh, a patron to his supporters and a strongman to his critics, has for decades wielded his influence on the constituency. He won thrice on the Congress symbol, once as an Independent and most recently, on the Peace Party ticket. His daughter Aditi is set to carry forward the baton, with the youth backing her as well.
Ajay's classmate Shubham Shukla, praised Narendra Modi for demonetisation and development for about 20 minutes, but said he votes for the MLA not the leader of the party, and Aditi is the best candidate of the lot. "Most of the candidates are tainted," he said, echoing the sentiment of many against bad distribution of tickets. "The MLA should be the one who is approachable. Even though I am not satisfied with Akhilesh, I will vote for Aditi because I feel she would work towards making Raebareli a better place."
There is not a single university in Raebareli. The industries and factories that started during the time of Indira Gandhi have been more or less dormant, leading to further unemployment. Even though the electorate taught Congress a lesson in 2012, Sonia Gandhi was re-elected as an MP from here in 2014 general elections. She has been an MP of Raebareli since 2004, during which period she has instituted a branch of Aiims, opened a Railway Coach Factory and inaugurated RO plants, while declaring a few government schemes. The implementation on the ground remains questionable. Aiims has been constructed but it is not functional yet in spite of the project being mooted in 2009. Congress says the centre is delaying funds, while the centre claims technical problems. RO water plants provide water to a certain places in the city, but a few pockets and substantial parts of rural Rae Bareli remains deprived of safe drinking water.
While expressing concerns over the future of his students, a professor at the Firoze Gandhi College, requesting anonymity, summed up why Raebareli remains underdeveloped, yet is a pocket borough of one party. "Raebareli ek paudhe ki tarah hai," he said. "Jisko harabhara bhi nahi kiya hai, lekin sookhne bhi nahi diya hai. (Raebareli is like a small plant. They are not letting it grow, neither are they letting it die)."
Also read the other reports in this series here:
I. How Lucknow's first-time voters are gearing up for the polls
II. In Sonia Gandhi's adopted Udwa village, millennials are impressed with Modi's 'audaciousness'
IV. In Amethi, millennial voters are looking beyond Rahul Gandhi
India
Prime Minister Narendra Modi tweeted that Giri had played a huge role in bringing together "many streams of the Sant Samaj"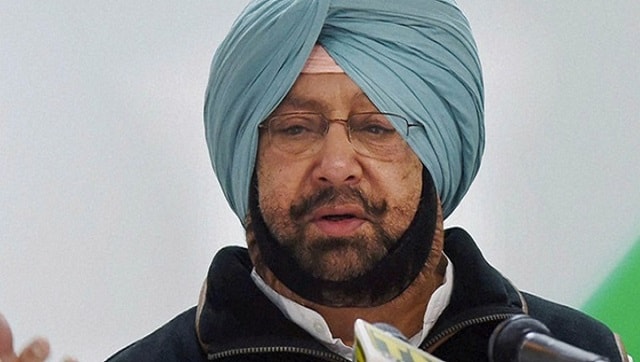 India
While the growing rift between Congress member Navjot Singh Sidhu and Singh made for interesting politics, it also marred the Congress' image as a party that could not keep its politicians in line
Politics
All Congressmen must rise above themselves and think in the interest of the party and the country, advised the Rajasthan chief minister