Lucknow: Bollywood has provided the perfect fodder for witty repartees this poll season in Uttar Pradesh, as Prime Minister Narendra Modi, Chief Minister Akhilesh Yadav and Congress vice-president Rahul Gandhi all used dialogues from superhit films like Sholay, Bahubali and Dilwale Dulhania Le Jayenge to launch attacks on rivals.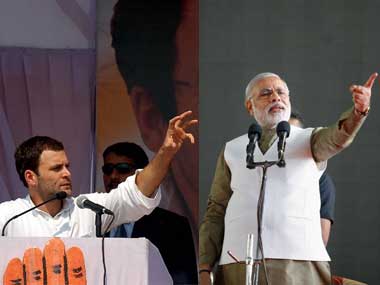 The first case was the prime minister asking if the SP-Cong tie up was a case of "aa gale lag jaa", referring to a classic 1973 movie; Rahul Gandhi said Modi had set out to be Shah Rukh Khan from DDLJ with his "achhe din" promise but ended up as Gabbar Singh from Sholay. Interestingly, Chief Minister Akhilesh Yadav has been depicted as the main protagonist in the state in spoofs of some Bollywood blockbusters.
The ball was set rolling by Rahul at an election meeting in the Congress pocket borough Raebareli on 17 February, when he termed Modi's promises before the 2014 Lok Sabha elections and his alleged failure to keep them by comparing DDLJ and Sholay.
"You must have seen the movie Dilwale Dulhania Le Jayenge, have you? Do you remember it? In the film there is a promise of achhe din (good days). But after two-and-a-half years, what has come out is Gabbar Singh of Sholay," he had said, referring to the fearsome character modelled on a real-life dacoit by the same name.
The prime minister also made references to films to drive home his point. In Mau, from where mafia-turned-politician Mukhtar Ansari is contesting as BSP nominee from jail, Modi had referred to the magnum opus Bahubali when he asked "Katappa ney bahubali ko kyun maara? There is a movie called Bahubali. Katappa, a character in the film, destroyed everything of Bahubali. This man with a stick (referring to BJP's ally Suheldev Bharatiya Samaj Party election symbol on the dais next to him) has this power. This stick is sufficient. This is the stick of law and will show its power on 11 March," Modi had stressed.
Even earlier, Modi had cited the example of a film Aa Gale Lag Jaa to drive home a point. Targeting the SP-Congress "unusual friendship" which came through after Congress' campaign '27 saal, UP behaal', Modi asked in his inimitable style, "What happened? Aa Gale Lag Ja?"
Rahul, at a meeting in Amethi, had referred to a popular song of the yesteryears: 'Tu na Hindu banega, na Musalman banege — insaan ki aulad hai, insaan banega' to refer to, what he claimed as, the hate campaign of the BJP.
YouTube viewers are also going ga ga over a crisp two-minute video in which Akhilesh Yadav is the Don, Raees and Krissh of the state's politics. These videos sync Akhilesh Yadav's interviews and speeches with dialogues from films in the original voice of the actors. Political opponents are shown in the roles of villains and vamps.
The videos depict the scenario in the country, the recent infighting in the Samajwadi Party and the chief minister's pet projects.
From film-style car chases to jumping off aeroplanes, the videos depict a larger than life image of Akhilesh, the hero.
There is also a video of Mayawati as Mardani on YouTube.
Dimple Yadav, Akhilesh's wife and Samajwadi Party's star campaigner, has also used a popular number from the film Laawaris, - 'Mere angney mein tumhara kya kaam hai', to attack the prime minister over his "adopted son" remark and to
stress that he is an outsider and so has no business in the state.
Updated Date: Mar 05, 2017 12:41 PM