UP Election 2017: Amid 'abki baar, BJP sarkar' mood, race for second place is open to SP and BSP
The enthusiasm and vigour that people displayed for BJP among people across social and caste strata was not matched by those supportive of the BSP and SP.
At a paan (betel) shop at Hazratgamj in Lucknow, two persons were leisurely having their early morning paan and discussing politics. "Looks like the BJP is surging ahead," one of them said and then started giving his perspective. While they were still talking, an auto stopped and the driver rushed out to buy some gutka. The driver overheard the conversation and, without wasting a moment, came out with his verdict, "Bhaiya aisa hai ki BJP jeet raha hai nahi balki BJP jeet gayee, aap meri baat ganth bandh lo. (Brother it's like that, BJP is not winning but it has won. You mark my words)".
Within the next few seconds, he was gone, at the speed with which had come but leaving paan, gutka and cigarette for lingering thought to all present there, more so, because his words were of an ordinary voter, not of a BJP worker.
What was amusing was the degree of finality and conviction in his statement. He is not waiting for the 11 March verdict. For him and several others like him, results have almost been pre-decided and the results date, counting of votes would be for actual numbers.
While travelling through various parts of the state, Firstpost met and talked at length with ordinary people inside villages, at small roadside chai-paan shops, at chaupals, at nukkads, at their kuchha-pucca houses and in semi-urban areas. The enthusiasm and vigour that people displayed for BJP among people across social and caste strata, as also of varying age, was not matched by those supportive of the BSP and SP. The sense that one got for a BJP victory was like that for the SP in 2012 and for BSP in 2007.
In fact, the conviction that was seen from sections of voters across Ghaziabad, Meerut, Bhagpat, Shamli , Kairana, Kannauj, Azamgarh, Baranas, Jaunpur, Raebareli, Sultanpur, Amethi, Allahabad, Lucknow et al for the BJP was somewhat similar (to a bit lesser degree) to what one had seen when winds of change were blowing in Delhi and in parliamentary elections – Phool chhap (Lotus) is favoured over cycle, elephant and hand.
At a ramshakale tea shop ahead of Unchhar, a CRPF jawan, who was in a civilian dress along with two others but was identifiable as Jawan by his looks and a Tavera MUV with Police marking parked nearby, was most forthcoming. He belonged to Hardoi, another district in UP and was on duty travelling to various other parts. He said, "This has now become a Hindu-Muslim election. I have been talking to my family, friends and other people who come across me when I am off duty, I get a feeling that BJP is coming to power with thumping majority." On further questioning he revealed that he is Kurmi by caste, a non-Yadav OBC.
BJP's stress on non-Yadav OBCs has worked very favourably. It has succeeded in conveying a message that Akhilesh Yadav's SP government cared only for Yadav and Muslims – all posts, recruitment and prize postings were meant for Yadavs and all welfare schemes meant even alliance with Congress meant to lure Muslims, Kabristan versus Samshan theme.
This time around, the non-Yadav OBCs, which earlier sided either with the BSP or with the SP across the state, are solidly with BJP. They have found their voice and are not afraid to voice their feelings. For once, the media is not talking about the non-Yadav OBC factor in UP elections but it is they who are talking about media and its lack of insight. Om Mavi and Rakesh Kashyap, both belonging to non-Yadav OBC in two different parts of UP, Lambhua and Allahabad, suggested reading Akhilesh's body language and deriding words spoken by him like "Gujarat ke Gadhe" after conclusion of the third phase of polling. An upper caste Ramashray Singh and Sitaram Pandey in Banaras were of the same opinion.
UP is a big state where 403 MLAs are to be elected and the magnitude of victory or defeat will be measured accordingly but what is by now clear is that come 11 March, Akhilesh Yadav's SP government will be thrown out by the people and a BJP government brought in. And if the BJP inches closer to the halfway victory mark, then it is difficult to assess where it goes or where it stops.
On conclusion of four phases of election, one gets a clear assessment that BJP has surged ahead as Number One and is gaining. The race is open for Number Two between Samajwadi Party and Bahujan Samaj Party.
UP has not been liking Akhilesh Yadav and Rahul Gandhi's new found need-based friendship and their catch phrase "UP Ko ye saath pasanad hai" and his other catch phrase "Kaam bolta hai" are blown to pieces on dusty potholed roads of Baranas-Azamgarh, Banaras-Mirzapur and Banaras-Jaunpur-Sultanpur.
The 103 seats given to Congress by Samajwadi Party is easy picking for BJP. Congress is not visible on the ground. Sonia Gandhi and Priyanka Gandhi's absence even from Raebareli has left tongues wagging. Congress's retired chief ministerial candidate Sheila Dikshit's statement that "Rahul is in his 40s and thus needs more time to mature" statement has further worsened the situation for Congress.
The analysts who thought BSP had become a spent force in these elections and would be relegated to a poor number three could be in for a surprise. In some areas, BSP candidates are puttingup a strong fight and also getting part of Muslim votes.
Even as Muslims are broadly with the SP-Congress combine for they are not merely looking at 2017 but also putting their hopes to take on Modis might in 2019, in some constituencies, a section of Muslims are confused as to who could defeat BJP – SP or BSP. It should not be forgotten that Mayawati has put up 100 Muslim candidates and confusion of any kind among Muslim electorate, small or big, is favourable to the BJP. It was precisely the reason why Amit Shah from the beginning stressed that BJP's fight was with SP and not BSP and at the same time kept on prominent BSP leaders like Swami Prasad Maurya to its fold. It was after the first phase of polling that Shah changed the tune to say that in the first two phases (with many Muslim majority areas), the fight was between BJP and BSP.
The upper castes are almost en bloc with BJP. Sections of Brahmin and Rajput electorate may have voted for BSP in 2007 and for SP in 2012 but in 2017, their preference to BJP is more than apparent.
Prime Minister Narendra Modi continues to galvanise youth, their hopes and aspirations. A young boy who had attended his rally in Kannauj and another in Hardoi told Firstpost that their vote had been for Modi in 2014 and would be for Modi in 2017. Kishore from Allahabad said, "The last time he had come here as BJP's Prime Ministerial candidate, but now, he is Prime Minister. That makes the difference. He is sincere and hard-working. I believe in him. He needs support from UP to transform UP."
Results of Maharastra civic and Zila Parishad polls have further boosted the morale of BJP rank and file. Modi could well be right when he says UP is in for Kesaria holi.
India
The daily COVID-19 vaccinations crossed the one-crore mark for the fourth time in less than a month on Friday — the other days being 6 September, 31 August and 27 August
Politics
Addressing the foundation day of the All India Mahila Congress, Gandhi said that the ideology of the Congress was completely opposite of the BJP-RSS and only one of the two ideologies can rule the country.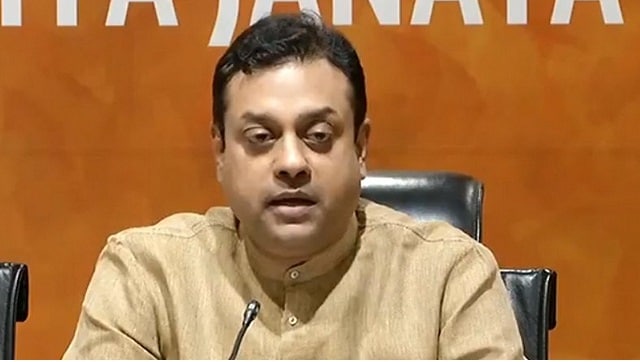 India
BJP national spokesperson Sambit Patra, in a press conference, alleged that the Congress sacrificed not only the Kashmiri Pandits but also the development of the region