UP Election 2017: Ajit Singh's Jat influence can hurt BJP, help SP-Congress alliance
Akhilesh Yadav may not have aligned with Ajit Singh in the Uttar Pradesh Assembly Election, but having the Rashtriya Lok Dal (RLD) on the ground is proving to be effective for the Samajwadi Party chief and incumbent chief minister.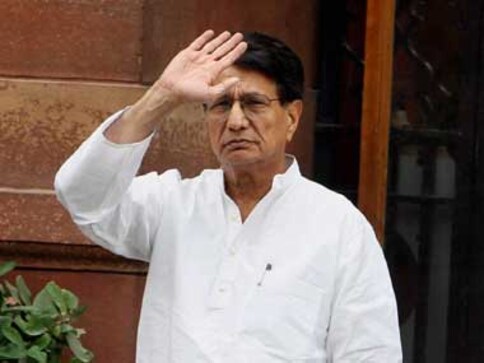 Akhilesh Yadav may not have aligned with Ajit Singh in the Uttar Pradesh Assembly Election, but having the Rashtriya Lok Dal (RLD) on the ground is proving to be effective for the Samajwadi Party chief and incumbent chief minister.
This is not to suggest that Ajit Singh is transferring his votes to the Samajwadi Party-Indian National Congress alliance, or that he has the capacity to win several seats and hopes to be a supportive ally to Akhilesh Yadav in a post-poll scenario, but that, he is playing a spoiler for the Bhartiya Janata Party (BJP) in the Jat heartland which includes Bagpat, Meerut, Shamli and Muzaffarnagar. The party's substantive Jat influence extends to Ghaziabad, Hapur, Bulandshahar, Mathura and such other areas which are going to the polls in the first phase to be held on February 11.
Ajit Singh's importance lies there. It is an accepted fact that he is no winner (or an achiever) in the Indian or Uttar Pradesh politics, but it does matter for now, at least in these elections.
The question is not whether or not he is a spoiler, but how far he can act as a spoiler to the BJP's prospect of grabbing power, and how far he can be helpful to Akhilesh Yadav-Rahul Gandhi alliance in preventing BJP from marching forward, even if his party acts as just a small speed-breaker.
After travelling to Jat-dominated districts in Western UP, it was easy to assess that the Jat community which had voted overwhelmingly for the BJP in 2014 parliamentary elections (pulling down Ajit Singh to a poor third position in his own constituency) is no longer acting as a force multiplier to the party which is ruling at the centre and is most significant challenger in Uttar Pradesh.
At the same time, it would be a naïve overstatement to suggest that Jats have completely shifted their preferences away from the BJP.
The party and Prime Minister Narendra Modi are vigorously discussed (much more than any other party). The two make for a major share of impassioned conversations at hukka khats, tea stalls, village roundabouts, drawing rooms, shops and stall, etc. While the BJP supporters go on talking about Modi, the BJP baiters who could be SP or the Congress or RLD or BSP supporters, have only one target: the BJP and its mascot Modi.
Talking to people and political workers of all hues, one realises that in these elections everyone is fighting against one enemy, the BJP, and the BJP is fighting against every other party in the state. Conversations at hukka khats of Jats is no exception. They revolve around the same theme.
In some constituencies like Shamli, the BJP, RLD and Congress have fielded Jat candidates. Even as a majority of Jats in core Jat-dominant districts like Muzaffarnagar, Shamli and Bagpat appear inclined to vote for late Chaudhary Charan Singh's 77-year-old son Ajit Singh, Jats in Western UP today stand as a divided lot.
It's ironic that a septuagenarian Ajit Singh's identity is that of Chaudhary Charan Singh's son, nothing more to add, nothing less to subtract.
Ajit Singh's party is following an open door policy in these elections in UP. It has opened its doors to all deserters. Tough and local rebels who have some claim to fame (money, muscle or position) come and get an RLD ticket to fight on the party's water tap (nal) symbol. Some party supporters boast that "Chaudhary sahib has fielded 270 candidates".
Don't underestimate him. He can be the kingmaker even if some of his candidates win on their own might. If the mandate is clear or his party has only a few numbers to count, then all the deserters and rebels would pursue their own course and Ajit Singh, of course, has always been on his own course.
Take for instance vigorous conversations over hukka by some Jat elders in Babli village in Shamli. Sukhpal Singh who for the better part of his conversation seemed to be a dedicated Chaudhary Sab follower, simply because the two belonged to same Jat kaum, concluded in the end that he would vote on NOTA. Sukhpal's argument was his kaum's (community) prestige was the single most guiding factor in these elections and Jats should consider (Ajit Singh's party in) honour of departed Chaudhary Charan Singh.
Vote to pay respect to someone who died 30 years ago at the age of 85, but not to decide the fate of the state would otherwise sound bizarre, but then it's Jat land where emotions overpower everything else, at least among the elders.
Sukhpal's logic was countered by Prem Singh, an ex-serviceman and Vireshpal Singh, a retired school teacher. Their argument was even if Jats voted 100 percent to Ajit Singh's party he would not win for the simple reason that no other caste or other person was going to vote for the RLD. For them, Prime Minister Narendra Modi was doing a commendable work and should thus be given a chance to form the government in Uttar Pradesh to take the nation forward. They particularly refer to surgical strike, demonetisation, and making a mark in the world for India.
Then comes Yashpal, who had been listening quietly so far. "Look Bhai Sab. Modi had come here for a public rally in the run up to the Parliamentary elections in Badoth (known as the workplace of Chaudhary Charan Singh) and had promised fast and remunerative prices for sugarcane farmers and building of better roads in the area, but both these promises have not been delivered.
To a query as to wouldn't Jats be wasting their votes if they know that they are voting for a candidate and party which is not going to win but still do it for sake of protecting honour of the community, Om veer Singh near Dikholi village in Bagpat says, "We know that Ajit Singh is a slippery character and would go the way he sees an opportunity for himself but what shall we do, he is the only leader of the community."
The good thing about this community is that they would fight with each other over sundry issues but still take a deep drag of hukka and cordially pass on to a person sitting next to him. They know that it is now the time to seek maximum bargain from those who are pampering them for votes.
also read
India
PM Modi and Dahal jointly inaugurated the integrated check posts at Rupaidiha in India and Nepalgunj in Nepal, built with India's assistance.
World
In an exclusive interview with CNN-News18 on Tuesday, the US ambassador spoke on a range of issues including the importance of PM Modi's visit to the United States in June, the Russia-Ukraine war and India's oil imports as well as the border skirmishes with China.
India
"...from 'Parivaarvad', PM Modi brought in a culture where a person from a humble background can become PM, party chief, state chief and CM. From vote bank politics we have come to report card politics...," said BJP National President JP Nadda