UP By-Election Result: BJP gets BSP-SP shock; needs to redraw 2019 strategy taking grand alliance as given
Uttar Pradesh may have offered the Opposition a road out of perdition. It is always risky to interpolate local bypoll results into national equation to create a larger narrative but the political realignment in UP is so tectonic that it is hard to argue against the impression that a formula has finally been found to stop the BJP juggernaut.
Uttar Pradesh may have offered the Opposition a road out of perdition. It is always risky to interpolate local bypoll results into national equation to create a larger narrative but the political realignment in Uttar Pradesh is so tectonic that it is hard to argue against the impression that a formula has finally been found to stop the BJP juggernaut.
Two key takeaways emerge from the UP bypoll results. One, to defeat the BJP — which is right now the centrifugal force in Indian politics — "any anti-BJP alliance" won't do. It must necessarily be a grand alliance involving a coalition of major social and caste groups — such as the coming together of JDU and RJD in Bihar or the electoral understanding between SP and BSP in UP. Two, if and when that happens, regardless of Narendra Modi's popularity, RSS organisational strength or Amit Shah's wizardry, BJP will face an almighty struggle.
Shah would know that failure to retain the seats vacated by its chief minister (Gorakhpur) and deputy chief minister (Phulpur) makes for miserable optics. If Phulpur is a wake-up call for BJP which literally swept UP last year, the debacle in Gorakhpur is several degrees more serious. A reversal in the chief minister's own constituency, from where he has been elected no less than five times, not only dents Yogi Adityanath's 'strongman' image and reduces his halo of invincibility, it also raises doubts about BJP's ability to defend its key citadel.
This will confirm the impression that BJP does better as a challenger than as incumbent, and it is just the sort of message that may simultaneously sap the BJP's confidence and energise the Opposition as we go into a busy election season. This narrative is likely to damage BJP's chances further in the Hindi belt where it faces a strong possibility of downward revision after hitting the saturation point in 2014.
Conversely, the symbolism of BJP losing chief minister and deputy chief minister's seats in UP will add significant wind to Opposition's sails. Its cadres and workers at the ground level are likely to become more keyed up and offer BJP's 'booth mobilisation model' a much stiffer resistance. At the leadership level, the bypoll results may prove the inevitability of a grand coalition and force Opposition leaders to shelve their egos, apprehensions to band together.
These calculations, however, rest on an assumption that the Opposition will set aside its differences and take on the BJP as a monolithic force. Amid the chest-beating and triumphalism that are likely to follow the UP bypoll results, it is worth pointing out that had such a 'mahagathbandhan' taken place last year, BJP would have been wiped out of UP instead of sweeping it.
While the saffron unit had garnered 39.7 percent votes in the Assembly polls, the corresponding number was 22.2 percent for BSP and 21.8 percent for the SP in 2017. So a simple calculation puts the SP-BSP vote share at 44 percent which comfortably trumps BJP's tally. However, while the mathematics was in Opposition's favour, the chemistry wasn't, which allowed BJP to bag 312 seats as opposed to SP's 47 and BSP's 19.
Will the bypoll success see arch-rivals BSP and SP join hands for the battles ahead? The answer, however, lies more with Mayawati than with Akhilesh Yadav, because the BSP leader is still a sceptic when it comes to transfer of vote share in mahagathbandhans. Past experiences have taught Mayawati that electoral compulsions are still not strong enough impulses to tide over caste prejudices. While her voter base of Jatav Dalits and other backward caste (OBC) voters pull in favour of her alliance partners, the converse isn't true, which is to say that a seamless transfer of votes between Mayawati's Jatav-OBC base and SP's Yadav-Muslim base does not take place.
It is worth remembering that Mayawati went into an unofficial alliance with Akhilesh's SP as a reluctant partner, and during the campaign stage for UP bypolls she called for a consolidation of anti-BJP votes instead of asking committed BSP voters to cast in favour of their arch-rivals. So even though the UP bypolls raise the tantalising possibility of a grand alliance, the letters are not yet cast in stone. The chances, though, have certainly brightened.
Along with the existential crisis faced by SP and BSP which eventually led to this political opportunism, the fact that SP is now headed by Akhilesh faction instead of his father Mulayam may also be a crucial factor in the eventual outcome. With the toxicity of Mulayam-Mayaywati relationship ceasing to be a determinant in the equation, Mayawati may be more inclined to set aside her skepticism. It is also equally important to note that the pressure for a grand alliance won't just be from top, but from ground-up as well as the Yogi government is seen as an upper-caste formulation where the Yadav-Dalit-Muslim voters feel disempowered.
Specifically in UP, the Yogi govt is increasingly seen as a govt of upper castes. And the non-Yadav OBCs as well as non-Jatav Dalits feel left out in the rural power structure #GenuineFeedback

— Dr Praveen Patil (@5Forty3) March 14, 2018
For BJP, the portends are alarming. While it may still comfortably win a multi-cornered contest, UP bypolls reinforce the notion that it is unable to meet the challenge of a united Opposition. Instead of taking recourse to denial, it must consider the possibility of a mahagathbandhan as a "certainty" and accordingly strategise.
Among the first lessons to be noted, it is imperative for the BJP to get its committed voters to go out and vote. The low turnout  in both Phulpur (37.3 percent) and Gorakhpur (43 percent) seats raises the possibility that BJP's smug voter base didn't bother to venture out unlike that section of the electorate who are opposed to the BJP.
It is also evident that BJP is in urgent need of a a new narrative because 'vikas' (development) has run its course. Narendra Modi's battle cry, which had resonated enough with the electorate to have papered over the caste fissures in 2014, is now failing to do its magic. The SP, for instance, fielded a Nishad candidate, seems to have mopped up the Nishad and Mallah votes who constitute 23 percent of the 19.5 lakh voters in Gorakhpur. SP was also helped by Mayawati's tacit support.
With the fading of 'vikas' narrative and re-emergence of caste fissures, BJP will find the going correspondingly tougher. It remains to be seen if Modi succeeds in eclipsing the truisms of coalition politics through a booster dose of personal charisma. It certainly won't be easy.
also read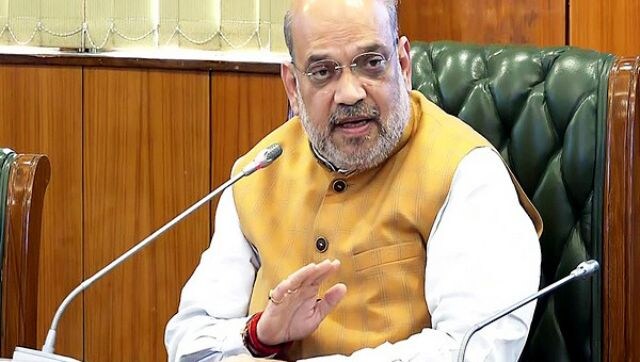 India
Last month, Shah held the first 'Chitin Shivir' meeting where he emphasised the development of an ecosystem for cybercrime management, modernization of police forces, increased use of IT in the criminal justice system, land border management and coastal security issues
Politics
As Congress wins the Karnataka Assembly elections, we take a look at how the political heavyweights performed. BJP turncoat Jagadish Shettar's defeat was an upset for the Grand Old Party. While JD(S) leader HD Kumaraswamy won, his son Nikhil lost
Explainers
The G7 is an informal grouping comprising France, Germany, Italy, Japan, United Kingdom, Canada, and United States. The agenda in Hiroshima for the summit from 19 to 21 May will likely focus on China, Russia, Artificial Intelligence, climate change and the threat of nuclear weapons