With the Chief Election Commissioner announcing the dates for Assembly polls across five states in 2017, 11 March promises to be a momentous day in Indian politics. What emerges on that day — the day of the results — will largely determine who will stay in the race for 7 Race Course Road in 2019 and who gets to be the challenger.
If the road to 2019 is paved through the ides of February and March, it is so because the dates involve elections in India's largest state. Not to belittle the significance of Goa, Punjab, Uttarakhand and Manipur but it is hard to overstate the importance of Uttar Pradesh in setting the course of Indian politics.
It is from UP in 2014 that the Bharatiya Janata Party (BJP) won a staggering 71 out of the 80 Lok Sabha seats. Its win margin (of 81 percent) was so momentous that one has to go back to 1977 to record a similar instance when the Janata Party, buoyed by the backlash against Emergency, performed a similar feat. The year 2014 also saw Narendra Modi wave sweep aside all rivals, with the Samajwadi Party (SP) and the Bahujan Samaj Party (BSP) reduced to mere bit-part players. Poll analysts are still at a loss to explain how the BJP landed 34.3 million votes against SP's 18 million and BSP's 15.9 million. A key component of that 2014 win is the shift of Dalit votes towards the BJP. It seemed as if Modi had successfully unshackled BJP's upper caste chains and made it more acceptable towards the subalterns.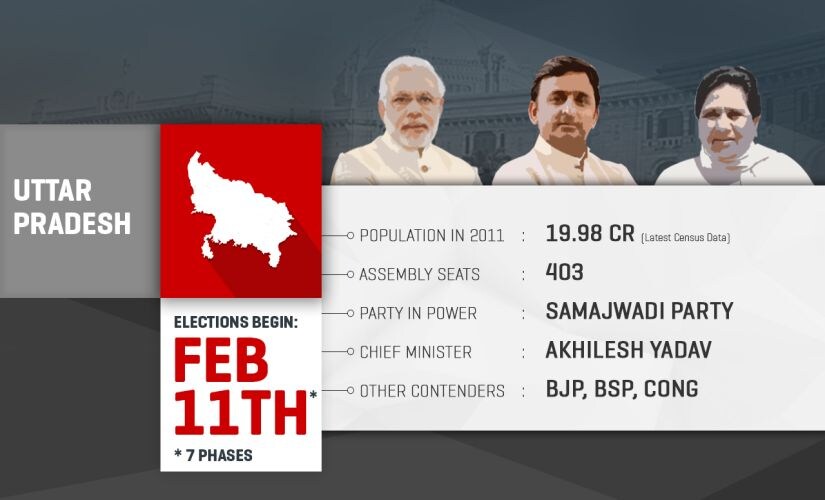 But 2017 isn't 2014. In the three intervening years, a lot of water has flown over the Ganga. Be it party president Amit Shah's luncheon politics or the prime minister's naming of a mobile phone application (BHIM) after Dalit icon BR Ambedkar, the party has shown its desperation to hold on to its 2014 gains. But there is nevertheless an understated resignation in the BJP over the repercussions emerging out of Rohith Vemula's suicide and atrocities against Dalits by gau rakshaks. Both of these incidents generated widespread publicity and resulted in a spontaneous outpouring of anger against the BJP which Mayawati surely wouldn't have failed to notice.
UP's volatility is another point to consider. What happened in 2014 was epochal and rarely does a wave election set a precedent. In fact, BJP's vote share in UP in the past two Assembly polls have gone south with the party settling for a distance third spot. In a three-way fight, a 30 percent vote share is enough to ensure majority and there is no possibility of a Bihar-type mahagathbandhan in UP. But unlike in 2014, this isn't a Lok Sabha election and even if the BJP were to field Modi in every alternate rally, there is a sense that the lack of a local leader or a chief ministerial candidate would cost it dear.
But if that wasn't confusing enough, demonetisation has erased every calculation that the pundits would have arrived at by 8 November. The inconvenience of note ban has been so deep and far-reaching that it would be easy to write off BJP's chances. But the move itself carries such an incisive political message (war against corruption) that it may cancel out the negativity around the implementation, override all caste calculations and result in a positive outcome for Modi. The prime minister certainly thinks so. His latest rally in Lucknow was peppered with impassioned plea to the electorate, urging them to rise above caste politics and embrace change for "development".
But until that happens, even the most hardcore of punters would think twice before betting on any possible outcome. It has certainly added a large amount of intrigue in an already unpredictable election.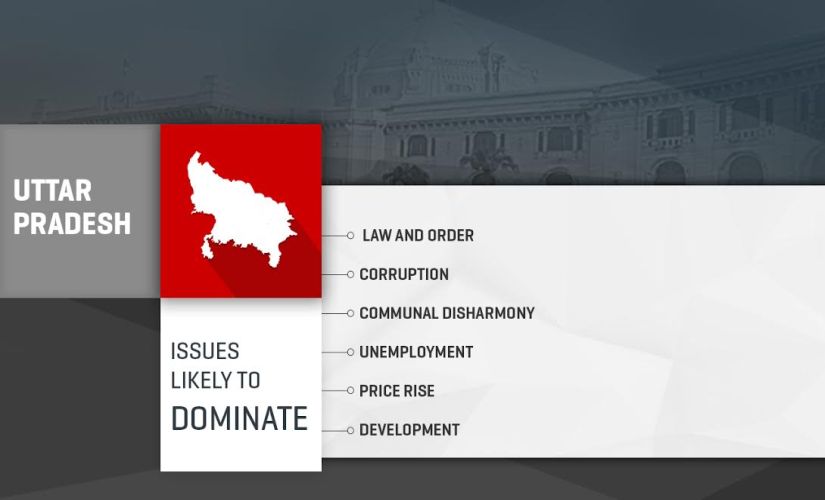 At the other end of the spectrum, the SP meltdown presents an unprecedented chance for Mayawati to cobble up a mythical Dalit-Muslim combination. Though counting of chickens isn't a good strategy, the BSP supremo is reasonably sure of her Dalit vote base remaining intact. Therefore, she has been spending all her energies on wooing Muslims that may ensure a 40 percent vote share — nirvana in UP's tightly-contested corners. Each of her election rallies are preceded by the sound of azaan. She has given 125 seats to Muslim candidates this time and her pointsman Naseemuddin Siddiqui and his son Afzal — as reported by The Indian Express — are wooing the community with a specific message: "UP did not have a single Muslim MP in 2014. Do you want the same in the Lucknow Assembly?"
That leaves us with the ruling party. Three-month long palace intrigue, night after night of long knives, tons of newsprints, unlimited airtime and petabytes of digital space later we are still nowhere close to a conclusion of the SP pari-war drama. However, the "SP Dangal" has already thrown up a winner in Akhilesh Yadav. The son has outsmarted the patriarch, sidelined the clan and the "outsider" and now appears to be in an advantageous position. Even so, it will require a Houdini-like ability for Akhilesh and SP to emerge unscathed from this bruising family drama and the aam admi of UP are slowly getting fed up of an overdose.
But it will still be foolish to rule out the wrestler in Mulayam Singh and he may just cobble up an understanding just in time to control a massive damage. The SP still possesses a formidable grassroots structure and solid support base among its candidates to upset all calculations of poll pundits. Right at the moment, instead of betting on anyone, it will pay to keep the money firmly in pocket.
Updated Date: Jan 05, 2017 08:46 AM