Unwilling to contest Uttarakhand polls, ex-CM Rawat tells JP Nadda; Harak faces hurdle in joining Congress
In his 18 January letter to BJP president JP Nadda, Rawat, the sitting MLA from Doiwala Assembly seat, cited the current political situation as the reason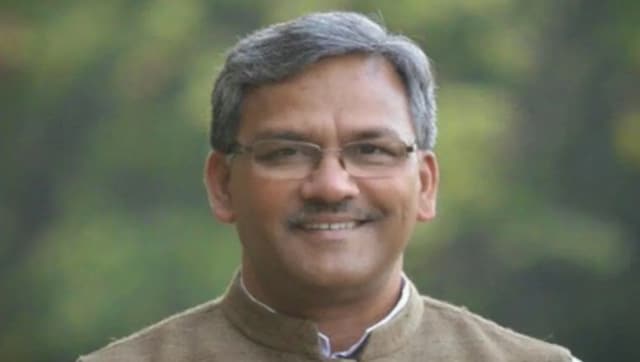 Former Uttarakhand chief minister and senior BJP leader Trivendra Singh Rawat in a letter has expressed his unwillingness to contest the upcoming state Assembly elections.
In his 18 January letter to BJP president JP Nadda, Rawat, the sitting MLA from Doiwala Assembly seat, cited the changed political scenario and added that wants to put his efforts towards supporting the party.
"Please accept my request to not contest Uttarakhand Assembly polls so that I focus on supporting the party," Rawat wrote.
"The political scenario has been changed in Uttarakhand. After these developments, I should not contest the Assembly polls. I want to put all my effort towards the formation of the government under Pushkar Singh's Dhami's leadership," Rawat added.
Uttarakhand Assembly polls are scheduled to be held on 14 February.
Rawat in his letter thanked Prime Minister Narendra Modi and the BJP for all the support and for making him the Uttarakhand chief minister.
The former chief minister could have possibly made the move with an eye on the 2024 Lok Sabha elections.
Rawat was made chief minister after BJP swept the 2017 Uttarakhand Assembly elections, winning 57 seats in the 70-member Assembly. The Congress, on the other hand, won just 11 seats.
Rawat resigned from his post on 9 March, 2021 after BJP high command asked him to step down.
The Congress, the main Opposition party, is making the constant flux in the top leadership position in the state an election issue.
During his tenure, Rawat instituted an inquiry into the misuse of funds by cabinet minister Harak Singh Rawat and his close aides in the Uttarakhand Building and Other Construction Workers welfare board.
Now, BJP has removed Harak Singh Rawat from the party and government.
Harak, meanwhile, is running out of time. Three days after being booted out of the saffron party, Harak is yet to join the Congress.
The grand old party is expected to host its central election committee (CEC) meeting in Delhi on Thursday to finalise candidates' list for the election.
According to sources, many Congress leaders have opposed the entry of Harak and have even dispatched letters to high command. A group of Congress workers even hosted a protest in Dehradun on Tuesday and demanded that Harak not be granted admission to the party.
Harak, who was Minister of forest and environment, skill development, labour and employment in Uttarakhand government, was expelled recently by the BJP for anti-party activities and for attempting to pressure the party into giving tickets to his family and supporters.
Sensing that the situation is grave, Harak told the media, "Harish Rawat is my big brother. He can call me a thief, criminal and anything he likes. I will ask him to pardon me."
Speculation about Harak and his daughter-in-law Anukirti Gusain Rawat joining Congress was rife on Wednesday with media even staking out Uttarakhand Congress headquarters.
Harak had joined hands with former Uttarakhand Chief Minister Vijay Bahuguna to stage a revolt against the then chief minister Harish Rawat and Congress government in 2016. Harak and other Congress leaders joined the BJP.
It seems the wounds caused by Harak and Vijay Bahuguna to Harish Rawat are still fresh.
Harak has often switched parties. He began his political career with BJP in 1991, joined Bahujan Samaj Party in 1997, rejoined Congress in 2002 and rejoined BJP in 2016. Now, he is making an all-out effort to rejoin Congress.
Harak, after winning an Assembly seat, has displayed a tendency of shifting to a new one.
Even this time Harak wanted to leave the Kotdwar Assembly seat in favour of Lansdowne. A routine practice!
Harak won the Pauri Assembly seat in 1991 and shifted to Lansdowne seat in 2002. He lost his affinity for Lansdowne after winning the Assembly seat twice and in 2012 moved to Ruderprayag.
In 2017, Harak fought and won the poll from Kotdwar Assembly seat.
Harak Singh changes party and seats comfortably. But after being expelled from BJP, Harak has lost his bargaining power.
This time he needs to clear a big hurdle before he can join the Uttarakhand Congress – Harish Rawat.
India
The Prime Minister said that the BJP-led government, after taking over in 2014, revived the spirit of innovation in India's youth
Politics
Former MLA and minister in the state Madhwaraj had tendered his resignation from the primary membership of the Congress party earlier in the day
India
Hearing a PIL challenging the acquittal of five persons in the case by a lower court including Mussoorie MLA and cabinet minister Ganesh Joshi, Justice Alok Kumar Verma of the high court sought the details from the home secretary within four weeks