Upcoming Uttar Pradesh council polls may explain Kuldeep Singh Sengar's swagger and why he is not yet in jail
With Kuldeep Singh Sengar playing a key role in the recent Rajya Sabha polls to defeat a BSP candidate, the Yogi Adityanath government chose to hand over the case to CBI instead of initiating strict police action against its own MLA.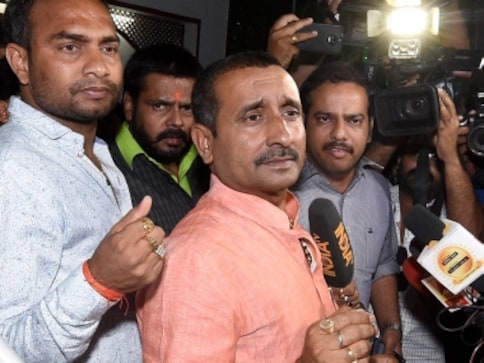 Way back in March 2013 the Akhilesh Yadav government in Uttar Pradesh took a surprise decision to transfer Kunda DSP Zia-ul Haq murder case where the wife of the deceased Praveen Azad had named influential independent MLA and minister Raghuraj Pratap Singh alias Raja Bhaiya as an accused, to the CBI for "fair and impartial probe".
That was a smart ploy by the then chief minister Akhilesh Yadav to shift attention from his government and also take a moralist position that he was keen to have a fair investigation in that case. Five months later in the same year, in August 2013 after conducting intense investigations the CBI gave a clean chit to Raja Bhaiya. The 'closure' report came as a huge relief not just to the Kunda MLA but also to the Akhilesh government.
Five years later faced with the heat of the rape of a girl in Unnao and the death of her father in custody where the ruling BJP MLA from Unnao region Kuldeep Singh Sengar is an accused, the Yogi government too decided to take off its own police from the investigation and recommend the case to CBI.
This is not to suggest that Sengar would get exonerated by the CBI like in the case of Raja Bhaiya or that the Yogi government would ultimately get a reprieve. Each case is different from one another and it is expected that the premier investigating agency would be acting strictly on the merits of the case in hand.
Sengar is no Rajya Bhaiya and the cases are also different but he is no lightweight either.
It's a fact that by recommending for a CBI inquiry, the Uttar Pradesh government has effectively given a temporary relief to Sengar, avoiding his arrest for some time at least till CBI begins its investigations and finds ground to arrest him. It was amply clear from the joint press conference addressed by the Uttar Pradesh home secretary and DGP that the state government was in no mood to put the MLA behind bars. The CBI took charge of the case on Thursday evening.
A class 12th pass, the four-time MLA Sengar is a dabang Thakur leader from Unnao. He joined the BJP only ahead of 2017 Assembly elections. Prior to that, he had been an MLA twice -- once from the Bahujan Samaj Party and then from the Samajwadi Party. He first entered Uttar Pradesh Assembly in 2002 from Unnao Sadar constituency as a BSP candidate.
In next assembly elections in 2007, he switched side and joined SP to contest from Bangarmau seat in Unnao district. He won comfortably. In 2012 he changed his seat from Bangarmau to Bhagwant Nagar in Unnao. He won again, for the third time and from a third different constituency. In the last two decades, he was able to establish himself as a strong leader in his own right. He got his wife Sangeeta placed as chairperson of the Unnao Zila Parishad. In 2017 he switched side again to cross over to the BJP. In the last state election, BJP fielded Hriday Narayan Dikshit (now Speaker of Uttar Pradesh Assembly) from Bhagwant Nagar constituency which Sengar held. Sengar was made to shift his constituency back to Bangarmau.
Sengar not only won his seat for BJP and but also helped Dikshit win from Bhagwant Nagar. He proved his worth yet again to the BJP leadership in the recent round of Rajya Sabha elections when he along with Raja Bhaiya played an instrumental role in making BSP MLA from Unnao region Anil Singh to cross vote in favour of BJP's ninth candidate and ensured the defeat of BSP's Rajya Sabha candidate.
It is interesting to note that Sengar's wife Sangeeta has come out in defence of her husband asking for a Narco test of Sengar and the victim to ascertain the "truth" in the case.
Sengar was not named in the original case that was registered by victim's family in June 2017. Three boys were named and were chargesheeted and the girl's statement was recorded under relevant sections of law before a chief judicial magistrate. Sengar was named as the only accused by victim's mother in February 2018 before the court.
The case got further complicated when the victim's father died in judicial custody. It was alleged that the MLA's brother had brutally thrashed him and the police too were not kind to him. This multiplied the severity of charges against Sengar. The Uttar Pradesh home secretary and the DGP admitted dereliction of duty on the part of some policemen and hospital staff. Some of them have been suspended and a departmental inquiry has been initiated against some others. But the police were still not pinning down Sengar.
Though the Yogi government is facing flak over the way it has conducted itself in the case, appearing to shield Sengar as much as it can but a section of BJP supporters in the state are gratified by the "patience and cautious" approach of the leadership and for not jumping to conclusions before a thorough investigation.
There is another angle, as a party worker in Lucknow said, legislative council polls for 13 seats would be held on 26 April. Given BJP's brute strength in the Assembly the party would be looking to significantly increase its quota of seats and thus the vote of every single MLA becomes significant. More so when SP-BSP would be pitching its candidate as alliance partners against the BJP. Akhilesh's term in the legislative council is also ending.
During the recent Rajya Sabha elections, the BJP made a strong case in the court that two jailed MLAs—Mukhtar Ansari (BSP) and Hari Om Yadav (SP)—be not allowed to come out of prison to vote. Under the circumstances, if Sengar is put behind bars now there is little possibility of him getting bail before the council polls.
World
Mohammed Haneefa Makkata, a fugitive with an Interpol Red Corner Notice issued against him, was wanted by the Kerala Police in connection with the abduction and killing of one Karim in 2006, a case that was probed by the Kunnamangalam police station in Kozhikode
India
The UP police team reached the Sabarmati jail in the morning and left the premises amid tight security with Ahmed in a police van around 6 pm after completing the necessary formalities
Politics
When some reporters asked him when he was being taken to a police van whether he was feeling afraid, the former Samajwadi Party MP said, "Mujhe inka programme maloom hai...Hatya karna chahte hain (I know their programme...They want to murder me)"