Uddhav Thackeray's remark on non-Marathi Hindus shows Shiv Sena's desperation to remain relevant
Shiv Sena chief Uddhav Thackeray's remark against non-Marathi Hindus shows that the catchment area for politics of hatred is shrinking in size, demanding an even more narrow and parochial approach to remain relevant
An old saying argues that a good deed should be immediately immersed in a dariya (river), implying you should not go around talking about it.
It is for history — the kind not to be authored by pupils of the Dina Nath Batra school of thought — to decide whether Shiv Sena's role in the 1992-93 Mumbai riots was a good deed or not. But, assuming it was, as Shiv Sena argues, why is its leader Uddhav Thackeray going around talking about it, almost in a regretful tone?
In a conversation with Shiv Sena mouthpiece, Saamana, Uddhav mourns that "non-Marathi Hindus" forgot the favour extended to them by Shiv Sainiks during the 1992-93 riots.
"I just really feel bad about one thing. In 1992-93 riots in Mumbai did not spread as per civic wards. Wherever there was unrest, being Hindu, the Shiv Sainiks saved everyone putting their lives at stake. I don't think it's right to vote out those who have helped you in times of crisis," Uddhav told Saamana.
The Shiv Sena chief goes on to identify the thankless beneficiaries of the bravado and courage of his army as non-Marathi Hindus. He blames them solely for the party's defeat in the Mumbai civic polls, where Shiv Sena's tally of 84 was just two more than that of frenemy BJP.
Shiv Sena has always claimed to be the guardian angel of all interests of Hindu, including the digging of cricket pitches to stall Pakistan from playing in India as well as disruption of book launches and concerts where Pakistani writers or artistes are expected to perform. So far, it had claimed to be a muscular outfit devoted to Hindus and their interests.
This new sub-division of Hindus into Marathi and non-Marathi is interesting, almost a replica of the parochial and poisonous politics of cousin Raj Thackeray. It also shows the growing desperation within Shiv Sena to carve out a niche in the competitive politics of Hindutva with its now-rival-now-ally BJP.
As space shrinks for Shiv Sena because of BJP's growing influence among nationalists and Hindutva-wadis, the party has been forced to apply the old ploy of divide and seek votes, running its scalpel through the Hindus of Mumbai.
Perhaps, the logical extension of Uddhav's politics would be a further division of voters into non-urban Marathis and urban Marathis, or, vada paav eating Marathis and dhokla-loving Marathis, after the next poll debacle.
Shiv Sena has been synonymous with divisive politics. Its primary political ploy was to create schisms between Hindus and Muslims, both through aggressive words, gestures and deeds. This is underlined by Uddhav himself in the aforementioned conversation where he claims to have saved Hindus (note, he doesn't say Mumbaikars or riot victims) during the 1992-93 riots, thus, acting electively. Its role in the riots is well documented in several reports, including the Srikrishna Commission's findings that indicted the party's top leadership.
That Uddhav has been forced to regret decades of politics of communalism and jingoism, and rail against non-Marathi Hindus is actually an indictment of the Shiv Sena's strategy. It shows that the catchment area for politics of hatred and bigotry keeps shrinking in size, demanding an even more narrow and parochial approach to remain relevant. At the rate it's going, the Shiv Sena would soon be competing with Raj's philosophy, without taking a lesson from the latter's political fate and irrelevance.
Uddhav's argument that the Hindus should have voted for Shiv Sena for saving their lives during the 1992-93 riots is, of course, a petty and selfish argument. Even if the Shiv Sainiks saved the lives of Hindus, did they do it in the hope of earning their lifelong loyalty and an eternal pledge of gratitude?
Uddhav would do well to read what the Bhagwad Gita has to say on the subject. It advocates, "Karmanye vadhikaraste ma phaleshu kadachana."
Almost any Indian including a non-Marathi and non-Hindu will tell Thackeray what it means.
India
Thackeray has postponed his planned Ayodhya visit which was scheduled for 5 June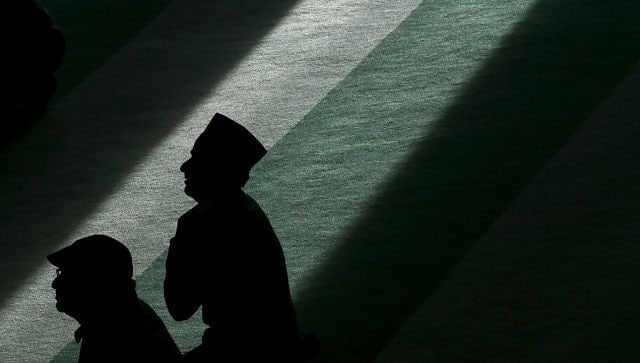 Opinion
We need to realise that religion is a map that helps bring us to the door of spirituality; we can either open the door or wander aimlessly looking for God
Politics
Maharashtra Navnirman Sena chief Raj Thackeray is scheduled to visit Ayodhya on June 5