My idea of Bharat is different from yours: Asaduddin Owaisi on RSS, nationalism and secularism
"Only an Indian can get elected as an MP in this country,' says Asaduddin Owaisi, AIMIM chief, in an interview with A Saye Sekhar for Firstpost.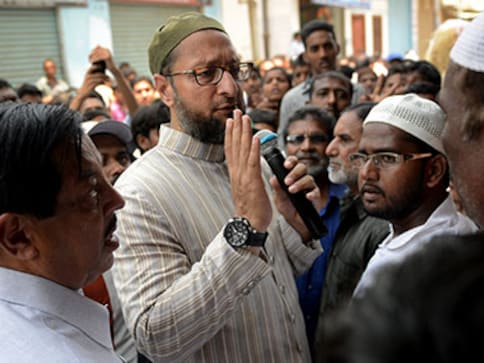 "Only an Indian can get elected as an MP in this country. Nobody can question my loyalty to the country. Those who celebrate Pakistan's victory are stupid. What have we got to do with Pakistan?" asks Asaduddin Owaisi, Hyderabad MP and President of All India Majils-e-Ittehaadul Muslimeen (AIMIM) in an interview with A Saye Sekhar for Firstpost.
Your refusal to use the slogan of "Bharat Mata ki Jai" raised a lot of dust. Couldn't you have avoided raking up a controversy?
No. This was not said in a deliberate way to create this so-called controversy. I said it on record because RSS chief Mohan Bhagwat has said that time has now come to teach people this particular slogan so that they could take pride in the country. I said I would not say. The Constitution doesn't mandate it. It is my freedom of expression and religion. I have nothing against raising a slogan. I am very much aware of that. What is wrong if I say Jai Hind or Hindustan Zindabad.
My idea of India is different from your idea of India. Another important point is that you are making the country a deity. Muslims do not pray anyone apart from Allah. Why do you want to question my loyalty to the country, just because I don't want to say a particular slogan?
Why do you think the Congress, BJP and Shiv Sena joined forces to attack Waris Pathan and suspend him from the Maharashtra assembly? Are they scared of AIMIM?
Apart from being scared, my point is the suspension of the legislator itself. I agree that the Speaker has inherent power. The Speaker can act against someone who raises unparliamentary slogans. But for the first time in the history of a Parliamentary democracy, a member was suspended for not raising a slogan. In the case of Hyderabad Central University and Jawaharlal Nehru University, the objection was about raising slogans. There it was the test of nationalism. Here, not raising a slogan has become the test of nationalism. Under what rule was Waris Pathan suspended? The MLA wasn't speaking at that time. It was Imtiaz Jaleel who was speaking on the motion of thanks to the Governor's address. At that point in time, some other MLA prompted Waris Pathan to say the slogan which he refused. Isn't this politics of intimidation? Tomorrow some one will say, we want you to change your name or religion. Where is end to this?
About the Congress, it is good that they have been exposed. They had taken the high moral ground during the HCU and JNU issues, claiming that they don't want RSS ideology to be implemented and that they are for voices of dissent. You say something in the streets of Delhi and your party does the opposite in the Assembly of Maharashtra.
In the Madhya Pradesh Assembly where a motion of censure was moved against me, I would say the Speaker has powers. But the motion can be moved if something is said against the wrong policies of the government or against a minister. I am not a member of that house. Madhya Pradesh had recorded the second highest communal riots in the country. Why couldn't the Congress move a censure motion on that issue?
Is not the challenge to raise the slogan a test of my loyalty?
One has to read page 115 of Savarkar's book on Hindutva. In that, Savarkar said that "Ye who by race, by blood, by culture, by nationality possesses all the essentials of Hindutva and had been forcibly snatched out of our ancestral homes by the hand of violence – ye, have only to render wholehearted love to our common mother and recognize her as not only as father land i.e. pitru bhu…but even as holy land punya bhu. And ye, would be most welcome to the Hindu fold." The reason they are insisting on the 'Bharat mata ki jai' slogan is that it's a way of ghar wapsi.
Two of the holiest of holy Muslim lands are in Saudi Arabia. Yet, I pray to Allah only, not to the land.
You seem to have a tendency to thrive in controversies. Is that to draw national attention?
I don't wake up every day in the morning and decide to rake up a controversy. Please tell me what is wrong in what I have just said. I don't want controversies. It is for the people to decide who makes this a controversy.
Do you think there's an element of coercion and intimidation in the way the Sangh is pushing its nationalist agenda?
Of course. When the National Minorities Commission function was being held in New Delhi, during his farewell address an IAS officer told in front of Muqtar Abbas Naqvi: "Sir, we are unable to sleep in the nights. We are afraid. This fear needs to be eliminated." This happened on the concluding day. What more do you need as testimony to the state of affairs? They can blame me for being controversial. But their own IAS officer himself stands up and says this.
Look at the day before yesterday's incident in Jharkhand. Small boys who deal with cattle were attacked, assaulted brutally beaten up and killed and the bodies were hanged from a tree? Why doesn't the BJP condemn this?
It is very good on the part of the Prime Minister to give a lovely lecture at a Sufi conference. Why doesn't his party, which is in power, condemn the incidents in Jharkhand?
Any Act that is passed in Parliament becomes a law. Irrespective of the parties, government is a continuous process. Here, we have a government which is not supporting or upholding the legislation passed by an earlier government on Aligarh Muslim University's minority status. Take the issue of Jamia Millia Islamia university's minority character. The National Commission for Minority Educational Institutions (NCMEI) had said that it was a minority university. You (the BJP Government) say, "we will not agree to it".
Please juxtapose this with what the PM had said in one of his speeches that the word Ilm (knowledge) had been used 800 times in Quran. I want to get educated in AMU. Even in AMU, 30 percent of them are non-Muslims. Why are you closing the doors of knowledge for me?
Let me give a fourth example pertaining to your question. In the Jat reservation riots, Haryana burned. Media reports said that 20 people were killed and two or three districts were wiped out. The government of the day, in a pusillanimous manner, crawled before the people who indulged in violence and assured that it would give them reservations. They immediately formed a committee. The Supreme Court has already rejected quotas for Jats because they are not socially and economically backward. Please see the paradox here. In Maharashtra, 50 sub-castes in Muslims were given reservations. The Bombay High Court had upheld this saying Muslims should be brought under secular polity. This BJP Government doesn't want to implement it. Not a single incident of violence was recorded in Maharashtra. That Hindi saying – "Aap karo tho chamatkar, hum boletho hahakaar" applies aptly here.
Do you think the secular voice has gone weak in the country?
I am too small a person to talk about. I am raising my voice and I will continue to raise my voice.
Has the Muslim vote-bank become a disadvantage for the Muslim community? Would it have been better if it was a scattered force? If yes, what is your road map for achieving this?
If you read the empirical evidence of Muslim backwardness, every party in power has done nothing to improve my social, educational and economic status and to create a sense of security. The road map is that I am trying my level best. I don't know whether I will be successful. If I die before I succeed, you can write this in my obituary. For India to become a super power or to compete with China, which we want, you cannot leave behind the minorities and dalits of this country. India is like a mosaic tile. Every part has to fit. Then only, it looks very beautiful.
Why have you to assert your loyalty to India again and again? Who is responsible for creating such a situation?
Only an Indian can get elected as an MP. No one from Mars or Venus can get elected for the biggest panchayat of this country. It is for the people to decide who are questioning my loyalty. I am loyal to the country from the core of my heart, and I am not worried.

In the wake of the threat of Islamic State to you through Twitter and your response, what is your take on Islamic State activities and its recruitment in India, including Hyderabad?
I receive threats every day. Some one wants to kill me or put a bullet on one part or the other of my body. I am of the firm opinion that till Allah decides, I will live in this world. The day my time is over, I will go. How long one is going to live, only god knows. I don't care whether it is ISIS or some communal minded person through Twitter or email or SMS, good luck to them. No harm can befall until and unless god wants it that way. By physical elimination, voices cannot be suppressed. More voices will be raised. For me, death is a first step towards a long journey.
When you oppose the Sangh Parivar tooth and nail, how do you justify the very name of your party, which is very religious in its nature. And, how is your party secular and democratic?
No party can be registered with the Election Commission of India without adhering to its rules and abiding by the Constitution. We are a registered recognized party. We stand up for the uplift and rights of dalits, Muslims and minorities. What is wrong in that? In India, 90-95 per cent of people follow religion. We have freedom of religion. Am I stopping any person from becoming a member of my party? An atheist can also become a member of my party.
Several states like Karnataka, Maharashtra, Uttar Pradesh denied entry to you on many an occasion. Don't you think the very nature of speeches drags you into such controversies?
I held two public meetings in UP bypolls in Beekapur in Faizabad district where Babri Masjid is there. Not a single act of sloganeering or any disturbance was reported. By the grace of almighty and the cooperation of local people, wherever I have gone and addressed public meetings, please show me where there was any law and order problem. I spoke in 25 public meetings in Maharashtra elections. Show me if one case was registered against me. Why are the Congress in Karnataka and the Samajwadi in UP, who day in and day out talk about tolerance, stopping me? The law of the land is equal to every one. They don't understand that what goes around will come around. Power is not eternal. The same treatment will be meted out to you (the Congress and the SP). So, be ready when that day comes to you, your actions will be albatross around your necks one day.
What would you say to those in the community who celebrate Pakistan's victory over India in cricket always?
These people are really stupid. Why do you want to celebrate Pakistan's victory? What have we got to do with Pakistan? Our forefathers did not go to Pakistan. It is just another neighbouring country. We celebrate every success of India.
Find latest and upcoming tech gadgets online on Tech2 Gadgets. Get technology news, gadgets reviews & ratings. Popular gadgets including laptop, tablet and mobile specifications, features, prices, comparison.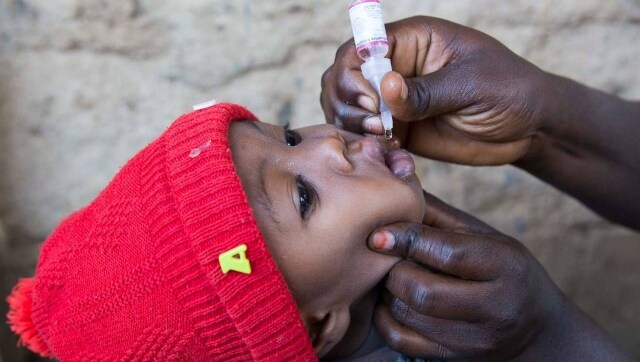 India
The National Immunisation Day (NID), commonly known as Pulse Polio Immunisation programme, was earlier scheduled for 17 January across India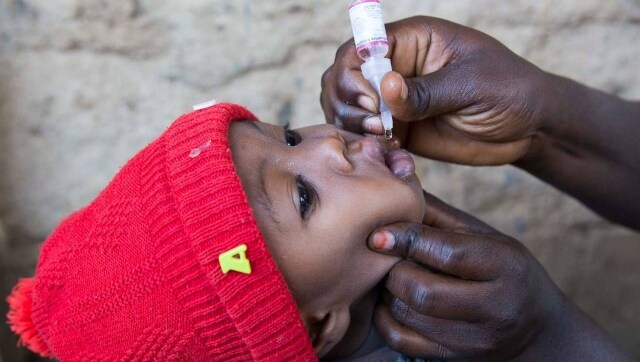 India
The National Immunisation Day (NID), commonly known as Pulse Polio Immunisation programme, was scheduled for 17 January across India
India
Swami Vivekananda pushed for national integration in colonial India and his speech in Chicago in 1893 remains one of the most famous speeches ever