Twipraland demand: Legitimate agitation for separate tribal state in Tripura or BJP grab to topple CPM govt?
Buried in the drama of Jammu and Kashmir and West Bengal is the ongoing political drama in faraway Tripura, a state firmly in the sights of the Bharatiya Janata Party (BJP).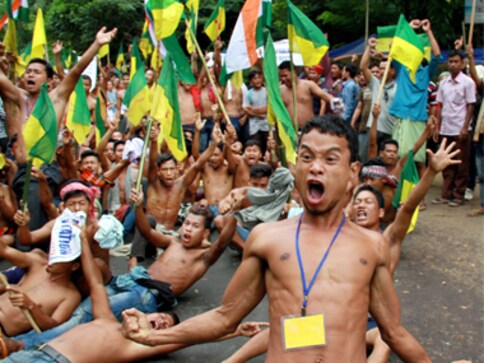 Buried in the drama of Jammu and Kashmir and West Bengal is the ongoing political drama in faraway Tripura, a state firmly in the sights of the Bharatiya Janata Party (BJP). Assembly elections are due in 2018. The Communist Party of India (Marxist) has been in government since 1993, and Chief Minister Manik Sarkar is nearing the end of a staggering fourth term.
Now BJP wants it all. No less than the party's at-any-cost results-meister, Amit Shah, announced it in May. It would be another step in North East India after winning Assam in 2016, and controversially wresting Manipur in March 2017, both these from the Congress.
Many are seeing the ongoing agitation and blockade by the Indigenous People's Front of Tripura, which is demanding a separate Twipraland, in that light: An agitation seemingly out of nowhere. Surely the BJP is behind it, in the same way it is trying to kick up a storm in West Bengal, using any means at hand, from communal tension to heightening the tension in the Darjeeling Hills over the Gorkhaland issue.
While this could well be true to BJP's form, to assume the agitation is without basis would be both a disservice to hyper-local aspirations, as well as where Tripura stands today in the larger scheme of things. Moreover, though the BJP's calling card is to play with fire, this could prove to be one instance too many, jeopardising both aspirations of the indigenous people, and that of Tripura.
There is a history to it that demands recognition and respect.
It was not long ago the kingdom of Tripura, bound by Bengal to its north, west and south; to the east a slice of Cachar, the southernmost tip of Assam, and a slice of the Lushai Hills district (later to become the Indian state of Mizoram). The Manikya kings ruled in a nearly unbroken line since the 15th Century — the 13th Century , if you consider the semi-mythical Ratna Fa — until 1949. The current titular king, Pradyot Manikya, told me he identifies himself as Tiprasa, as the province's indigenous collective of peoples, mostly of Tibeto-Burman stock, call themselves.
Tiprasa as an identity is more inclusive than Borok, insists Pradyot, because it includes people beyond the Tripuri tribes who have immigrated over the past several centuries. It's an important nuance because this identity is distinct from Tripura's overwhelming Bengali identity.
In 1947, the queen regent Kanchan Prava Devi, Pradyot's grandmother, signed a treaty of accession to India. For all practical purposes it stopped being Twipra, the land by the water, jettisoned the British-colonial Hill Tipperah, and emerged fully as Tripura, the Sanskritised, and mythical triple city-realm of earth, sky and heaven to which the original conjoining of 'tui' and 'pra' in the Kok Borok language was as different as earth and sky.
The name wasn't all that would change. Nearby Bengal had become East Pakistan. Tripura went from being majority indigenous Borok people, mainly Tripuri, Reang, Noatia, Halam, besides other tribes, and some Meitei (Manipuri), to being majority Bengali.
Between 1941 and 1951, years of the decadal census, the percentage of tribal folk in Tripura dropped from a little over 53 percent to a little over 37 percent. By 1981 it had dropped below 30 percent. The Census of 2011 shows the tribal population hovering above 30 percent.
Today, instead of East Pakistan it is Bangladesh to its north, west and south.
"The final Partition of India was a disaster for Tripura," as journalist and longtime analyst of North East Indian and Bangladesh affairs Subir Bhaumik put it. Tripura, he maintained, became an "insignificant little pariah in India's backyard."
Partition robbed Tripura of a direct link with what is sometimes known as mainland India, with residents of Tripura required to either fly to Kolkata, or to travel several days by bus and train to reach places beyond Guwahati: Kolkata, New Delhi and elsewhere.
Trade and industry remained basic. Agriculture was for decades the primary activity. Only in this millennium would Tripura's resources like natural gas really come of age, and new geopolitical realities would spark growth and hope and links leveraging its unique location and recent history.
Meanwhile, Bengalis swamped Tripura, arriving as refugees from East Pakistan as a result of incidents of communal violence even in the years after 1946 and 1947, and wars with India, in varying annual waves of hundreds, thousands, tens of thousands and, sometimes, hundreds of thousands.
In 1952, close to a quarter of a million refugees poured in, dwarfing even the near-two hundred thousand of a year earlier. Pakistan's piecemeal, drawn out conflict with India over 1964-65 drew more than a hundred thousand. Pakistan's butchery in 1971 massively opened floodgates. Tripura's population of about a million and half at the time — already majority Bengali — swelled by a third, according to a US State Department memo to president John F Kennedy. Doinik Shongbad, a daily newspaper in Agartala, in mid-1971 estimated refugees at nearly 1.3 million. Nearly all were Bengali.
Now Bengalis control everything: Politics, administrations, trade, political and socio-cultural discourse, even the language of office and official communication and education. The official languages of Tripura are Bangla and Kok Borok — the latter is a matter of form more than substance.
In the late 1970s, an article in India Today magazine estimated that a staggering 90 percent of land that did not belong to government was owned or controlled by non-tribals. Some land that was deeded to Tripuri communities by their former kings, a prescient intervention, was given over to settle refugees — and more was encroached upon.
Protest was a given. As early as 1967 an indigenous youths' organisation, Tripura Upajati Juba Samiti was formed, with the intention of official recognition for Kok Borok and autonomous tribal councils as encouraged by India's Constitution. As importantly, perhaps, there was demand for the restoration of traditional tribal lands that successive non-monarchical government had either given to non-tribal settlers or kept silent as these were appropriated. In the early 1970s, an angry but half-hearted effort of Tripuri reclamation took root with Tripura Sena— army. It took till 1978 with the formation of the armed group, Tripura National Volunteers, or TNV, for the largely Bengali government to pay attention.
Some observers, including Bhaumik, maintain trouble could have been averted had the incoming Left Front communist government, which took over from the electorally overwhelmed Congress, had nominated a tribal person as chief minister instead of a Bengali. At any rate the communists did try to make amends. In early 1979, they moved to restore to tribals land grabbed by non-tribals, and moved the Tripura Autonomous District Council Bill in the provincial assembly.
It had the opposite effect. Several hundred Bengalis, grouped under the radical Amra Bangali, or We are Bengalis, began a cycle of violent protest. Matters escalated.
Eighteen hundred people ultimately lost their lives in clashes between tribals and non-tribals — mostly Bengali. Several thousand homes were destroyed. The Indian Army had to intervene. Even as this fire abated, TNV was up and running, targeting government and Bengali civilians.
It would be nearly a decade before TNV entered peace negotiations for a better deal for tribal folk, which some analysts have dismissed as counter-productive — and Bhaumik, in his blunt manner, describes it as "ridiculous", because it provided three more seats to tribals in Tripura's Assembly, "and little else".
A slew of militant groups sprang up subsequently — and, in an irony that marks see-sawing relations between India and Bangladesh with nearly every change of government in that country — finding shelter mainly in the Chittagong Hill Tracts of Bangladesh and sometimes in the plains, in the heartland of the Bengali.
The lessening of militancy and outright attacks against Bengali settlers has taken a mixture of governance in Tripura; change of geopolitical equations, which led to a more India-friendly government of Sheikh Hasina for much of this millennium severely reducing sanctuary for all manner of rebels against India; and some so-called surgical strikes of Tripura's own making.
After nearly two decades, in 2015 Tripura removed the heavy-handed Armed Forces (Special Powers) Act, 1958, or AFSPA, applied primarily in the tribal areas, a development of immense significance. Insurgency had reduced to a trickle. Development became the slogan.
Natural gas and the natural order of things led to Tripura's attitudinal and policy resurgence. After discovery in the 1970s, natural gas is today Tripura's one of two biggest tickets to prosperity, with the discovery of huge reserves and the exploitation of some marking it as a major energy producer in far-eastern India and, with the commissioning of a major power station at Palatana fuelled by that gas, fully able to handle its own power needs and contribute to its neighbouring provinces, and also lessen the need for expensive hydroelectricity projects that bring the attendant misery of displacement. Tripura now exports surplus electricity to elsewhere in North East India, and Bangladesh.
Bangladesh permitted trans-shipment of equipment for ONGC's gas-based power plant in Palatana, Tripura, in March 2011, using waterways— in this case, up to Ashuganj port on the Meghna — and then travelling by road southeast to Akhaura close to the busy border.
This usually sees a steady stream of trucks from Bangladesh carrying cement, fish, stone chips, readymade garments, crockery, and several other items; not much flows in the reverse direction except visitors. From the border checkpoint it's a few short kilometres into the suburbs of Agartala. Trans-shipment of rice by state-run Food Corporation of India to Tripura through Bangladesh is today an established precedent.
The Agartala-Akhaura access is being upgraded; so is the road and rail access south from Akhaura to Chittagong port, the main attraction for Tripura and far-eastern India, and access to the river port of Ashuganj, only 40 kilometres from Agartala. A road and rail link from Agartala south from Agartala to the border town of Sabroom is being boosted, and a bridge built by India to reach Chittagong, a little over 70 kilometres south of Sabroom. And eastern India, and several other regions in far-eastern India besides Tripura, would benefit from greater access of people and goods across Bangladesh, a near-seamless web that ceased with Partition. For all the criticism aimed at it, such interaction has actively been encouraged by the communist government, which has also welcomed diplomatic and business delegations in particular from Bangladesh.
Tripura was already 'Acting East' years before India's so-called Act East Policy was announced by Prime Minister Narendra Modi. For all that, the resentment of the indigenous folk remain, and they voice it often enough, accusing the state government of keeping them in the bylanes of development as Tripura marks its growth.
Exploiting resentment is a fraught project. In the Darjeeling Hills, the BJP distanced itself from a Gorkhaland project as soon as it became evident that supporting it might win them three Assembly segments, but lose West Bengal.
Aspirations of the Tiprasa people are more than legitimate; and to aid in their fruition is the duty of any government. But the BJP might realise to some cost that the Bengalis in Tripura aren't going anywhere, and their aspirations are legitimate too. And if it panders to the Bengali majority, it risks the eruption of anger among the Tiprasa, the risk of a return to conflict.
I would imagine a plea for inclusive governance and development trumps fire. There's even a saying made popular since 2014, often at the expense of public funds: "Sabka saath, sabka vikas."
The author is an award-winning writer of several books, a columnist, and consultant to think-tanks and media. He tweets @chakraview. 
Find latest and upcoming tech gadgets online on Tech2 Gadgets. Get technology news, gadgets reviews & ratings. Popular gadgets including laptop, tablet and mobile specifications, features, prices, comparison.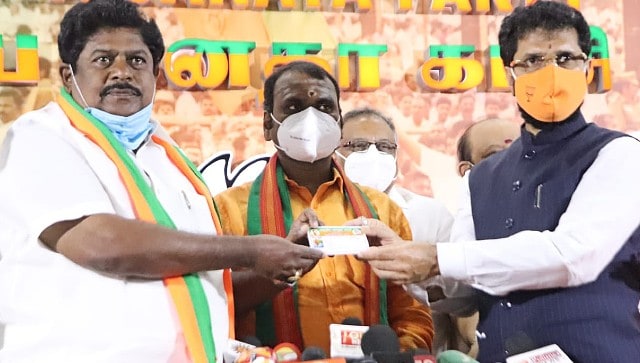 Politics
A veterinary doctor and agriculturist, KP Ramalingam hails from Salem district and belongs to the Gounder community, which holds sway in the western region of Tamil Nadu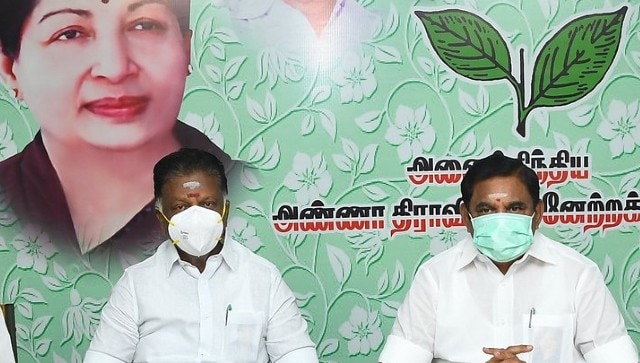 Politics
The AIADMK and the BJP had aligned for the 2019 Lok Sabha polls along with other parties, however, the alliance could win only one of the 39 Parliamentary segments in Tamil Nadu
India
The MNREGA will continue to be a lifeline for many wage workers, especially in districts where migrants have returned in large numbers