Tulsiram Prajapati encounter: Deposition implicating Amit Shah has zero legal value, Rahul Gandhi needn't get excited
While Amit Shah had the BJP machinery supporting him during this arduous process, he did lose his liberties for a long period of time – readers may remember he was exiled from Gujarat – before he was ultimately absolved of all charges against him.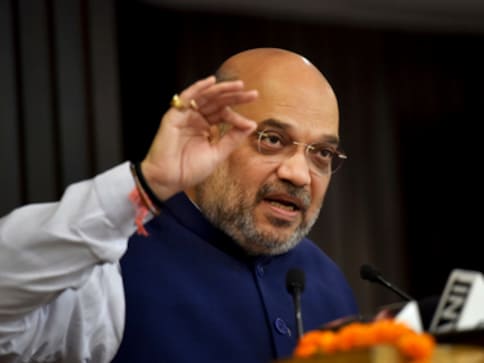 Sandeep Tamgadge, an officer probing the fake encounter case of Tulsiram Prajapati has reportedly told a special court that BJP president Amit Shah and three IPS officers of the Gujarat cadre were the "principal conspirators" in the alleged fake encounter of Prajapati. Tamgadge alleged that there was a "politician-criminal" nexus in play, The Indian Express reported.
Tamgadge named IPS officers Dinesh MN, Rajkumar Pandiyan and DG Vanzara, apart from Shah in his statement.
Unsurprisingly, Congress party president Rahul Gandhi latched on to this report in a bid to attack the BJP.
The goal of our criminal justice system is to ensure justice for the victims of a crime. That involves not only identifying the culprits, but also ensuring that those innocent do not suffer loss of liberty and reputation in this process. While Shah had the BJP machinery supporting him during this arduous process, he did lose his liberties for a long period of time – readers may remember he was exiled from Gujarat – before he was ultimately absolved of all charges against him.
The Congress party's motive behind the anything-that-can-stick approach is not justice. It never was, as is clear from the judgment by special CBI Judge MB Gosavi dated 30 December, 2014 wherein he found substance in Shah's contention that he was dragged in the fake encounter cases by the CBI for "political reasons".
In his testimony, Tamgadge relies solely on the fact that the call data records between Shah — who then was the Gujarat Minister of State for Home Affairs — and the other accused IPS officers established that they conspired to commit the offence. The special CBI judge rubbished this contention stating that, in times of heightened security and constant fears of terrorism, there was nothing adverse about a home minister keeping track of the work of police officers.
Unsatisfied with this order, and unsurprisingly so, Harsh Mandar, a former member of the Sonia Gandhi-led National Advisory Council (NAC), filed a petition in the Bombay High Court to challenge the special court judgment.
The Bombay High Court dismissed Mandar's challenge stating that it indicated a "lack of bonafides." The high court further observed, in paragraph 42 of its order, that "criminal law cannot be permitted to be used as an instrument to wreck vengeance due to personal or political grudge or to spite the accused for any other oblique purpose."
Mandar's petition wasn't merely called out for addressing his political grudge. The Bombay High Court noted that, while several other accused were also discharged by the special CBI judge, Mandar sought to only challenge the discharge of Shah. The "social interest and responsibility" proclaimed by Mandar, as per Bombay High Court [Paragraph 42], was restricted only to Shah and not to others.
The Bombay HC judgment, which is worth a read to understand the motives of the Congress party and its ecosystem to somehow nail Shah, can be found here.
Mandar then filed a petition in the Supreme Court challenging the Bombay High Court. The apex court rejected the arguments made by senior Congress leader and advocate Kapil Sibal, who was representing Mandar in the case. The court said it saw no reason to entertain this petition.
Media reports have attempted to portray deposition given by Tamgadge as if Shah is still not absolved of these accusations. Furthermore, this deposition is a part of an ongoing trial against three other IPS officers Ashish Pandya, NH Dabhi and GS Rao who continue to face trial.
Given the fact that Tamgadge was a part of the probe team which filed a chargesheet against Shah and the IPS officers during UPA rule in 2012 – when the CBI was famously referred to as a "caged parrot" – it is obvious that he will continue to maintain the same stand so as to not contradict himself.
However his stand, by any stretch of imagination, is not conclusive evidence of guilt. Indeed, in a democratic system, a court of law weighs evidence against the defence proffered by the accused to adjudicate guilt. The fact is that Shah and a few IPS officers, initially accused, have been absolved not merely by the CBI special court, but attempts to reopen that acquittal have been thwarted by the Bombay High Court and the Supreme Court of India.
The desperation shown by the Congress party by regurgitating allegations which have attained judicial finality shows that the goal of this political witch-hunt is to somehow hope for something to stick, either in the judicial process or in the minds of voters.
Instead of being a force to reckon with as an Opposition party in view of BJP's electoral dominance over the past five years, the Congress party resorts to recycled lies and fabrications. That the intensity of its clinging to the most absurd and stale allegations is directly proportional to its fading electoral fortunes speaks volumes about the state of the Opposition today.
Politics
The TRS leader posed 27 questions to the BJP leader on the step-motherly treatment meted out to Telangana by the BJP-led government at the Centre
India
The body of BJP Yuva Morcha activist Arjun Chowrasia (27) was found hanging in Ghosh Bagan area inside an abandoned building. The party claims that he has been murdered by the ruling Trinamool Congress
India
Amit Shah said BJP would end minority reservations in Telanagana and increase the quota for STs, SCs and backward classes