Truth test: God, forgive Yeddi, he knows not what he's doing
The 'truth test' challenge thrown by the BJP chief minister at his rival HD Kumaraswamy is the height of ridiculousness. Would someone please drill some sense into our politicians?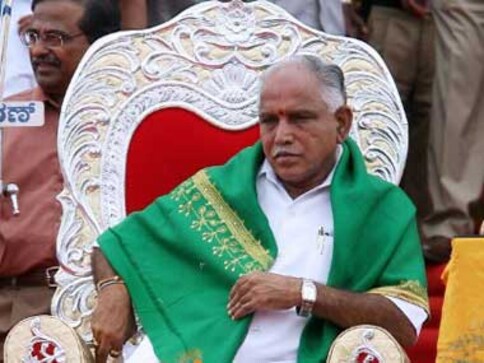 Spare God at least, guys!
As if troubling Karnataka and its people were not enough, politicians in the state have dragged deities into their silly personal disputes.
Karnataka Chief Minister BS Yeddyurappa has challenged his rival and Opposition leader HD Kumaraswamy to take a 'truth test' before Lord Manjunathaswamy on 27 June. The challenge has been accepted. Big political leaders planning to come clean before deities must be a first in Indian politics.
According to the rules of engagement, Kumaraswamy would swear before the Lord that the allegations of corruption he is making against Yeddyurappa are true. Lord Manjunathaswamy is believed to be harsh towards liars and very nice towards those who speak the truth. If Kumaraswamy is caught lying, then the Lord will unleash his wrath on him. If he finds him truthful, then Yeddyurappa might find his challenge utterly ill-advised and get ready to face the consequences.
A wonderful solution to such a complicated problem. Why did Yeddyurappa not advise his party, the BJP, to demand a "truth test'' in Parliament to get to the bottom of the 2G scam? It would have saved the country so much trouble. India could ask Pakistan to take a similar test to find out whether it is lying on harbouring terrorists with anti-India designs.
In the times of brain mapping and narco analysis, Yeddyurappa's prescription comes across as a bit odd. But he seems damn serious. His challenge was published as an open letter in some local newspapers.
It all started when Kumaraswamy accused the Karnataka Chief Minister of attempting to bribe him with money and other allurement. He said Yeddyurappa had sent an emissary to him to coax him to drop his campaign aimed at exposing corruption in the government. The latter denied the charge vehemently and then came up with the grand idea of a "truth test''.
It would have been a comic relief for people reeling under bad governance and worse politics had the leaders not been so serious about their antics.
Rationalists are aghast. Some people have called it "idiotic behaviour'', others "shameful'' and most are too embarrassed to react. Some less charitable souls have expressed fears that both might face the worst punishment after the test and might lose their lives. Students in many places in the state have asked the Chief Minister to see sense and trust the Constitution and democracy instead of deities in case of political matters.
"This has gone far beyond the Constitution system of settling disputes. Will the gods deliver a verdict on who is to be exonerated and who is to be convicted?" Santosh Hegde, Lokayukta of the state, told reporters a few days ago. Even the seers of the mutts of Dharmasthala, where the temple is located, don't seem to be amused. According to reports in a section of the media, they feel both leaders will invite the curse of Lord Manjunathaswamy if they turn the temple into an arena for political farce.
Kumaraswamy, on his part, has clarified his position. "Had I not accepted the challenge, people would have suspected my integrity.'' Now, Yeddyurappa needs to come up with an explanation. What on earth was he thinking when he threw the challenge? This is too silly even to impress the most ardent devotee of Lord Shiva.
It appears he is having second thoughts. He will take a call on 26 June, according to media reports. Instead, he is contemplating defamation suits against his political rivals.
Good sense at last. It sounds so much more saner.
Politics
Karnataka chief minister HD Kumaraswamy will present the Congress-JDS coalition government's maiden budget on Thursday, amid high expectations of farm loan waiver.
Politics
Karnataka municipality and local bodies minister Ramesh Jarkiholi on Saturday said people from the saffron party were in touch with him to join Congress.
India
HD Kumaraswamy, who also holds the finance portfolio, said that the Karnataka government will take action to issue clearance certificate by waiving the arrears from the defaulting accounts so that farmers can avail new loans.