Trouble for Gogoi-led Assam govt, 20 Congress MLAs ready to switch sides, says BJP MLA
The worry for the Congress is that if former state minister Himanta Kumar Sarma actually manages to take 20-odd MLAs along with him, the rebels won't face disqualification under the anti-defection law.
Is Assam headed for a mid-term election? If the MLA from Kamalpur, Jadab Chandra Deka is to be believed, then the state might be heading for one. The leader of the BJP legislative party in the Assembly dropped a bombshell today when he told a local television channel that 20-odd Congress legislators might be willing to join his party. If that happens then the Tarun Gogoi-led government will be reduced to a minority one. The Congress has 78 legislators in the 126-member assembly.
The party had plunged into a crisis in July this year when 31 party MLAs led by then state's education and health minister Himanta Biswa Sarma had met Governor Janaki Ballabh Patnaik to express no-confidence in Gogoi's leadership. These rebel Congress MLAs are already playing the role of a "constructive opposition" in the assembly. If 20-such Congress MLAs shift to BJP, the state government will be in a crisis immediately.
The worry for the Congress is that if Sarma might actually manage to take away sufficient number of MLAs to escape disqualification under the anti-defection law. The law specifies that 'defection' by two-third of the elected members to another party would be considered a 'merger'. The assembly polls are otherwise scheduled in the first half of 2016.
When contacted by Firstpost, Deka did not confirm the developments but did not deny them too.
"I had made it clear in my byte earlier that what I have said was what we have heard unofficially. We have heard that a section of Congress leaders and MLAs are in touch with our national leadership to be a part of our party. We have unconfirmed reports that they met our national leaders. But until there is no official word about it, we cannot say anything for sure," Deka said.
Unlike BJP national executive committee member Prodyut Bora who had recently vent his ire on Facebook about Sarma's possible entry to the BJP, the Kamalpur MLA had no problems with Congress MLAs, particularly Sarma, joining the party if he follows the principles of the BJP.
"If they are willing to join the party they are welcome. We won't mind even Tarun Gogoi and his son (Congress MP from Kaliabor) Gaurav joining the BJP if they follow the party rules. We are anyway seeking a Congress-free India," he said.
However, Deka's byte to the media even took BJP by surprise as the party was not very vocal on what was happening behind the scenes.
"I have no idea why Deka made such a comment. So far as we know we have no knowledge about any contact made by the rebel Congress MLAs with our national leadership," said Assam BJP spokesperson Adip Kumar Phukan. Another spokesperson Rupam Goswami, however, gave some indication. "Many MLAs are willing to join our party and there may be some movement in this regard. The central leadership will be the final authority to decide whatever it is," Goswami said. When asked if the rebel MLAs are in touch with the state BJP leadership, Goswami preferred not to confirm anything.
The trouble for the state Congress started ever since Sarma had a falling out with the chief minister in 2012. He openly despises Gogoi's leadership and predicts a doom for the Congress in the 2016 assembly polls if the lacunae in the state leadership is not corrected. The fear within the Congress camp is not unreal as Sarma commands immense popularity among the young brigade of Congress MLAs. The leader is equally popular in the Congress student arm NSUI. Coupled with the Modi wave and Sarma's possible exit, Congress is clearly in turmoil.
Significantly, the Congress is yet to come out of its inaction syndrome even in the face of disaster. Congress Lok Sabha leader Mallikarjun Kharge, who was on a three-day visit to Guwahati in June this year and had detailed discussions with all factions of the Congress is yet to submit his report to the party high command. It is obvious that the party top brass has been sitting on it and this has made the rebel lot more impatient.
"There is no plan to join the BJP as of now. I don't know why BJP MLA Jadab Chandra Deka said what he said. We had no discussion about it in our group. But we are equally unhappy that the Kharge report has not been submitted yet. We had told about our grievances to our party high command umpteen times. It is up to them to decide what to do. We have not given any deadline but this cannot be eternal," said rebel Congress MLA from Tezpur Rajen Borthakur.
Surprisingly, the Congress MLA also expressed ignorance about Sarma's any move to join the BJP. "He may have done at an individual level. I am not aware about it," Borthakur said.
Politics
Amid UP government's ongoing drive to verify the eligibility of ration cardholders, the Congress alleged that the BJP has tricked the poor into voting for this scheme during Assembly elections and now is withdrawing it
India
The Prime Minister said that the BJP-led government, after taking over in 2014, revived the spirit of innovation in India's youth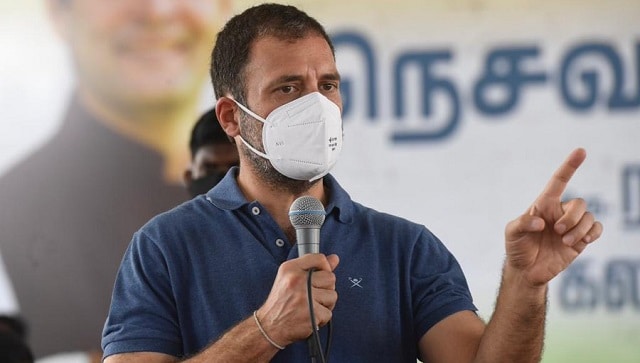 India
Congress leader Rahul Gandhi said there is a fight between two ideologies in the country