Tripura receives required 4,700 EVMs for upcoming polls, seeks 800 more VVPAT units from EC
Tripura's Chief Electoral Officer Sriram Taranikanti said 4,080 VVPAT machines were also dispatched to the state for use along with the EVM units
Agartala: Tripura's Chief Electoral Officer Sriram Taranikanti has said the required number of 4,700 Electronic Voting Machines have arrived in the state where assembly election is due early next year.
Taranikanti said 260 companies of central paramilitary forces were used in Tripura in the last assembly election in 2013 and the Centre was requested for more forces this year.
"A total of 4,700 EVMs have reached Tripura. That is the required number of EVMs for the assembly election," Taranikanti told reporters in Agartala on Saturday evening.
He said 4,080 Voter Verifiable Paper Audit Trail (VVPAT) machines were also dispatched to the state for use along with the EVM units.
But the state election authorities have sought 800 more VVPAT units from the Election Commission, he said.
Technical personnel from the Electronics Corporation of India Limited would soon visit Tripura to test the EVMs and VVPATs.
Taranikanti said the election authorities here have urged the Centre for more than 260 companies of central paramilitary forces used in the state in last assembly polls.
However, he said, the requirement of central forces could be estimated only after nomination and scrutiny process is completed.
Returning officers have started the process of identifying sensitive and vulnerable booths and they would also finalise requirement for security forces in the areas.
Politics
This comes ahead of the Supreme Court hearing on a petition filed by 21 Opposition parties, led by Naidu, to review its judgment rejecting 50 percent random physical verification of EVMs using VVPAT.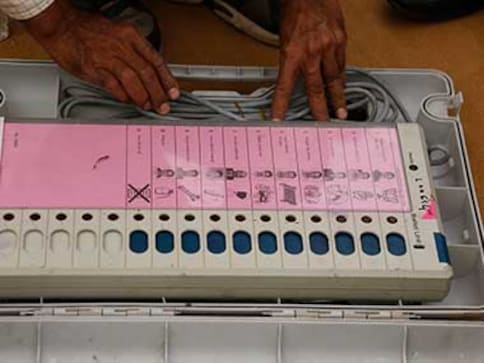 India
Election Commission is likely to hold re-polling in at least 35 booths in Uttar Pradesh's Kairana.
India
Singhvi said that the Election Commission has no guidelines regarding the VVPAT-EVM verification, and that if the court would not issue guidelines to the poll watchdog, the court's order would be impractical to implement.