TR Zeliang proves majority in House: Party-less Nagaland CM achieves new feat in Indian politics
Though 22 MLAs revolted against his leadership, Zeliang acquired support from the remaining 38 MLAs from various parties by appealing to form an opposition-less government, and his government was saved from a fall.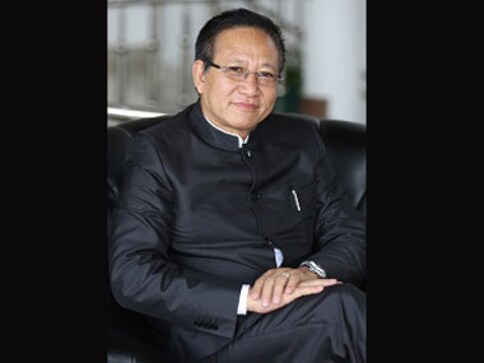 Once the leader of an opposition-less state government and now a party-less chief minister. Nagaland chief minister TR Zeliang, who was recently sworn in, has made a history of distinct uniqueness for himself. When Zeliang was being sworn in as the chief minister at the Raj Bhavan in Kohima, the news of his expulsion from NPF was released in the media rendering him a chief minister without any party affiliation.
Though the country has a number of examples of independent MLAs becoming party-less chief ministers, Zeliang's case is seen as a unique one as he was a bonafide NPF MLA prior to taking the oath.
The NPF leadership hoped that Zeliang's expulsion would bring the dissident party MLAs supporting him back to its fold, but to its surprise the support for him remained unwavered. On Friday, the chief minister went on to win the floor test.
After his expulsion on Wednesday, Yitachu, an NPF MLA, had said to Firstpost, "After Zeliang's expulsion, no NPF MLA should support his chief ministership. They will risk their party membership if they do."
But on Friday an NPF leader on condition of anonymity said that these threats have hardly worked.
"Zeliang enjoys the support of at least 48 MLAs out of which 36 are NPF legislators in the Nagaland Assembly which presently has an effective strength of 59," he said.
Four out of remaining 12 MLAs supporting Zeliang belong to the BJP and eight are independents.
As per sources, out of 47 MLAs NPF has, only 11 are with the party president and outgoing chief minister Shurhozelie Liezietsu.
Liezietsu's ouster from the chief minister's office and Zeliang replacing him have caused much embarrassment to the party leadership.
Zeliang was elected as the chief minister of Nagaland for the first time in 2014 when the then chief minister Neiphiu Rio resigned from his post and contested the Lok Sabha election.
Rio won the election but Zeliang faced dissidence a year later as 22 MLAs of the party demanded his resignation. Worst of all, Rio threw his weight on the side of the dissidents.
By that time Zeliang had learnt to maneuver through crisis in a state in which power is so fickle.
To pave the way out of this crisis Zeliang appealed to all the political parties to support him to form an opposition less government to ensure political stability in the state.
Zeliang received a favourable response to his appeal. As a result of his appeal, eight Congress MLAs joined NPF. On the other hand BJP, NCP, JD(U) and independents were already part of the NPF-led Democratic Alliance of Nagaland government.
Though 22 MLAs revolted against his leadership, Zeliang acquired support from the remaining 38 MLAs from various parties by appealing to form an opposition-less government, and his government was saved from a fall.
Rio was suspended from the party after this incident for alleged involvement in anti-party activities.
Zeliang continued to be the chief minister of Nagaland until last February when he was compelled to step down as from the office for Liezietsu to take over, due to the eruption of a violent protest against his decision to reserve 33 percent seats for women in urban local body election.
After six months long hibernation Zeliang became active again in Nagaland's power politics on 4 July when he began dissidence against Liezietsu. After 15 days of dissidence, he ousted Liezietsu to become the chief minister once again. But this time around he became the chief minister without a party as he was expelled from the party during the oath-taking ceremony itself.
Find latest and upcoming tech gadgets online on Tech2 Gadgets. Get technology news, gadgets reviews & ratings. Popular gadgets including laptop, tablet and mobile specifications, features, prices, comparison.
India
"When I was beaten up, they had levelled allegations that I am with BJP- RSS. So I am with BJP-RSS from now on," Madan Sharma, the retired officer, said
Politics
As part of measures to rationalise non-priority expenditure, the government asked all ministries and departments to review appointments of consultants, curtail functions
World
There are suggestions that Suga might call a snap election soon after he takes over. If successful, he could strengthen his hold on power.