Editor's Note: As Tamil Nadu heads into poll frenzy, the overarching theme of the campaigns — both by the ruling party as well as the Opposition — is that of governance. While Opposition parties like the Dravida Munnetra Kazhagam (DMK) claim a breakdown of governance in the current regime, the ruling All India Anna Dravida Munnetra Kazhagam argues that governance has never been better in the state.
In this series, Firstpost takes a dive into various aspects of governance in the past five years to analyse the merits and demerits of each party's claim. You can read the first part of the series here.
"They have emptied state coffers and gifted Tamil Nadu a debt of Rs 1 lakh crore," she thundered at massive public rallies across the state in 2011. "This is an insult to Tamil Nadu. A fiscal deficit of Rs 17,607.71 crore is the biggest achievement of five years of M Karunanidhi's goverment," she said.
That was J Jayalalithaa, then Opposition leader, head of the powerful All India Anna Dravida Munnetra Kazhagam (AIADMK) party, and she swept to power with a massive mandate in that election.
Jayalalithaa had reason to make such confident statements thanks to her earlier track record. When she came to power in 2001, she inherited a bleeding economy with a revenue deficit of Rs 2,739 crore. When she demitted office in 2006, the exchequer had a revenue surplus of Rs 1,951 crores.
But in 2016, as chief minister, the kajana (coffers in Tamil) continues to be kaali (empty in Tamil), despite the poll promises of 2011. Under the watch of Jaya, the usually intrepid administrator, Tamil Nadu's debt has ballooned to Rs 2.11 lakh crore, around 19 percent of the state's Gross Domestic Product (GSDP). Fiscal deficit too is hovering dangerously close to the allowed three percent mark — at Rs 36,740.11 crore, the state's fiscal deficit is currently at 2.92 percent of GSDP. Tamil Nadu has also posted a revenue deficit for the third year in a row — a worrying Rs 9,154.78 crore or 0.7 percent of GSDP.
As per the Fiscal Responsibility and Budget Management Act adopted in the early 2000s, the Tamil Nadu government is committed to keep fiscal deficit within three percent of GSDP, revenue deficit at zero and debt within 25 percent of GSDP. Finance Minister O Panneerselvam admitted in the Assembly that the revenue deficit was high but reasoned that it was due to the fall in global crude oil prices which meant a loss of Rs 4,000 crore in sales tax on petroleum products.
"When the state is implementing many unique schemes such as green houses scheme, free mixer, fan, grinder and laptops scheme, special public distribution scheme, special pension scheme, such a revenue deficit is unavoidable," said Panneerselvam.
State Finance Secretary K Shanmugam too was at pains to explain that the state's finances were doing just fine. "The decrease in revenue is because of the downtrend in taxes — particularly sales tax, transport, stamp and registration, and because of the global depression," said Shanmugam. "Overall there has been a downtrend in economy and even manufacturing states like Gujarat and Maharashtra felt the impact of global economic slowdown," he stated.
Analysts say that on paper, all is seemingly well. "Upto one percent revenue deficit is acceptable, even though as per the Act it should be zero," said KR Shanmugam, Director of the Madras School of Economics, an expert in public finance. "Overall everything is okay. Economic growth of nine percent is possible because the average growth in the past 11 years is 9.2 percent. Usually within the first two years of the Plan period growth will be low and after that it will grow much faster. Tamil Nadu's sales tax and VAT on petro products is among the highest in the country, they simply cannot raise it any further," he added.
Tasmac and Tangedco
Challenges though lie ahead for the state government. The problems are simple — two departments, one, a cash cow and the other, a massive drain on the exchequer. Tamil Nadu earns Rs 30,000 crore in revenue from the sale of liquor through the Tamil Nadu State Marketing Corporation (Tasmac). This amounts to one-third of the state's total revenue. On the other hand, the state power utility Tangedco (Tamil Nadu Generation and Distribution Corporation) is bleeding, thanks to arbitrary decision-making, unnecessary purchase of expensive power from private producers and lack of generation of additional power by the state. Tangedco is weighed down with Rs 80,000-crore worth of borrowings and the state bears the burden.
With elections looming, every party except the ruling AIADMK has promised to usher in Prohibition in the state. "If Prohibition is an election issue, any govt that comes to power will have to do something about it," said R Srinivasan, associate professor at the Department of Econometrics, Madras University. "Straightaway, the state loses Rs 30,000 crore in revenue. Fiscal deficit will double. Total debt burden will increase. Even if Prohibition is introduced in phases, with a well regulated liquor market, the state loses a substantial amount of tax revenue. A minimum of Rs 10,000 crore will be lost whichever way you go. This will again increase deficit," he said.
Other factors loom large, keeping the state economy on shaky ground. Implementation of the Pay Commission in 2017-18 and appointments of teachers in new schools and colleges across the state would add to the payouts of salaries and pensions. The Goods and Services Tax (GST) too is a worry. "Another issue here is we do not know what the loss would be if GST is implemented," continued Srinivasan. "GST is stalled only for a political reason — the technical issues raised by Congress can always be addressed. The state government claims there will be Rs 9,000-10,000 crore loss in tax revenue if GST is introduced," he added. Srinivasan also points out that the state government is yet to pass the Food Security Bill in the state Assembly, which would enable it to get funds from the Centre. But this would mean shifting from universal PDS (Public Distribution System) to targeted PDS, a move that could backfire politically.
The opposition though points to growth figures to criticise the AIADMK government. In 2014, the Central Statistics Office pegged Tamil Nadu at a growth rate of 3.39 percent, the worst performing state in 2012-13, slower than the national average of 4.5 percent, below states like Bihar and Jharkhand.
Growth, on the ground, means jobs and prosperity. Tamil Nadu is teetering on the brink of a collapse, unless serious fiscal measures are put in place to bolster revenues and cut expenditure. A hard and heavy hand of an uncompromising administrator is the need of the hour. Whether this cat will be belled in the midst of populist politics is the two lakh crore rupee question.
Here's a glance at the state's growth over the years: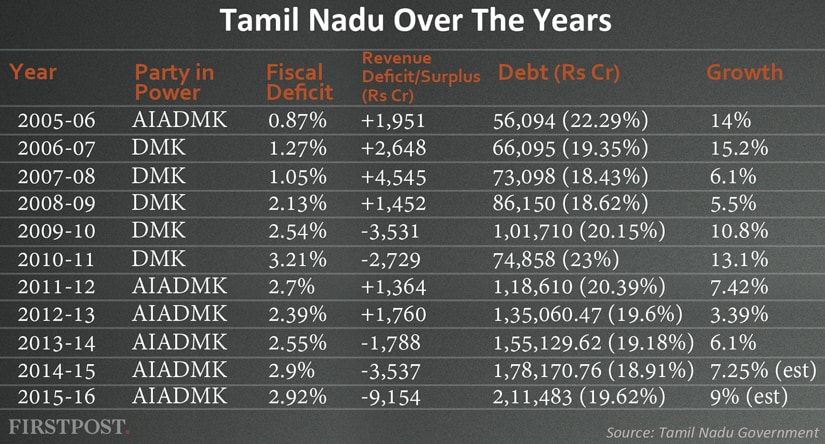 The author tweets @sandhyaravishan
Firstpost is now on WhatsApp. For the latest analysis, commentary and news updates, sign up for our WhatsApp services. Just go to Firstpost.com/Whatsapp and hit the Subscribe button.
Updated Date: May 18, 2016 16:28:24 IST