Time for an LGBT voting bloc? Section 377 and Elections 2014
This is going to be the 16th Lok Sabha but the first time LGBT issues have figured in a major party manifesto. Has the furore over Section 377 meant we now have the potential for an LGBT voting bloc in India?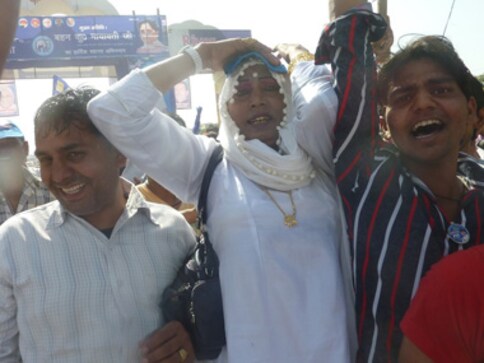 When Sachin Jain heard the BJP had finally come out in favour of the Supreme Court ruling on Section 377 recriminalizing gay sex he posted on Facebook that Narendra Modi had lost his vote.
A couple of months down the line with elections in Mumbai coming up soon, Jain who lives in that city, feels stuck. Jain who now edits the gay webzine Gaylaxy Hindi cannot stomach the thought of voting for the Congress, the BJP is still firmly upholding Section 377 and the Aam Aadmi Party after vociferously opposing the judgement chickened out from taking a stand on it in its national manifesto. At that time, the Mumbai chapter had not come out with its sankalp patra which spells out its opposition to Section 377 and "re-affirms that the state should not encroach on the sexual rights of minorities".
But the issue still refuses to go away and not just in LGBT media and chatrooms. In a recent issue of Femina, in an article headlined What Gets My Vote a woman entrepreneur lists women's safety, less red tape. And reading down Section 377.
For LGBT Indians, if there is a rainbow lining to a dark cloud it's the fact that while the Supreme Court judges thought gays are a "miniscule fraction" of the population, whose rights were hardly worth worrying about, political parties have suddenly woken up and taken notice. "This is going to be the 16th Lok Sabha but the first time LGBT issues have figured in a manifesto," says Pawan Dhall, activist and editor of Varta, a gender and sexuality blog.
The CPM and Congress have both included repeal of the antiquated Section 377 in their manifestos. The Aam Aadmi Party faced a strong backlash for not including it in theirs despite unambiguously condemning the Supreme Court ruling. The BJP has chosen not to say anything about it in their manifesto though Rajnath Singh staunchly defended Section 377 saying the BJP will not support "an unnatural act". BJP spokesperson Nirmala Sitharaman left her party a little more wiggle room when she told Femina "(w)hether criminalizing such actions is right or wrong is something the party is talking about, but at the moment we are not in favour of changing from the position the Supreme Court has taken."
But it's still something that political parties are even "talking about" this issue.
Some might say that the Congress promise is too little too late. "I am so glad something shook them into putting it into the manifesto," says Anjali Gopalan, founder of Naz Foundation (India) Trust which challenged Section 377 in court. "But what were they doing all this time?" More cynical observers say the CPM and Congress' sudden progressive awakening is just proof that they feel that they have little to lose since they seem headed for a fall in the elections. Others quip the Congress is in such bad shape, it's scrounging for a new votebank among gays these days. "But I don't think we should look a gift horse in the mouth," says Gopalan. "Let's go with what they said and hold them accountable to it."
Anyway a manifesto is a manifesto – a grabbag of promises, many of which get forgotten by the time the ministers take their oath. If the NDA comes to power, their Hindutva fans probably should not hold their breath waiting for a Ram temple in Ayodhya. If the UPA pulls it off, their LGBT supporters should not expect Section 377 to be the top issue on their agenda.
"None of us believes that this will automatically lead to implementation," agrees Gautam Bhan, an activist involved with Voices Against 377. But he says the manifestos become a matter of public record and when parties put their support down in writing then the silence of parties that do not "is a very active loud silence. It is a refusal to take a stand on the issue."
That silence can prove costly. When the Aam Aadmi Party suddenly went silent about the issue in their national manifesto, it caused a huge outcry. Filmmaker Onir who had joined the party told Gaylaxy "I was extremely let down. I know that the inclusion of queer rights in the manifesto is not a populist measure but we all thought AAP was different." When the Mumbai manifesto included it, Onir returned to the party tweeting out "this might not have happened if WE had not expressed our disappointment".
Does this mean there's now the possibility of an LGBT voting bloc with an LGBT charter of demands? Dhall says there has been some discussion about that and issues beyond 377 have come up like same-marriage, an anti-discrimination law and non-discrimination especially when it comes to property and inheritance. The Humsafar Trust conducted the first preliminary political analysis of voting preferences of queer Indians. Their online survey of queer voters found Congress led the field with 45.17%, followed by AAP at 41% and trailed by the BJP at 13.76%. Among BJP voters, their confidence about their party's support for queer issues was the lowest as well (32.9%) compared to AAP (49.5%) and Congress (56.5%).
But Gopalan says talk about a voting bloc is premature. "I don't think we can have an LGBT voting bloc until people are going to come out and be open about who they are. So it's a chicken and egg situation," she says. And the Section 377 ruling, she says "squashed some of the voices that were coming up".
For a while some supporters of LGBT rights had hoped that the courts would take care of Section 377 and avoid it becoming a political football. Political parties probably felt the same way since none of them had actually supported Section 377 in the Supreme Court leaving it to the unholy alliance of mullahs, Catholic priests and the likes of Baba Ramdev. Now political parties are coming out of their Don't Ask Don't Tell closet.
"We are used to dealing with the judiciary. We are not used to dealing with executive," says Bhan. "But it's very much an opening that we must take." "It's time to move beyond doctors, lawyers and police and talk to politicians," adds Dhall. Naz has filed for a long shot curative petition in the Supreme Court and Gopalan says activists have always worked and talked to politicians. But there's now a need for even larger coalitions because she says "at the end of the day the law will do so much and while it's critical to have a law that's supportive, attitudes need to change."
And that outreach around Section 377 is going to have to include the LGBT community itself. At a rally for Mayawati in Ghaziabad, Daya Rani Kinnar, a transgender, her make-up running in the hot sun, vociferously declared her support for Mayawati and her local candidate Mukul Upadhayay. Daya Rani had tried to file her nomination for the Lok Sabha seat but been rejected by the District Magistrate.
Asked what stance Mayawati's party had taken on 377, Daya Rani stopped short and ducked the question. "I don't know what this Section 377 is. I just know Mukul calls me his mother and I accept him as my son. I have given my support to Behenji with both hands." For Daya Rani, Section 377 seems the least of her concerns.
From Sachin Jain to Daya Rani, Section 377 is playing out in queer ways in elections 2014.
Life
The Mumbai-based NGO Humsafar Trust — headed by LGBTQ rights champion Ashok Row Kavi — moved the Supreme Court against Section 377. Row Kavi spoke with Firstpost about what prompted the petition.
Life
Her world was the JEE, sitcoms, 'NSync, where to find Preity Zinta's crinkled Lakshya skirts, and maybe some ogling at the fine young men from the all-boys college. But she was also bisexual, struggling to fit in either world, gay or heterosexual.
India
India will remember the morning of 6 September, 2018 for a long time to come, when at 11.30 am, in a matter of half an hour, the Supreme Court decriminalised consensual intercourse between persons of the same sex and read down Section 377 of the Indian Penal Code