Three years of Narendra Modi: It's tough to judge a govt which is still a 'work in progress'
Prime Minister Narendra Modi himself is asking for feedback on his report card, though his enemies will tear to pieces any praise that he may receive from people.
During the three years of his dispensation, Narendra Modi didn't set the Ganges on fire, as his admirers would tell you. Forget the song and dance by Modi's ardent admirers about his three-year rule, and forget the venom and vitriol his detractors spit out on a daily basis.
But there is plenty to write about what he has done since May 2014 when he took oath as India's 14th prime minister.
If you believe Modi-baiters who largely, if not wholly, consist of Leftists and worshippers of the Gandhi dynasty, Modi did nothing in the last three years other than dragging India back into medieval times by dividing the country on communal lines and hypnotising people into supporting him with sham promises.
And Modi's ardent admirers would like you to believe that he brought India's economy back on track from the verge of bankruptcy, mitigated the miseries of most of the country's poor people and will take good care of the rest of them soon, and generally metamorphosed India into an absolute heaven on earth.
The truth may lie somewhere between the two. That only means he hasn't done too badly in three years, despite dark spots like burning Kashmir and debt-ridden public sector banks. It's downright petty and mean to claim that Modi has whiled away the last 36 months, basking in the glory of his election victories or trotting the globe and shaking hands with different heads of state or dividing society or enjoying his own voice.
Former Jammu and Kashmir chief minister Omar Abdullah sums it up nicely when he says:
PM Modi has many achievements to boast of after 3 years & it would be petty to deny them but J&K remains a dark blot that's getting darker.

— Omar Abdullah (@abdullah_omar) May 26, 2017
Modi himself is asking for feedback on his report card, though his enemies will tear to pieces any praise that he may receive from people.
What do you feel about the Govt? Where have we done well & where can we do even better. Join this survey on NM App. https://t.co/TYuxNNJfIf

— Narendra Modi (@narendramodi) May 26, 2017
Modi's most visible achievement — there are as yet invisible ones — is that he presides over a Central government unsullied with scams, the first one in Independent India. He has replaced a morally bankrupt regime of UPA which had a prime minister who maintained a sphinx-like, scary silence and had a Congress president pulling strings from behind him. Worse, a scam a day was what politics was all about for UPA.
A scam-less government makes a splendid difference for the average voter who sees an average politician as a charlatan who uses politics as a platform to milk high returns of slush money on relatively low investments. For the citizen, a clean NDA government is a vast improvement over UPA's scam-ridden puppet show.
Even Modi's best friends do not dare suggest that his advent to power has marked the disappearance of corruption from the face of India. Far from it. Corruption is so rampant and deep-rooted in India that rooting it out is not as easy as taking out treacherous weeds from paddy fields.
It's just that India now has a prime minister and a team of his ministers who are not caught in quid pro quo deals, at least till now. When Modi talks about fighting corruption, his claims have a ring of credibility. When such talk comes from other leaders whose names figure in one scam or another it cuts little ice. That's what makes Modi different.
But wait a second.
A prime minister is legally and morally expected to be clean, right? So, is being corruption-mukt such a wonderful virtue or a singular achievement that should be trumpeted about from rooftops? One should think not. But Modi has other achievements up his sleeve whose impact is not visible yet to urban middle classes and column-writing Modi-haters.
Fourth year more important than first three
Modi knows his electoral onions. He knows that the effects of the plethora of his schemes with fancy names and acronyms that he launched in the last three years must begin to be felt by the common man latest by mid-2018, a year before he goes back to people to seek a second term. A year from now, you can be sure of an eardrum-shattering campaign by his election managers on what he has done. For now, a perception of what he is doing will do for him.
The schemes that Modi is talking about can't be figments of his imagination. Nor are they plans jotted down on bond paper, pinned on a velvet cloth and gold-framed on the walls of his South Block office to show off. These are moves to usher in reforms or plans to bring succour to those who need it. Achievements may have fallen short of ambitious targets, and Modi's claims may be exaggerated and hyped-up. But there are indeed things that have been either done or are in the works.
Some of these are:
• Disbursal of direct cash transfers to beneficiaries in sundry government schemes;
• a crop insurance scheme and a plan to double farm incomes by 2022;
• a variety of social security measures to help the working class;
• expansion of railway networks and development of inland waterways;
• regional air connectivity plan called UDAN (Ude Desh ka Aam Naagrik) with fares beginning Rs 2,500;
• a series of reformist legislations to raise foreign investments in sectors ranging from defence to e-commerce;
• de-monopolisation of coal sector;
• and attempts to revive the power sector.
It may be worth the media's attention to examine and evaluate each of his schemes but continuing to parrot the Modi-has-done-nothing theme will lack credibility with people.
The demonetisation — scrapping of Rs 1,000 and Rs 500 notes last November — may not have achieved its objectives of eradicating black money and corruption to the extent that the government boasts of, but nobody denies that it speeded up digitisation of economy and forced more people into the tax net, developments that can only do plenty of good to the country in the long run.
And even the worst critics of Modi must admit that the passing of the Goods and Services Tax Act will soon begin to dramatically alter India's business environment.
All this has convinced large sections of people that Modi is a trier and a doer. Modi-baiters refuse to accept the fact that a good majority of his supporters do not see him just as a Hindutva icon who grabs votes by stoking communal fires. They look on him as a man they can trust and as a leader who can change their lives for the better.
But being a trier and a doer may not be enough for Modi to return to power in 2019. He must be seen as a deliverer as well by the end of his fourth year. He may not have the whole of the fifth year to prove himself, since governance is bound to be restricted in the last six months of the final year, first on account of preoccupation with cobbling together poll alliances and then election model code of conduct.
Judging Modi's three years by the insufferable conduct of the screaming and yelling Hindutva hooligans—be it protecting cows or banning beef—alone is not only grossly unfair but a travesty of ground realities in a new political landscape which Modi's detractors refuse to see through their blinkered eyes.
As Rajya Sabha member and writer Swapan Dasgupta writes in the Hindustan Times:
"His governance is still a work in progress and it will take a longer time frame to comprehend its full impact."
The writer tweets @sprasadindia.
Find latest and upcoming tech gadgets online on Tech2 Gadgets. Get technology news, gadgets reviews & ratings. Popular gadgets including laptop, tablet and mobile specifications, features, prices, comparison.
Politics
Bihar will vote for the 243-member Assembly in three phases — 28 October, 3 November and 7 November. Counting will be held on 10 November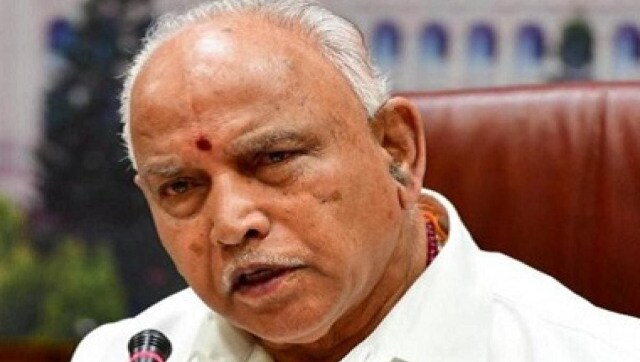 Politics
Citing media reports, Congress spokesperson Abhishek Singhvi on Sunday alleged that the BJP government in Karnataka is "engulfed in the clutches of corruption with dented, tainted leaders ruling the roost"