Lessons from RS polls: SP-BSP tie-up needs more mobility, Congress must shed ego; BJP can't be underestimated
In the event of a seat-sharing arrangement between BSP and SP in general elections, there is more likelihood of BSP's core votes getting transferred to her ally than SP's base votes coming to her kitty.
There are roughly three broad lessons to be gleaned from Friday's Rajya Sabha elections in context of next year's Lok Sabha polls. One, a mismatch between arithmetic and chemistry of an SP-BSP grand alliance in Uttar Pradesh may upset calculations. Two, Congress must accept the primacy of regional players in an anti-BJP coalition and be prepared to shed its ego. Three, while there will be no "wave" in Narendra Modi's favour in 2019, BJP's ability to perform as a street-fighter should not be underestimated.
The first lesson isn't new, but nevertheless a reinforcement of BSP chief Mayawati's worst fears that in the event of a grand alliance, she stands to lose more. In the event of a seat-sharing arrangement between BSP and SP in general elections, there is more likelihood of BSP's core votes getting transferred to her ally than SP's base votes coming to her kitty. Instead of a proper quid pro quo, the alliance could act as a valve and leave the door ajar for BJP to exploit.
This is because though SP-BSP grand alliance is on paper a fearsome social coalition and boasts of a joint voter base easily surpassing BJP's, elections are not just mathematical equations to be solved. The core voter base of both parties – BSP's Jatav Dalit, Chamar and SP's Yadavs – do not share an easy history. While it is easier for a cadre-based party like the BSP to respect the command of its supremo and vote for alliance candidates, the opposite isn't true for a non-cadre based party like the SP.
A grand coalition might no longer be a matter of choice but a compulsion for the arch-rivals to join hands against a common enemy. However, electoral obligations at the top may not flow seamlessly to the bottom where party workers and local leaders from both parties have built their careers on mutual antagonism. Coercive pressure from the top may result in the creation of local dissidents and rebels.
We saw an inkling of this possibility during the Rajya Sabha polls for the 10th seat in Uttar Pradesh — where BJP's ninth nominee Anil Kumar Agrawal defeated BSP candidate Bhimrao Ambedkar via second preference votes in a bitter fight marred by cross-voting. While BSP MLA Anil Singh claimed to have cast his vote in favour of BJP, the saffron unit was boosted by cross voting from at least one SP legislator and votes from Nishad Party MLA Vijay Mishra and two 'independent candidates' Raghuraj Pratap Singh and Vinod Saroj who are apparently "close" to Akhilesh Yadav.
Mishra, who was an ally of SP during the recent Phulpur and Gorakhpur Lok Sabha bypolls where BSP had provided tacit support to plot BJP's defeat, reportedly refused to support BSP candidate Ambedkar.
Similarly, Raghuraj Pratap Singh alias 'Raja Bhaiyya', who attended an SP "dinner" on Wednesday, on the voting day posted a tweet clarifying that his backing of SP does not extend to BSP. Singh called on Chief Minister Yogi Adityanath soon after casting his vote, according to a report in The Indian Express.
In a tweet which he later appeared to have deleted, Akhilesh had shared a picture with Singh and "thanked" him for backing the SP.
It now turns out that though Singh had helped SP candidate Jaya Bachchan in retaining her Rajya Sabha seat, he refused to back BSP's Ambedkar, and consequently Mayawati's bid to get one seat in the Upper House ended in failure. Now let's step back and see how the 'grand alliance' shaped up for Mayawati.
The BSP chief's call for a defeat of BJP candidates in Gorakhpur and Phulpur helped the SP, but when the time came for returning the favour and helping BSP gain a seat in Rajya Sabha, Akhilesh failed to deliver. He, however, succeeded in getting own candidate Bachchan through. If these elections are a testing ground for the 'grand alliance', then Mayawati has just received more fodder for skepticism. The upcoming bypolls in Kairana Lok Sabha seat and Noorpur Assembly seat in Uttar Pradesh will likely be the acid test.
The second lesson is for Congress, whose one of the 10 winning candidates on Friday should thank Mamata Banerjee. The TMC supremo had enough strength to send five candidates to the Upper House but she left one for the Congress. Abhishek Manu Singhvi finally received 47 votes, 15 more Congress' total strength of 32 votes in the West Bengal Assembly. This move comes a year after TMC had forfeited one seat in 2017 for Congress' Pradip Bhattacharya.
Mamata's "magnanimity" runs contrary to the ground realities in Bengal where Congress is TMC's fierce competitor and is an unofficial alliance partner of the Left. It is no less interesting that the TMC chief, who gave Sonia's dinner a miss and sent Sudip Bandopadhyay instead, is reportedly keen to meet her at Sharad Pawar's upcoming dinner in New Delhi.
Mamata had made no bones about the fact that she prefers dealing with Sonia over Rahul Gandhi. She has been critical of the new Congress president a number of times, most notably after the recent Tripura Assembly polls where she blamed Rahul for turning down TMC's proposal of an alliance.
When Telangana chief minister K Chandrashekar Rao recently came calling in Nabanna, Mamata met him to indicate her interest in KCR's "non-Congress, non-BJP federal front" but stopped just short of keeping Congress out of the equation.
All these careful signaling from the Bengal chief minister is meant to convey one unambiguous message, that an anti-BJP coalition against Narendra Modi in 2019 cannot be on Congress' terms. It is here that the grand old party has to shed its ego and accept the ground realities.
The third lesson from the Rajya Sabha polls is for the Opposition. The BJP will doubtless find it very difficult to replicate its 2014 performance in the Hindi heartland. Anti-incumbency, lack of any 'hawa' in Modi's favour and return of caste equations are powerful headwinds that BJP will run into, but it may also spur the party into greater mode of activism. The BJP's ability to fight for every seat in every election should not be underestimated.
Ahead of the Rajya Sabha polls, the BJP made two strategic moves. It inducted SP dissident Naresh Agarwal, who was smarting from Akhilesh's move to deny him a Rajya Sabha ticket. This paved the way for Naresh's son Nitin to vote for BJP. It had also sent Union Minister for Railways and Coal Piyush Goyal to Uttar Pradesh on Thursday to chalk out a winning strategy.
As The Economic Times reported, "Goyal supervised a mock voting drill of all NDA MLAs on Thursday as many of them were first-time MLAs. BJP also succeeded in getting three upper-caste MLAs outside its camp to vote for its ninth candidate, Anil Agrawal, who ultimately got 16 first preference votes instead of 12 alloted for him by NDA."
The party also worked behind the scenes to get a BSP legislator and independent MLAs to vote in its favour. The strategy worked as all nine BJP nominees from Uttar Pradesh went through. The BJP would have also noted the lack of coordination among SP and BSP. Yogi wasted no time in commenting that Rajya Sabha polls have exposed the "opportunistic face of SP" which "can take from others but can't give." Without taking any names, he said the election results are a "signal for an intelligent person".
The reference to Mayawati couldn't be clearer. Yogi's comments also raise the tantalising possibility of BSP supremo tying up with the BJP for 2019. Such a move looks improbable at this stage but isn't politics an art of the possible?
Politics
The party president was speaking at the working committee meet ahead of the Chintan Shivir to be held in Udaipur from 13 to 15 May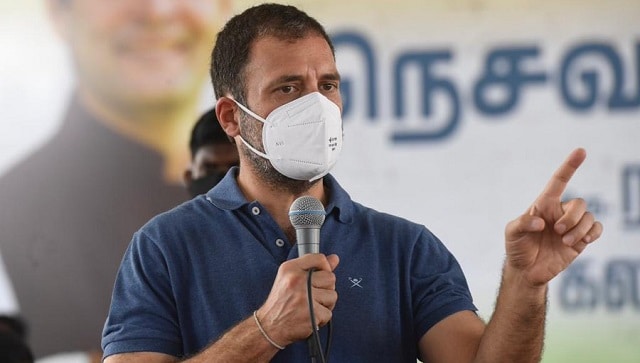 India
Congress leader Rahul Gandhi said there is a fight between two ideologies in the country
India
According to sources, key proposals including One Family One Ticket and 50 below 50 have been passed during Congress' Chintan Shivir in Udaipur