The trump card: Can Himanta Biswa Sarma win Assam for BJP?
Once a 'blue-eyed boy' of Assam Chief Minister Tarun Gogoi, the Himanta-Tarun saga is another text book example of India's fluid politics of recent times.
Less than a year before the Assembly polls in 2016, the BJP has perhaps made its biggest catch in the form of former Assam minister and Congress leader Himanta Biswa Sarma.
On Friday, Sarma landed in Guwahati from New Delhi to be formally inducted in the BJP at a public rally that is expected to be attended by thousands. On Sunday, Sarma accompanied by state BJP chief Siddhartha Bhattacharya met Shah at his 11 Akbar Road residence in New Delhi to finalise the move surprising many of the BJP MPs from the state and Congressmen alike.
Now the post mortem of the move has begun and the conclusions are still uncertain. The former Assam minister proved his worth beyond doubt when he spearheaded the Congress campaign and won 78 out of 126 seats in the 2011 Assembly polls.
Once seen as a "blue-eyed boy" of Assam Chief Minister Tarun Gogoi, the 46-year-old Sarma, who is known for a street smart and astute politician, was the chief minister's point man for all turmoils.
Did Gaurav Gogoi's rise prompt this drastic move?
At one point of time it was impossible to think about the Assam Congress without Sarma, more so, about Gogoi without his most trusted aide on his side. But cracks became evident once Gaurav Gogoi, the son of the Assam chief minister, slowly made headway into politics and finally joined Congress in May 2012. Gaurav is now a Lok Sabha MP from Assam's Kaliabor constituency.
Also Read: Exclusive: I will present BJP with 52 MLAs, says ex-Assam minister Himanta Biswa Sarma
The state Congress on the other hand has come up with other reasons for Sarma's differences with Gogoi.
"Gaurav's entry into politics has no role in their differences. It started way back when (now Congress MLA) Pijush Hazarika was elected Assam Pradesh Youth Congress president in June 2008. Then there were speculations in 2012 that Tarun Gogoi would resign as chief minister and become the country's vice-president. Sarma was really hoping to become the chief minister then," said Assam Congress senior spokesperson Kishore Bhattacharjee.
"It is true that once Sarma was too close to Gogoi. When Gogoi continued in his office and Sarma knew that he won't be the chief minister, the gap started forming. Then he began doubting Gogoi's ability to lead and in return Gogoi started doubting Sarma. This further escalated with time," Bhattacharjee said.
When contacted by Firstpost, Gaurav responded with a cryptic text reply, "No comments on this issue."
Was Sarma increasingly sidelined in Congress?
The party has defended its handling of the politician.
"The party is not bound to fill his expectations. The party won't be democratic if one individual is given everything. The party chooses the best person for a particular responsibility," Congress spokesperson Bhattacharjee said.
The Congress was already finding it hard to handle Sarma and was caught between showing him the door and waiting for him to take the first step. The indecisiveness was due to the fact that the Congress feared a backlash given the clout Sarma had earlier in the party.
Assam Congress president Anjan Dutta wasted no time when Sarma finally decided to join the BJP and even accused him of lying and betrayal.
"Sarma betrayed all his friends by quietly joining BJP. (Congress president) Sonia Gandhi never promised to make him the chief minister as he told others. The party gave him everything and now he is insulting the chief minister," Dutta said.
The state party chief said he believed that Sarma's exit won't harm the party at all.
"People are still supporting the Congress as was evident in the recent Tiwa Autonomous Council polls. Congress members are not sitting and mourning his exit. We are there to serve people. We are not giving any importance to Sarma's departure," he said.
A stellar performer in Gogoi's cabinet
Sarma, during his tenure as education minister had revolutionized the recruitment process of teachers in the primary, middle English and higher secondary schools in Assam by micro-managing Teachers Eligibility Test and enabling hundreds of eligible youths to join as teachers. Soon after the National Rural Health Mission was launched in 2005, he as the health minister led from the front to put Assam ahead of all other states in effective implementation of the programme.
However, the ruling Congress, which once hailed Sarma as the most efficient minister in the Assam cabinet, is now developing a cold feet.
"During the UPA regime, the Central funding was high. The credit for the successful implementation of the programmes should go to (Congress president) Sonia Gandhi, (Congress vice-president) Rahul Gandhi and (then prime minister Manmohan Singh). When funding is high, implementation is not a problem. Schemes like 104 health advice helpline services and 108 ambulance services were all UPA schemes. Sarma did not initiate any scheme on his own. There was maximum corruption when he was at the helm of affairs," said Dutta.
Will scams haunt Sarma?
Sarma's name came up in the contect of three large scams — North Cachar Hills, Saradha and Louis Berger — but he is not yet proven guilty in a court of law. Earlier on 22 July, the BJP had come out with a booklet showing Sarma as an accused in the latest Louis Berger scam. But the party has now got court papers from the United States to verify that Sarma's name was not there. This is one of the primary reasons that the BJP top brass permitted his entry despite some resistance within.
Is Sarma brought in to counter the Tiwa Autonomous Council poll results?
On 23 August, the Congress won 15 out of 30 Tiwa Autonomous Council (TAC) seats in the recently held polls while the BJP could only manage three.
"The BJP panicked after the TAC defeat. The party top brass realised that to get 84-plus seats as they hope to they need a good manager. Earlier the anti-Sarma faction within the BJP convinced their high command that Sarma's entry would harm BJP. But Sarma showed his mettle when Congress won all the three seats in TAC where he campaigned. With BJP's annihilation, (BJP president) Amit Shah immediately realised that to capture North East, BJP has to capture Assam first. For that they needed someone like Sarma. State BJP president Siddhartha Bhattacharya was also in his favour. That resulted in the defeat anti-Sarma lobby including (Union Minister Sarbananda) Sonowal," said Bhattacharjee.
Will Sarma's loyalists in Congress follow his footsteps?
The former Congress leader has always been known for having a coterie of MLAs. But this number has been dwindling. Last year in July, Sarma resigned from Gogoi's cabinet and dramatically paraded 38 MLAs before then Assam governor JB Patnaik to highlight the support he enjoyed.
Sarma even predicted that if adequate steps were not taken Congress wouldn't even get a seats in double digits in the 2016 Assembly polls. The Congress, however, says it's not worried.
"There was dissident politics but it was all within the party. His aides are unhappy with him. In fact many have conveyed their wishes to the state president that they are not going to move along with Sarma. Majority of them are now wholeheartedly back in Congress. They are not happy with Sarma's move," Bhattacharjee said.
BJP MLA Prasanta Phukan expressed confidence that a minimum of 10 MLAs would breakaway from the Congress to join the BJP. "It is Sarma and plus 10," he said.
Dissatisfaction within BJP over Sarma?
"Sarma was brought in after assessing the ground reality. In such a large organisation like the BJP, there are bound to be varied opinions. There is nothing to hide. But being a democratic party, once the decision is cleared by the national leadership everyone accepts it. There are some hairline cracks but those can be resolved before the polls," Phukan told Firstpost from Dibrugarh.
However, the party isn't assuring him of anything.
"Sarma has joined as a foot soldier now. His acceptability would largely depend on his performance in the next six months. All will depend on his political character in the coming months. I am confident he will perform efficiently," said Phukan.
Will Sarma be the trump card for the BJP in Assam?
Whether Sarma turns to be an invaluable poaching by the BJP which might brighten up its prospects in the Assam Assembly polls in 2016 and make its 'Mission-84' a reality in the 126-member House will need to be seen.
"Sarma is focussed and worked really hard for the Congress. He is himself an institution. I have observed him from close quarters in the Assam Assembly. He is a good speaker and meticulous. He gave indications as to how he would prefer to work for the BJP in a recent interview. His actions will do the talking," Phukan said. "We would welcome him formally on Friday. I believe it is a confident, positive and timely move by the BJP."
The MLA, however, said he wasn't aware of whether the move had the nod of the Rashtriya Swayamsevak Sangh.
India
The Assam government, however, on Tuesday said it would hand over the investigation into the violence on its disputed boundary with Meghalaya in West Karbi Anglong district to a central or neutral agency
Politics
'During the Congress rule, there was a budget of Rs 1000 crores for tribals whereas the BJP government has increased the budget to Rs 1 lakh crores,' he said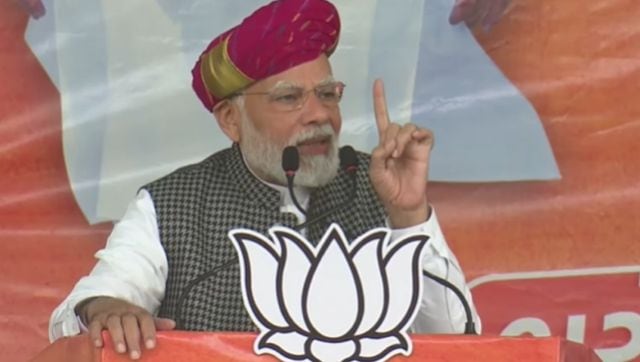 Politics
Prime Minister Narendra Modi, who is campaigning in his home state Gujarat since 19 November, said Adivasis cannot expect Congress will improve their condition because leaders of the party mock tribal outfits and insult tribals at regular intervals