The rise of Sajad Lone: Former secessionist has emerged as potential change-maker for Jammu and Kashmir
Sajjad Lone's "total transformation", as he tells it, took place when he was a 24-year-old in one of the overcrowded prisons in Srinagar.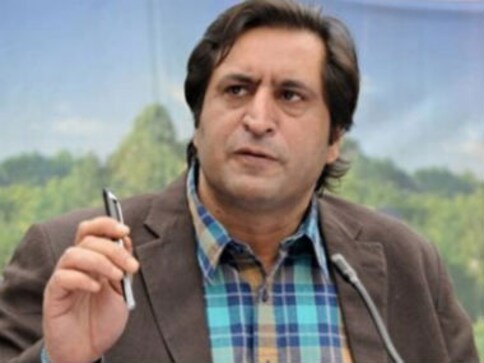 Sajad Lone's "total transformation", as he tells it, took place when he was a 24-year-old in one of the overcrowded prisons in Srinagar. The means of his makeover, his disillusionment with enmity, was the kindness shown by a constable of the Border Security Force deployed, in panic, in the Valley, a year after eruption of insurgency took the establishment by surprise.
Two simple acts of compassion are forever etched in his mind: the constable called him a brother, and once, in the dead of the night, brought him chicken and bread when Lone could not bear any more of the prison's food. Two months after the constable showed him kindness, Lone was a free man and soon left the country. He did not for a moment think that the events in the coming decades would take an unexpected turn: the former secessionist grew close to the Bharatiya Janata Party.
At his cosy residence in Srinagar's fortified Church Lane, Lone sees the act of kindness as the key to addressing the alienation of Kashmiris from India – with love. "Nothing much will come of Imran (Pakistan prime minister Imran Khan) and Modi (Prime Minister Narendra Modi) talking to each other," he said. "Our problems will still remain."
The BJP's most vocal ally in the Valley, Lone had a "typical" Kashmiri upbringing that instilled in him "some sort of love" for Pakistan. That was until a visit to Karachi, Pakistan's city of lights, as a high-school graduate in 1984, six years before the total transformation, dimmed his infatuation with the Muslim neighbour when he, unwittingly, defended India as "our country" in an argument with his peers.
On the streets of Karachi, Lone would act "more loyal than the king" among his associates, he admits candidly. Nearly three decades later, the 52-year-old is now presenting himself as a change-maker who could possibly lead the conflict-ridden state out of chaos, as its chief minister, and is no longer alone. As the BJP threw its weight behind Lone, politicians disgruntled with the control of and subservience to dynasts have begun to look towards Lone's People's Conference as an alternative.
The rabble-rouser
Lone had been in Cardiff in the United Kingdom to pursue a degree in economics before his 1990 detention. He married for love, and ran businesses abroad. Life was good until May 2002, when his father, Abdul Ghani Lone, was assassinated by Pakistan-trained jihadists at the commemoration of another slain Hurriyat colleague, Mirwaiz Maulvi Farooq. Lone was anointed the chairman of the separatist People's Conference.
That year, the public war of words between the senior Lone and the Jamaati, separatist hawk, Syed Ali Shah Geelani, had put the Hurriyat on the edge. Geelani accused Lone of being willing to field proxy candidates in the elections that were to be held later that year in October. Following the assassination, Lone's reaction would surprise many: the 35-year-old publicly blamed Pakistan's Inter-Services Intelligence for his father's killing.
Geelani's resentment with the People's Conference, however, did not end with the senior Lone's demise. About a year and a half into active politics as the separatist party's chairman, Lone said he was shunted out of the Hurriyat's fold. In 2004, Lone parted ways with his brother, Bilal who remains committed to the secessionist cause that both brothers say is their father's "true legacy".
While still within the "separatist spectrum", Lone dared to upset the secessionist leadership's apple cart by doing the unthinkable. He earned another distinction in the camp – where, he says, "same statements and slogans of 1989, printed on the first day are still in circulation, photocopied over and over" – to abandon rhetoric for roadmap. After eight months of research, Lone claims he came up with the paper titled 'Achievable Nationhood' to be presented to the-then prime minister Manmohan Singh.
However, the document was never acknowledged by the prime minister, Lone said. That made it clear to him that the "Congressis make so much of a noise" but would not come through when it was their turn to take a step forward. Lone was denied a passport for three years, he "infers" from the events, following the release of the document. His Pakistani wife and their two children, all in Pakistan at that time, were also refused visas for the same period. "Even then, I was singled out," Lone recalled. "I was this big terrorist guy. I was put in the PAC (Prior Approval Category) list with the dreaded terrorists." Lone said it was the BJP's efforts that reunited him with his family by clearing his passport.
Two years after the release of the document, the Kashmir Valley would plunge into a massive uprising that, in the years to come, set off a series of events. After the months-long uprising, a high voter turnout in the Assembly elections gave way to speculation about Lone. Geelani would yet again accuse the People's Conference – this time Lone – of fielding proxy candidates in the polls.
Lone had had enough. At the press conference – where he famously swore on the Quran, distancing himself from the candidates named by Geelani as the PC's proxies – he lashed out at the Hurriyat hawk, calling him a "liar" and "curse" on Kashmir. "I cannot be a punching bag for the rest of my life," he charged at reporters. "Does one have to suffer Geelani's abuses (to be in the separatist camp)? I will rethink (if I want to be in this camp), I will talk to my people once again. It's not worth it."
Less than six months later, it seemed Lone had decided it really was not worth it. He entered the 2009 parliamentary elections, contesting from the Baramulla Lok Sabha constituency. At that point, he told reporters: "Fighting elections is a change of strategy and not ideology." Though he lost the polls, coming in third, Lone did not lose his resolve. His critics had dismissed him as an opportunist who lacks political acumen, but Lone's rise has been steady. The "idealism" about Pakistan was lost on Lone in 1984, he said. In retrospect, Lone says that he had never accepted the Hurriyat in their "current form" from the time he joined them as a "legacy politician" – as a dynast whose legacy ended with his exit from the secessionist camp.
In 2014, the Lone legacy was revived as Lone was elected to the state Assembly from Handwara – the constituency his father had represented. That year, Lone had surprised many, but falling short of stirring the hornet's nest, when he publicly declared his proximity to the BJP, days before the 2014 Assembly elections, after a meeting with Prime Minister Narendra Modi in New Delhi. He was reported to have said that the meeting went so well that he was unsure whether he was speaking "to the PM or my older brother". Besides Lone, another candidate fielded by the PC also won. The party had managed to reach the civil secretariat, the state's corridors of power, as part of the BJP's quota in the cabinet.
It is this confidence and his proximity to the BJP that has armed his detractors, whose coordinated and sustained campaigns against him have made one thing evident: the possibility of his emergence as a leader and the PC as an alternative to the National Conference and the People's Democratic Party has unnerved those who got the reins to the state from their fathers. As he lit a Parliament cigarette, Lone said a vilification campaign against him portrayed him as "some James Bond – an RSS, BJP, Hindutva, anti-Muslim, anti-jihadi demon". His detractors, he said, are "frustrated, flustered".
Taking a fraction of the blame for the state's most unpopular governments in recent history, Lone said the BJP was not a political untouchable in Jammu and Kashmir. "My people believe in me," he said confidently. "It's all about the leader and how he sells it. If you sell hatred, you will get hatred in return. If you sell love and development, you will get those in return."
Now a former cabinet minister residing in the VIP quarters at one of Srinagar's most secure areas, Lone reminisces of the early days since he became "the butt of jokes" in Kashmir. As he campaigned for his parliamentary polls in the bygone days before the advent of WhatsApp, he still remembers, SMS alert-based news groups sent out updates stating "Sajad Lone addressing six people… three people". Today, he sees the possibility of his coronation nearer. Cutting short a hypothetical question about a possible PC-led government, Lone said, "It's not hypothetical; it's going to be a reality."
The one with the 'crazy ideas'
In the Hurriyat spectrum, Lone said, ideas about the importance of governance and social issues – that could not wait till independence – were deemed "crazy". A state ravaged by corruption, fast losing its forest cover, could not afford to stay silent. "Trees will not grow faster after independence," he said. "Our schools are not good and an entire population cannot be re-educated."
If and when there is a government that Lone presides over, it would be "totally different" as he had a "mind of his own about how to govern" – decentralisation and liberalisation were key to the governance guided by the understanding of the difference between grievances and aspirations. While the former was within the ambit of the Constitution, Lone equates the latter with the demands for secession and "outside our political system".
There are no short-term solutions, he said, and counter-insurgency operations, therefore, yielded only short-term results. "You cannot totally say that operational measures have no space. They are needed when there is violence, a gunman staring at you," he said. "But there is a vast majority of unarmed civilians who have not taken to violence that you need to reach out to." What Kashmir needed, he reiterates, are the structural responses beyond the regional unionist parties' repeated demands of dialogue with Pakistan – for a beginning, the constables showing kindness.
Lone's politics, so far, has been that of very few turns compared to his counterparts in the NC and PDP. There is a clarity of vision and discourse and a primary focus on addressing grievances. Lone intends to shun the "pretence", often termed soft separatism, which is typical of the Valley-based unionist parties. "When we seek a vote, we seek to redress grievances not to fulfil aspirations. Vote is to address grievances and I will only address grievances," he said.
The Kashmiri, Lone believes, is not a "political robot" who doesn't have social issues. "Kashmiris are sum of many parts and one part of that is political. Maybe 20 percent political but the 80 percent is social," he said. If in power and given a chance, Lone said he would look into "how (separatist sentiments) can be chiseled to fit into the category of grievances rather than aspirations outside the system".
Though his father – a two-time minister in state governments who favoured dialogue with the Indian Union – was said to have been willing to field proxy candidates in the 2002 elections, he had avoided seeking a solution within the ambit of Indian Constitution. Lone, however, has crossed that line. "Boundaries can't be redrawn, it's impossible," he says today.
In the days after the drama enacted over moves to form the government and the governor's panicked dissolution of the Assembly, Lone feels the Opposition has upped its ante. The same environment was being created, he observed, which was created before his father's assassination. "Utterances in the last twenty years have been the cause of killings," he said grimly. His father dared to take a stand and gave his life for it. The son now dares to dream.
Subscribe to Moneycontrol Pro at ₹499 for the first year. Use code PRO499. Limited period offer. *T&C apply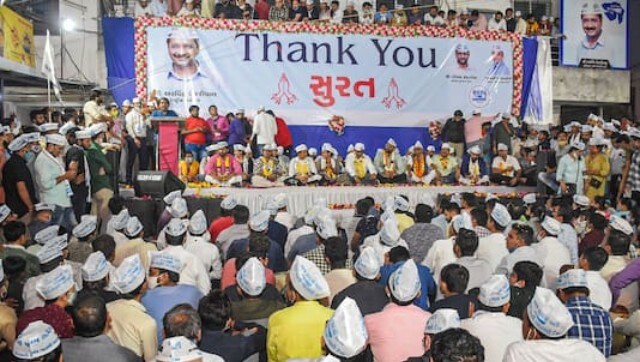 Politics
If past experience is any indication, the party has often failed to capitalise on its initial bursts of success
Politics
An analysis of the trend noted that the "most prominent reason seems to be that after working under politicians for many years, civil servants aspire to wield power rather than just take orders"
India
There will certainly be grumbling that it's a very basic joint statement, that there have been so many of the sort in the past and that Pakistan is not to be trusted