The missing Aam Aurat in AAP: Two-finger rape test diktat shows AAP's gender problem
Fools rush in where experts fear to tread. The AAP government in Delhi seems hell-bent on proving to the world, at large, that it is indeed a party where the aam aurat is missing.
Fools rush in where experts fear to tread. The Aam Aadmi Party government in Delhi seems hell-bent on proving to the world, at large, that it is indeed a party where the aam aurat is missing.
The party is currently in soup for overruling activists, experts and even the Supreme Court's directives and allowing the infamous two-finger test on rape survivors. The court had said it violated a woman's right to privacy. But a circular issued by the Delhi government says one cannot "do away" with this "essential pelvic examination" because it would ultimately lead to "injustice and low conviction rates".
To recap a two-finger test: It is one where a doctor inserts two fingers into a woman's vagina to check how lax it is and whether the hymen is intact. Human rights group like Human Rights Watch contend that in fact this test is used to achieve acquittals of the rape accused because they can be used to paint the rape victim as someone "habituated to sexual intercourse". Those without "hymenal injuries" find their stories discredited. As a 2006 Jharkhand High Court verdict ruled, "Though the girl was aged about 20 to 23 years and was unmarried but she was found to be 'habituated to sexual intercourse'. This makes her to be of doubtful character."
Aruna Kashyap, at HRW, is not the only one to have called it "yet another assault on a rape survivor".
And as for doing away with the two-finger test leading to low conviction rates, the government is clearly in denial of the fact that with the two-finger test in action, only a quarter of some 24,206 registered rape cases in 2011 ended in conviction. So let's not pretend the two-finger test is some invaluable essential weapon in the prosecution's armoury.
Now, the government is backpedaling. Reports say the circular will be withdrawn and action will be taken against those who signed it. That's good but it might be too little too late. The two-finger flip-flop merely underscores the Aam Aadmi Party's chronic woman problem.
The Aam Aadmi Party of all parties should have been at the forefront of these issues. It's a party that was built on a sense of outrage over corruption and helplessness. It was about the trampled dignity of the little guy. It was born in Delhi, the city that was the ground zero of national outrage over rape. Many of the young people who were drawn to AAP also protested in those rallies. But when it comes to women, the party keeps falling flat on its face.
AAP has a Facebook page for the "security and justice for women". Its last post is from November 2014 where it congratulates Aparjita Rai for becoming the first female IPS officer of Sikkim. Its manifesto has a section for the security of women, children and senior citizens where it demanded CCTVs in FIR registration rooms, promised more working women's hostels and shelters, threw its support behind all the recommendations of the Verma Commission and proposed a Citizens' Security Force with a branch in each ward.
But all of that is meaningless if the party in action comes across as entirely clueless. The problem with AAP is not that it issues blatantly misogynist diktats like a khap panchayat forbidding women to wear jeans or carry mobile phones. Or trivializes stalking like Sharad Yadav in parliament. Someone in the AAP hierarchy genuinely thinks the "two finger" test, discredited by all kinds of experts, is not against the basic dignity of a woman. Just ensuring there is "informed consent" or putting a child victim under anaesthesia, does not fix the problems with the test which the Union Health ministry admits is "not scientific".
The two most prominent women in AAP's ranks –Shazia Ilmi and Kiran Bedi – have long deserted the party. Bedi, of course, was never part of the Kejriwal version of the party. While they had their own reasons and own ambitions, their departure along with those of the likes of Mallika Sarabhai and Medha Patkar have left AAP looking even more like an old boys club. Ilmi accused the party of "benevolent patriarchy". When Arvind Kejriwal took his oath of office in February, no women were sworn in alongside him making Delhi one of seven states with no women ministers. To be fair, this is not AAP's problem alone. The Hindu did a survey at that time which found that out of 4,120 MLAs in the country only 360 were women. That's a measly 9 percent. Of 568 ministers in state governments, only 39 were women. That's an even more measly 7 percent. And let's not even go into the portfolios women typically get, usually Women and Child Development and Social Welfare. AAP did have a woman in its 49-day ministry. Rakhi Birla – women and child social welfare of course. That portfolio is now held by Sandeep Kumar.
Even having a woman as chief minister does not mean anything. Women still get those same gendered portfolios. West Bengal's Mamata Banerjee and Delhi's Sheila Dikhsit have both disparaged rape victims, seeing rape more as a PR problem for their state and a political conspiracy.
But AAP has always tried to project itself as a different sort of party – more sensitive to social issues, more modern in its outlook. But as Kamla Bhasin, a women's rights activist noted in the Hindustan Times its perspective on women and issues of gender justice is not that different from its opponents. They are all cut from the same cloth. Arvind Kejriwal, she notes, in his first speech to the assembly explained who the aam aadmi was and everything he said was in the masculine gender: Aam aadmi kheti karta hai, chaand pe jaata hai, research karta hai. And it's not just about a manner of speaking. She notes "in the 18 demands for Delhi, there is only one about women and that is related to speedy justice for victims of violence." The only women's issue AAP felt worthy of prioritizing was about rape.
This gender blind spot is what gets an AAP leader like Somnath Bharti into such trouble. It's not just about "accidentally" revealing the name of a Danish rape survivor. Bharti remained defiantly unapologetic about raiding an alleged prostitution and drug ring in Khriki extension and complained when the police refused to do his bidding. Bharti thought he was acting on behalf of the aam aadmi and just could not understand why anyone would have problems with his vigilante justice where two African women nationals said they were beaten up and forced to give urine samples by AAP members. Manish Sisodia denied the women were beaten up and Ashutosh said "women are respected the most by the party" but as Supreme Court advocate Karuna Nundy told Firstpost, "Is AAP going to say that in the name of preventing violence against some women, violence against some other women is justified?" AAP in theory might throw its support behind the Verma commission's recommendations but AAP in practice seemed unaware that police cannot act without a warrant or take action against women between sunset and sunrise just because the neighbours suspect a prostitution ring. AAP founder member Madhu Bhandari left the party alleging she had not been allowed to bring a motion condemning the raid and saying there was "no space for women".
Kejriwal who had once criticized Sheila Dikshit for saying she had no control over the Delhi police after the 16 December gangrape saw no irony in complaining about how the Delhi police were not cooperating with his government.
The two-finger test is just the latest misstep when it comes to women's issues. AAP hopes that by withdrawing the circular they are nipping it in the bug. But its real problem, to borrow the language of the two-finger test itself, is the party appears "habituated" to gender bias. AAP's "women problem" is not about the two-finger test. The main problem is that they just don't realize they have a problem at all.
Find latest and upcoming tech gadgets online on Tech2 Gadgets. Get technology news, gadgets reviews & ratings. Popular gadgets including laptop, tablet and mobile specifications, features, prices, comparison.
World
Traditionally, presidents have tried to avoid making statements that might prove embarrassing later on. They choose their words carefully and proceed 'out of an abundance of caution', per the tagline of the moment in Washington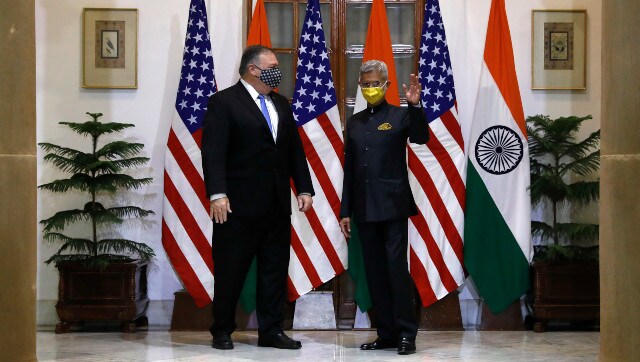 India
The focus on convergences and its institutionalisation through dedicated frameworks alleviates the pressures on the two sides to urgently contemplate formalisation of ties.
World
At last count, Donald Trump trailed Joe Biden 43 percent to 51 percent in national polls and was behind in every single battleground state apart from Ohio and Texas